The con­tent of all EST art­icles pub­lished on this web­site are reviewed by our staff of editors.
---
Editors-in-Chief – Laura Sanzarello & Harvey Dryer
Laura Sanzarello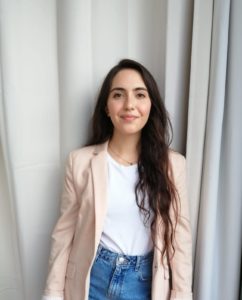 Biography: Laura is an International Relations graduate from Loughborough University, where she focused on the study of conflict management, human rights and international organizations, with special interest for the EU and the MENA region. After joining the EST in 2020 as a columnist and editor, she then became involved as a judge for the European Policy Prize and a reviewer for the European Policy Review. She is also a co-founder, editor and recurrent speaker at EST's Podcast channel, which she regards as a challenging yet rewarding experience both in terms of personal and professional growth. Among her interests are modern conflict, political journalism and freedom of expression. Outside of EST, she is a writer, podcast host and producer at Human Rights Pulse, volunteer translator at Global Voices and country manager at the CoronaNet Research Project. She is also an active and published member of Chatham House's Common Futures Conversations.
Vision: As a Board Member, Laura hopes to contribute with her experience and creative thinking to the success and progression of the organization, and to create more integration and coordination between the Editorial Office and other sections of the EST. Her greatest goal is to provide opportunities for growth and development to all members, while ensuring high quality material for all EST publications.
LinkedIn
Harvey Dryer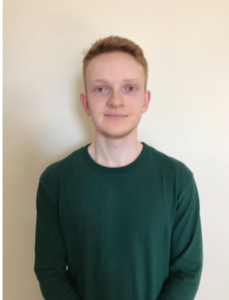 Biography: Harvey is a student of Politics & International Relations at the University of Bristol. He joined the EST in 2020 as a writer for the Editorial Office, publishing articles related to UK/EU relations in the modern world. However, he is also interested in UK relations with the Global South and the discourse around international aid provided by the UK. Outside of the academic world, Harvey currently works for the Royal National Lifeboat Institute (RNLI), helping to raise funds and meet their target of reducing the number of drownings experienced worldwide.
Vision: As Editor-in-Chief, Harvey's vision is to strengthen the social fabric of the Editorial Office, and so is looking to provide formal and informal platforms for writers and editors to discuss their ideas, learn from each other and engage with like-minded young people from across the globe. Furthermore, he looks to widen the readership of content produced by the Editorial Office.
---
Deputy Editor-in-Chief – Alexandra 'Lulu' Smith
Biography: Alexandra 'Lulu' Smith is a British-American student and recent graduate of Loyola University Maryland where she studied Political Science and Philosophy with specializations in international relations, regional studies, and international institutions. Alexandra is a community contributor for the online current affairs platform, Human Rights Pulse, and has been published in the EST's most recent edition of the European Policy Review for a piece on the European Union Rule of Law Mission in Kosovo. Alexandra has previously worked for the Maryland State Legislature as a legislative editor and holds memberships to the Pi Sigma Alpha National Political Science Honor Society and Phi Sigma Tau International Philosophy Honor Society. In the Fall of 2021, Alexandra will begin her Masters of European Studies at the Katholieke Universiteit Leuven in Belgium as a Belgian American Educational Foundation Fellow.
---
Editors
TEAM: Foreign Policy 2 
Fabiola Rubuano
I am a second-year undergraduate student at the University of Cambridge, reading Human, Social and Political Sciences. As an international student from Italy, I am currently specialising in Politics and International Relations with a geographical focus on the European Union and Central Africa. I am particularly interested in decolonial studies and the understanding of global social inequalities. My interest in European affairs is grounded in my training as a youth worker for various international organisations. In the past two years I have participated in various Erasmus projects conducting research and reports on minorities in Europe. My last work experience focused on the issues faced by Romani people in Romania. By working as an editor for EST, I indeed hope to gain further insight in European political affairs and connect with other students sharing my interest 
Hugo Cid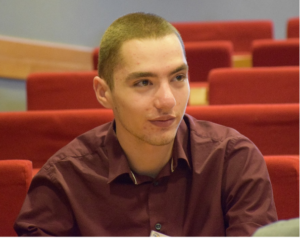 Biography: Hugo is currently studying Political Science at Radboud University in Nijmegen, the Netherlands. He first completed a Bachelor's degree on International and Societal Development Coordination at ESCD 3A, Lyon France, aiming to give him the tools to create humanitarian projects and understand the current world. He decided to focus on the economic weight of immigration in France for his Bachelor's thesis and to bring policy recommendations that France should implement on this subject. It is in this line that Hugo decided to study Political Science, the path on which he thinks he can have the biggest positive impact in his life. During his Bachelor's degree, Hugo had the opportunity to help students with disabilities in a French high school. This allowed him to realize the diversity of difficulties that people can face and also to realize the concrete consequences, positive and negative, of policies aiming at improving the national education or fighting against the coronavirus. Thus, this experience will allow him to always take into consideration all the stakeholders of an action. Hugo, a curious and passionate Frenchman, is at the moment studying at Radboud University in the Pre-Master of Political Science with the objective to pursue the Master Conflicts, Power and Politics at the same university. In this Pre-Master, Hugo will notably study history and theories on European Integration, theories on International Relations and political science methods. 
Vision: Beyond his passion for international issues and the EU's place in them, Hugo is particularly excited to be a part of the EST because he believes that young people should be the opinion leaders of today. Thus, through his work at EST, he wants to develop his ideals and his knowledge of the but above all, to allow all young people to build their political opinions on the real major issues of this century. 
Blanca Marabini San Martin – Managing Editor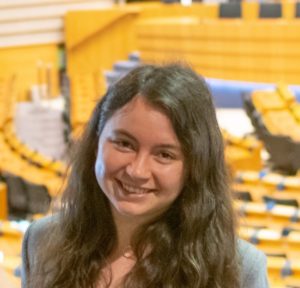 Currently pursuing an MSc in Nationalism, Ethnic Conflict, and Development at Leiden University, Blanca holds a Double BA in International Relations and Translation and Interpreting and has studied abroad at the London School of Oriental and African Studies (SOAS) and the Freie Universität Berlin. She has pursued her passion for foreign policy and security in Asia-Pacific and the EU via internships in think tanks such as the Spanish Institute for Strategic Studies (IEEE) and the Spanish Chinese Policy Observatory. She is currently interning at the International Institute for Asian Studies and holds the position of Editor in Chief at European Guanxi. 
TEAM: Security, Defense, and Economics 
Tessa Baan has recently graduated from an MA in American Studies and an MSc in International Relations, both at Radboud University. After spending a year as writer for the youth think tank of the Dutch Ministry of Foreign Affairs, she is very excited to now be involved as editor at the European Student Think Tank. Currently, she is part of the model UN delegation of United Netherlands, teaches Dutch to newcomers in the Netherlands, and is involved in the Amnesty International Student Group Utrecht. Her interests are Transatlantic relations, American domestic and external policy, sustainable development and climate policy, EU Common Foreign and Security Policy and EU Common Security and Defence Policy. In her free time, she enjoys playing tennis, learning French, altering second hand clothing and furniture, and having a drink with friends. 
Roberta Guevska is a fourth-year European Studies student at Sofia University. She is an active member of JEF Bulgaria and a Delegate for Bulgaria to the 4th ASEF Young Leaders Summit. Moreover, she has been a part of Team Europe Junior, which consists mainly of students working closely with the Representation of the European Commission to communicate and spread awareness about the EU among youngsters. She has also been engaged in various community and international projects in different places such as Belgium, France, Germany, Ireland, Spain, etc.. Roberta is passionate about topics revolving around environmental and energy policy, Internal market and the future of EU integration. Besides, she is also interested in art, social media and the diversity of culture in Europe. Outside of academics, she takes great pleasure in learning new languages, traveling, exploring new cultures and photography. By working with the EST, Roberta hopes to help writers present their ideas better and further promote discussions on EU related topics. 
Marina Tovar is a last-year International Relations and Law student at the Autonomous University of Barcelona currently pursuing an internship as Counterterrorism Analyst in the Counterintelligence and Cyber (CICYBER) Team at the Counterterrorism Group. She is specializing in international security, counterterrorism and radicalization processes. She has participated in several youth associations for the past four years of university and joining the European Student Think Tank (EST) marks the intense and fruitful end of her studies.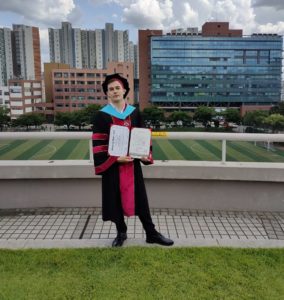 Giuseppe Peressotti- Managing Editor 
Giuseppe Peressotti is a Master's Graduate with a BA in East Asian studies from Ca' Foscari University (Italy) and a Master of International Studies in International Trade & Finance from Sogang University (South Korea). There, he worked as TA & RA for the Dean of the Graduate School of Int'l Studies and joined the University's World Trade Institute contributing to research topics related to International Trade, Trade Policy and the US-China global competition. Driven by the educational experience nurtured during 2 years of Graduate School, he is set on continuing his academic journey in order to expand his expertise in Economic Integration, International Economics and Political Economy. Given his background, his interests will naturally orbitate around policy-making involving the Asia-Pacific & East-Asian areas, without excluding their linkages with big international players such as the EU, the WTO, or the US. Contributing to academic research, fostering international collaboration and acquiring a deeper knowledge about international affairs are the main goals which pushed Giuseppe to join EST as an active editorial member. 
TEAM: Foreign Policy 1 
Dyuti Pandya – Managing Editor
Dyuti Pandya is currently studying international trade law as part of her LL.M major in India. Her main areas of interest and study are public policy, international relations, and diplomacy. Entering law school, her interests were shaped in international politics majorly, most specifically in understanding the scenario of Asia and the USA. She plans to continue her study in this field of academia and research in the near future. She currently serves as the academics coordinator for Students for Liberty South Asia, and the chapter leader for the Mumbai cohort of Ladies of Liberty. In her free time, she likes to read and study different cultures. 
Angeliki-Efraimia Markopoulou is currently in her 3rd year at the Department of International and European Studies, at University of Piraeus, in Greece. Through her university courses, she developed a deep interest in the European Union's foreign policy. In the field of academics, the main areas of her research concern international relations, European politics, international law, and geopolitical issues in the Middle East. She has participated in many simulations involving the European institutions. She also holds a certificate of training in Criminological Psychology from the National and Kapodistrian University of Athens. Volunteering is an important part of her life and she is a member in many non-profit organizations around the subjects of journalism, law, marketing, and sustainable development. She speaks English, French and she is at beginner level in Japanese. 
Lucía Moreno-Arrones Loriente is a graduate International Relations – Political Science & Public Affairs student with a deep interest in European and Asian relations. In this line, she participated in the 9th Model ASEM as an ASEAN delegate, and worked for the Spain Japan Foundation, in Madrid. She also interned in the Spain Embassy in Jakarta, Indonesia. She is currently working in Tokyo and contributing to the EST as an Associate Editor. In her free time, she enjoys sipping a cup of hot coffee with her friends and wandering the city in the hunt for the cheapest gyozas.
Ewan Henworth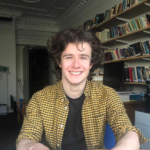 Ewan is a Politics and IR student at the University of Bristol in the UK, where he also tutors first years as part of the university's peer assisted study programs and represents his coursemates in the student's union. He's been an editor for the EST since 2021 and focuses on articles around EU foreign policy. He's particularly interested in the normative dimensions of the EU, and its interactions with East Asia. When he's not editing, he enjoys bouldering, hiking, and camping
TEAM: Current Events and Culture
Daemon Ortega Froysa is a Spanish student at the University of Amsterdam, where he studies for a Bachelor's degree in Political Science, specialising in Public Policy & Governance. He is an active member of the student political party "020", where he works as the party's Team Leader of Communications. Passion for the EU and its future has driven Daemon for many years, inspiring him to pursue politics at a professional level, and eventually leading him to join the European Student Think Tank.
Jodie van 't Hoff
Jodie van 't Hoff is a second-year student of the Erasmus Mundus Master of Arts Euroculture. After having studied at the University of Groningen and the Palacký University Olomouc in her first year, she now moved to Germany for a research track at the University of Göttingen. Before Euroculture, she completed her Bachelor in European Languages and Cultures in Groningen during which she also participated in the Honours College. Her research interests include, but are not limited to, European culture, populism, and identity questions.
My name is Lano Mahmood and I work at the European Student Think Tank as a writer/researcher. I am a writer in the Current Issues and Events committee, and as the writer, I intend to cover a variety of topics, from press freedom to face recognition technology with a focus on the European Union and its affairs. My interest in the EU and its concerns began during my time as an EYP delegate. I enjoyed discussing critical aspects of our daily life while attempting to find consensus on the issues. I am constantly in search of opportunities to continue my interest in the EU, and I discovered that the European Student Think Tank provided me with that. I am certain that this experience will provide me with a wealth of knowledge and skills that I will use in my future careers and endeavors
TEAM: Domestic Policy
Daniel Mooney is a postgraduate law student from Ireland. He holds an LL.B (Clinical) degree from Maynooth University and is currently undertaking an LL.M. in IP/IT law in Trinity College Dublin. He has previous experience working for one of Ireland's largest law firms and has legal articles published in both Ireland and the UK. His reading interests include EU law, regulatory responses to emerging technologies and the ongoing impact of Brexit. In particular, he also has a strong interest in reading about minority languages and cultural expression in the EU. He looks forward to working with writers in contributing to conversations about European law and policy.
I'm a second year European and Global studies Master's student at the University of Padova. I hold a Bachelor Degree with specialization in Political Science and Public Administration. Currently I'm working on my thesis, my research is focused on migration and asylum crisis.