The con­tent of all EST art­icles pub­lished on this web­site are reviewed by our staff of editors.
---
Editors-in-Chief – Luke Cavanaugh & Dao Nguyen
Luke Cavanaugh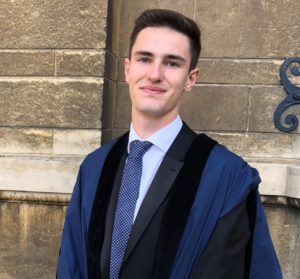 Background: Luke is currently studying English at the University of Cambridge, with a view to go on to study a Master's in International Affairs in the United States. He currently serves on the Central Committee of Polygeia Global Health Thinktank and The Wilberforce Society, the UK's oldest student-run thinktank, in addition to his work at the EST.
After initially joining the EST as an editor, and writing a few articles for the thinktank, Luke has since taken up a position as editor-in-chief. His primary policy interests defence & security, including a paper on European counterterrorism cooperation published in the EST's own European Policy Review, and the "big questions" of Europe such as integration and the accession process. With a background in Russian, including a summer spent studying in St. Petersburg, he is also particularly interested in Eastern Europe and the dynamic geopolitical influences there. He looks forward to working with a talented and diverse editorial office team as the thinktank moves from strength to strength this year!
Motivation: Organisations like the EST strike a hopeful and optimistic note for the future amidst a political landscape that has been unstable for the past few years. The chance to work with interesting young people across Europe is a unique one, as is the opportunity to engage with diverse and pressing issues in such a sustained way.
Goals: This year, Luke wants to continue to produce high-quality articles on topics that are of importance to the European community, cementing the EST as the de facto student voice on European Policy. More specifically, he is keen to create a more cohesive, tighter-knit, responsible and receptive editorial team and work more broadly with other teams across the thinktank.
Dao Nguyen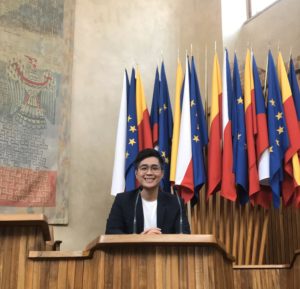 Background: Dao Nguyen is a Master's student of the Erasmus Mundus Joint Master Program, majoring in European politics and Society. Dao has completed his study in Vietnam, China, the U.S. and four European countries, bringing a strong understanding of global affairs and European affairs to his outlook. Dao has experience working with leading institutions such as UNICEF, UNDP, European Union Delegation and Asia-Europe Foundation  
Motivation: Dao aims to leverage the efforts of the young generation in creating a better Europe by analysing and finding cutting-edge solutions for pressing issues in the world.
Goals: Dao hopes to act as the bridge-builder to connect EST with non-European partners and increase the academic reputation of EST through articles and EPR.
---
Deputy Editor-in-Chief – Kaitlyn Green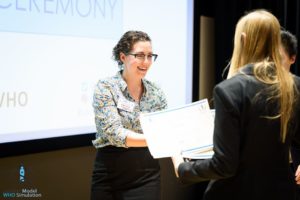 Background: Kaitlyn is currently a Master's candidate for the Global Health Policy program at the London School of Hygiene and Tropical Medicine. She presently lives in France, close to Geneva, but she is from the United States. In the US, she earned a Bachelor of Arts in English and had a career as a paramedic, where she worked as a team leader responding to medical emergencies in the prehospital setting. It was in this career that Kaitlyn discovered how health policy can impact individuals. These experiences spurred her desire to address the challenges of providing healthcare to a global population. Her research interests include gender and healthcare, migrant health, international migrant policy, rhetoric in politics, and human rights in humanitarian settings.  Outside of academics, Kaitlyn enjoys learning French, spending time with her husband and dogs, travelling, cooking, and discovering new music.
Motivation: Her role as Deputy Editor-In-Chief at EST is to create a space where up-and-coming policy influencers can explore effecting change through publication, while promoting an opportunity for students to start building their professional networks.
Goals: Her vision is to create a space where people who work with the editorial office at EST will be able to develop skills and relationships that will help them to promote the change they wish to see in Europe and beyond.
---
Editors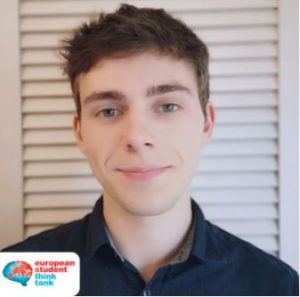 Lucas Maton is a second-year political science student at ULB. On campus, after spending the first year as a communication delegate, he is soon coming to term with his mandate as a board member and secretary of the ULB section of Amnesty International. Outside of ULB, he is also a product developer at CIVIX, a nonprofit organization aiming to reconnect youth & politics. Aside from these engagements, you might find him bartending in the centre of Brussels in the evening or hanging out with friends. Lucas is interested in issues tackling the European Union in particular and hopes to go on to study a master in European affairs. But being able to address the EU's most urgent issues implies a deepened knowledge of matters discussed in the EU today, thus his interests include many topics such as international affairs, energy management, political economy, human rights, democracy, to cite a few. He joined the EST to learn more about these among the Editorial Office as well as to gain new skills.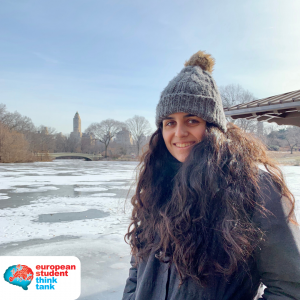 Marta Granados is an International Relations and Humanitarian Affairs student at Fordham University, in New York (USA). Currently, she is pursuing a certificate in International Affairs & Strategy at Sciences Po as part of her study abroad program. Back in New York, she is a staff writer at The Fordham Observer, where she writes on international affairs. Last fall, she interned at the editorial department of Foreign Affairs Magazine. Academically, she is interested in the study of Russia-European Union relations and the geopolitics of Eurasia. She hopes to bring to the EST editor's team a holistic approach to the EU's challenges and to help young writers engage with their audience effectively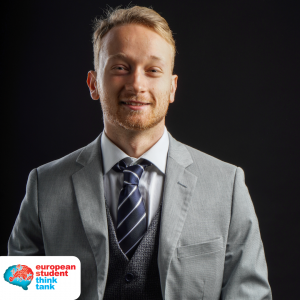 Riccardo Testa is currently studying Law at LUMSA University in Rome. He has recently completed a traineeship at the European Cyber Security Organisation (ECSO). Taking part in the "Democracy – The simulation of the Italian Parliament" project, he has developed his policy-making, communication and teamwork skills. With the same people he has met at this event, he created an association called "Europa per l'Italia". Its goal is to illustrate the benefits brought by the EU to the Italian State on the Economic, Juridical and Political level from an objective point of view. In the last academic year, he has organised a simulation of the Italian Parliament on the topic of the "Ius Soli" in his university. Moreover, he has completed an annual Master programme to become an "Expert in Forensic Sciences". At the moment he is a student for the "Scuola di Politiche" founded by the former Italian Prime Minister Enrico Letta.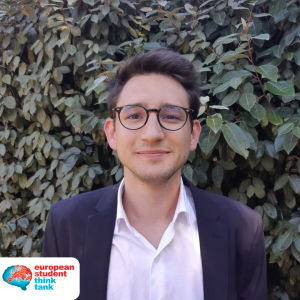 Valentin Fabre is studying European Governance in a master degree at Sciences Po Grenoble. In this school, he was involved in a student association that promoted European debate. With the team of the association, he took part in the European Youth Event of 2018. After a year of Erasmus in political science at the University of Florence, he decided to study more about the Central and Eastern European area. Academically, he is also interested in many other subjects as human rights, security and economy. This curiosity drove him to apply to the editorial team. Having the possibility to help in the construction process of the content by reading a wide range of articles and work alongside other students interested in European reflection are his main motivations.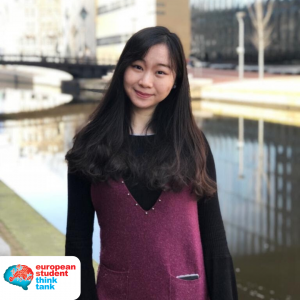 Yuan Xu is a second-year political science honors student at the University of Amsterdam. She is a co-founder and director of an education-related NGO in China and also on the board of UNICEF Student Team Amsterdam. She has also been engaged in various community and international projects in different places such as Singapore, Kenya, Indonesia, and Amsterdam. Yuan is passionate about topics revolving around educational policies, especially under global and conflict contexts. She has been presenting related papers at international conferences such as IAPSS, PSA Undergraduate Conference. Besides, She is also interested in peace-building, art and politics, Middle Eastern politics and Asian politics.  She also loves art, music, and football.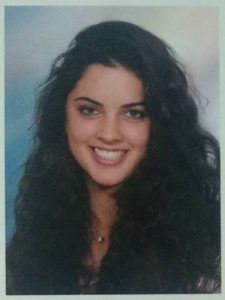 Miranda Tessore is currently studying International Peace and Security MA at King's College London in the Department of War Studies. She is the event officer for the King's JSoc Committee. She previously graduated from Politics, Psychology, Law and Economics (PPLE) with a specialisation in International Law from the University of Amsterdam. Her main interests lie in intelligence and security in the Middle East, specifically regarding the Arab-Israeli conflict. In 2018, she served as a legal advisor for DSM-Niaga, a young joint-venture whose main goal is to bring new technologies on the market with a new and revolutionary design strategy to rethink the life-cycle of materials in everyday products. Miranda is looking forward to contributing to European Student Think Tank as an editor, particularly in the fields of Security and Defense.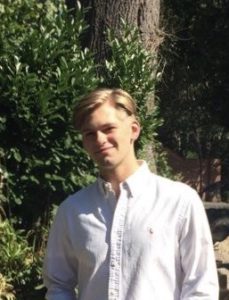 Matthew Richardson is a final year student studying Law at the University of Bristol. After graduating he hopes to undertake a Europe-focused Masters degree in Law or Politics before starting a training contract in commercial law at Eversheds Sutherland. He hopes to ultimately work in cross-border Corporate Litigation and Dispute Resolution and is keen to learn about all things related to European competition policy, trade and public law. He is also particularly interested in the health, environmental and energy policies of the European Union and its Member States. At University he has spent time on various law-related committees and has volunteered in human rights law clinics in Cape Town and Bristol. Away from academics, he enjoys playing cricket and going to the gym.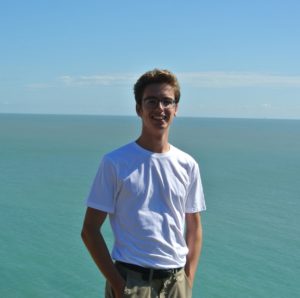 Jack Graveney is currently studying a degree in History and German at the University of Cambridge. In October 2020, he will be moving to Germany for a year to study on an Erasmus place at the Humboldt Universität in Berlin. His academic interests are centred around European, especially German, intellectual history, and he hopes to bring an ideas-driven approach to editing for the EST. Politically, he is most interested in social and cultural policy and, in particular, the role played by populism in contemporary Europe. On the EST, Jack is hoping to hone the editing skills he picked up on the British Undergraduate Review, helping to propel dialogues and relationships of reciprocal learning. Away from his desk, he enjoys hiking and playing tennis.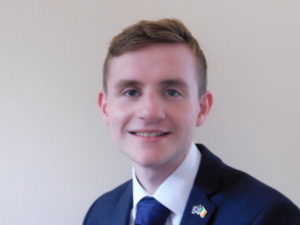 Daniel Mooney is a 21 year old student from Ireland, currently in his final year studying law at Maynooth University. He has previous experience working for one of Ireland's largest corporate law firms and he has a number of published articles. His research and reading interests include EU law, Internal Market policy, Regional policy as well as Brexit and the Northern Ireland protocol. He also has a particular interest in reading about national/cultural identity and minority languages within the EU. By working with the EST, Daniel looks forward to helping writers present their ideas and promote discussions about European law and policy.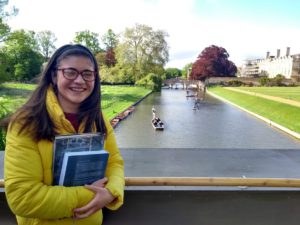 Phoebe Campbell is currently studying Classics at the University of Cambridge. After her final year, she is hoping to study a Masters in Education, Policy and International Globalisation, an interest sparked by her recent work with an education policy and research institute. She is particularly interested in education policy and governance issues, as well as the diversity of European culture.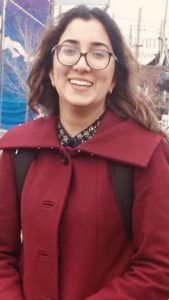 Leah Sarah Peer is a medical student at Saint James School of Medicine in Chicago, USA. She holds a Bachelor of Science with a Specialization in Biology and a Minor in Human Rights from Concordia University in Montreal, Canada. Mingling her passion for medicine with her human rights endeavours, Leah aspires to serve humanity beyond the bounds of medical knowledge. Through her involvement with numerous local and global humanitarian projects advocating for the health and wellbeing of underserved communities across the world, she strives to fulfill her mission of serving humankind. Her research interests include medicine, pediatric oncology, human rights, global health, migrant & refugee health, international politics, and human rights in humanitarian/conflict settings. At the ESTT, Leah hopes to foster greater appreciation for political discussion centred around European affairs and strives to compassionately empower others to make a difference. Outside of academics, she loves travelling, learning languages and writing, as she believes being publicly vocal on issues that matter is the first step of committing to change.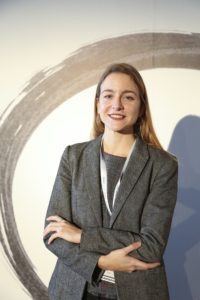 Lucía Moreno-Arrones Loriente is a graduate International Relations – Political Science & Public Affairs student with a deep interest in European and Asian relations. In this line, she participated in the 9th Model ASEM, and worked for the Spain Japan Foundation, in Madrid. She also interned in the Spain Embassy in Jakarta, Indonesia. Her interests do as well include disaster prevention and response, climate change and peace processes in the world; and she's always keen to boost her knowledge of Japanese and Chinese.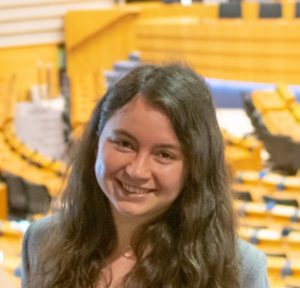 Blanca Marabini San Martin holds a Double BA in International Relations (with a focus on international security and foreign policy) and Translation and Interpreting. During her studies, she gained research and editing experience by interning in the Spanish Institute of Strategic Studies (IEEE), a think tank attached to the Spanish Ministry of Defense, as well as at the Centre for Analysis and Strategic Foresight of the Spanish Guardia Civil, and at JESC, a faith-based lobbying organization based in Brussels.
Her research interests include the Asia-Pacific region, ethnic studies, minority policies, and the role of languages in identity, as well as topics related to sustainability, and she is currently working as a graduate research intern at the Observatorio de la Política China (Chinese Policy Observatory). She also participated in the 9th Model ASEM as the Head for the Indonesian Delegation in December of 2019 and regularly volunteers with Translators Without Borders and the UN Online Volunteering platform, among others.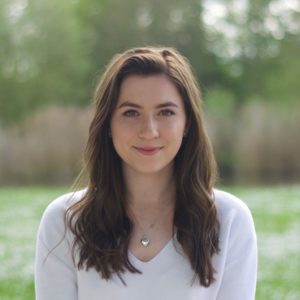 Amelia Hacon is a final year Politics & Economics student at the University of Nottingham. She has developed an interest in EU affairs as she has progressed through her undergraduate degree and hopes to pursue a master's degree or career in exploring post-Brexit relations with the EU. Her academic interests include integration, governance, monetary policy and trade as well as a broader interest in the EU as a player in international relations. She has former experience with two central banks, society committees and is now involved with the governance structures of Nottingham's Students' Union.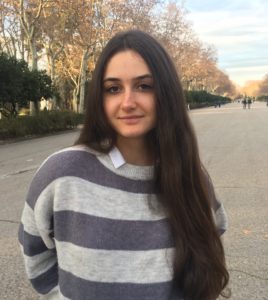 Sabrina Nucciotti is a student of European Law at Maastricht University. She is currently pursuing her exchange at the University of Edinburgh and she is a member of the Honours program of her faculty. Her fields of interest centre around European data protection and privacy law especially within the healthcare system.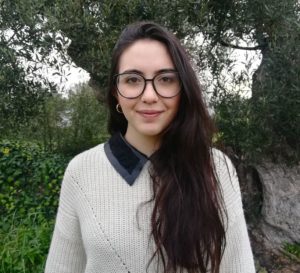 Laura Sanzarello is an International relations graduate from Loughborough University. Here she specialized in conflict studies and international institutions while engaging with the University's education office and holding several committee positions. Joining the UPF – Association of Foreign Affairs during her exchange semester at Lund University allowed her to experience the editorial and PR process of a student-led organization. She is a member of the Common Futures Conversations Forum at Chatham House, and a translator for the independent news outlet Global Voices. At EST, she writes about the reality of journalism and media freedom across Europe in the column 'Threats to Media'. Currently, she is involved as a Research Assistant and Country Manager with the CoronaNet Research Group, a non-profit initiative that monitors, analyses and collects national policy responses to the Coronavirus pandemic. Among her main interests are human rights, modern conflicts in the Middle East and political communication.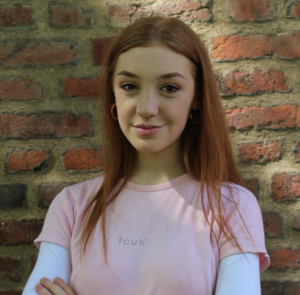 Helena Anderson is a final year English student at the University of Cambridge. Her research and reading interests include the future of the EU, relations with China, and Brexit, with a particular focus on the Northern Ireland protocol. Having written her dissertation on Anglo-Irish identities, she is particularly interested in how identity evolves from, and is affected by, language. Helena is hoping to pursue a career in corporate law, where she can specialise in international trade and other cross-border matters.