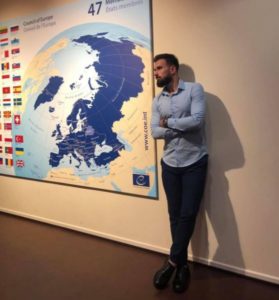 Renis Meta
Contact: albania@esthinktank.com
Renis graduated with a Gold Medal Award from the University of Tirana, Faculty of Social Sciences, Department of Social Work and Social Policies.  Renis is an alumnus of the German Foundation Konrad Adenauer, ranked as the No. 1 Think Tank in Germany and 15th in world ranking. 
Renis has a long tracking record of his civic engagement and voluntarism contribution. He has mainly focused his energy in advocating and working with youth, children, marginalized communities, young asylum seekers, people with disabilities, etc. 
Renis also works as researcher, and he is particularly interested and focused in Politics, European Union & Enlargement Process, Human Rights, Gender Equality, Social policies, Western Balkans & EU, etc. Additionally, Renis had the opportunity to develop his passion for research following an internship at the Institute of Statistics – INSTAT in Albania and a successfully a three-month internship at the United Nations Development Program (UNDP).
Renis has assisted in various projects, research & studies, travel studies with international entities like, Konrad Adenauer Stiftung, UNDP, UNFPA, Terre Des Homme, RYCO, mostly with background in European Union, Western Balkan & EU, Human Rights and Gender Equality. Renis has also been part of a youth-led actions in research and advocacy groups to influence public policies and discourse.
Vision: His vision is to make EST more known and visible in Albania. He aims to enhance the youth participation in politics as well as understanding of the European Union and Enlargment Process, and influence the public debate through youth involvement.