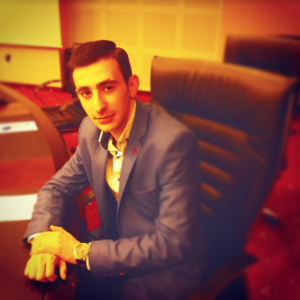 Davit Muradyan
contact: armenia@esthinktank.com
Davit Muradyan is currently studying a bachelor's degree in Political Science at the Yerevan State University in Yerevan, Armenia. He has extensive experience in participating and implementing in Erasmus + programs. 
He is a member of EU4Youth Alumni Network and member of Council of Youth Affairs at Yerevan Municipality. Davit is working with public sector in Armenia and with EU organizations. 
In the beginning of 2020, Davit and his friend launched Youngsters without borders Youth NGO which aims to engage youngsters in sociopolitical life, enabling them to self-express and self-actualize, to become future entrepreneurs, decision-makers and change-makers. He believes that well-educated, open-minded young people with analytical skills and actively involved in civil and public life have the power to solve the world's most complex problems, and that the boundaries against them are powerless.

He thinks that Young people are bridges between countries and EST can become one of the basis to make those bridges stronger, more reliable and also it can connect a lot of smart and interesting people from each corner of the world. Each person is a story, which needs to be discovered. So,he is more than sure, that as an Ambassador he will enable them to cooperate with each other  and to make this world a better place to live in- without hatred, violence, intolerance, racism.

As an EST Ambassador, Davit wants to encourage students to learn and gain knowledge about Democracy, EU Values and relations between EU and Armenia.