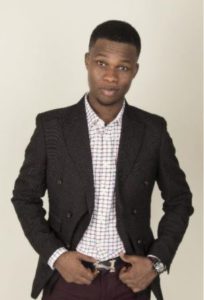 Abel Mavura
Contact: france@esthinktank.com
Abel Mavura is a holder of Master of Advanced Global Studies Degree from Paris School of International Affairs (PSIA), Sciences Po University Paris, France. He is currently pursuing a PhD and a second Master in Human Rights and International Law. Abel has vast experience in community development working with various organisations, mobilizing stakeholders, youths and women for various campaign events. That is local national and international meetings, writing news articles on social justice issues, poverty alleviation, human rights and youth issues.
His strong leadership and coordination skills have been developed over more than ten years as the director of a youth-focused NGO in Zimbabwe and coordinating projects and actions with large groups. From working internationally in Southern, West Africa Ghana, Asia, China and Europe, He developed an appreciation and embracement of diversity of cultures, religions, and opinions. Through innovative and participatory methods, he is able to bring out creativity in students, volunteers and inspire them to action.
Recently, he has been advocating for refugee's rights in Paris France through Sciences Po Refugees Association as the Media and Communications Coordinator, Serve The Cities Paris as a volunteer. In Zimbabwe through his organization (MAYO) he has been mobilizing communities, promoting democratic governance and initiated community peace building committees. Working as an inspirator with Action Aid Ghana, he has supported the building and capacity development of two movements namely, Activista Ghana and the Young Urban Women Movement.
"I believe I would be able to successfully fulfil the responsibilities of the role of an Ambassador and expand the vision of the biggest European Student Think Tank in Europe and enhance its work", he said.