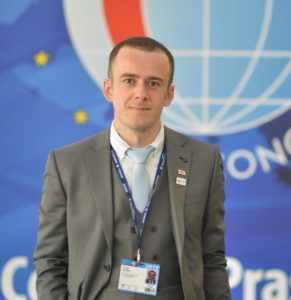 Giorgi Agirbaia
contact: georgia@esthinktank.com
This year's position of EST Ambassador to Georgia is represented by Giorgi Agirbaia, who is currently doing PhD in Public Administration program and developing digital citizenship models at Georgian Technical University. Except of working at Business Technology Faculty as a Senior Specialist, he is consultant of the book: "EU Countries Regional Policy",  moreover, actively engaged in Youth Work and Entrepreneurship field, as a certified trainer and mentor by British Council and USAID/Georgia different programs. He is Executive Director at the rapidly growing NGO "ProActive Group Georgia", which promotes democratic and economic youth participation and empowers youth with fewer opportunities since 2016, but he has been engaged in civil activism since 2012, which enabled to work and travel across the Europe, very much enjoying traveling, working in international teams, inspiring and empowering youth around the Europe and beyond from UK to Far East – South Korea to become more proactive global citizens. 
He has been "Young European Ambassador" to Georgia, within EU Neighbours East for 3 years and actively contributed to promotion of European values, EU funding opportunities and sharing European experience in Georgia. As a socially active youth leader with 8 years of previous international experience in youth leadership, economics, entrepreneurship and having MBA degree in Innovative Project Management, we believe his contributions and role as an EST Ambassador will bring new proactive ideas, energy and added value to our network. 
I see European Student Think Tank as great platform of bright minds of Europe united by core values and common vision to support European policy-making process, which enables me as an EST Ambassador to Georgia expand my network and knowledge in the area of International relations, EU-EaP integration and European Affairs.

I am very much looking forward for developing joint proactive initiatives, strategic partnerships and fruitful cooperation. I strongly believe in Youth Power, as a gift for present actions for better tomorrow!