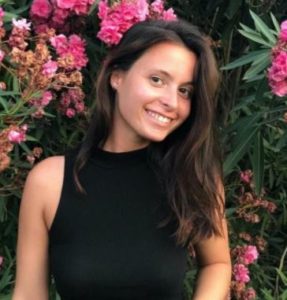 Catarina Rogado
contact: groningen@esthinktank.com
Catarina Rogado is originally from Portugal where she obtained her Bachelor Degree in Languages, Literature and Culture from Lisbon University. She recently moved to the Netherlands to undergo a Pre-Master's & MA degree in International Relations and International Organization at Groningen University. 
Her admiration for distinct languages and cultures is what prompts her will to discover new places and live abroad. During her previous academic path, she moved to Beijing, where she spent the most positively challenging months of her life to date, travelling around China and getting to know inspiring students from all over the globe led her to wanting to pursue her MA degree abroad. 
She is currently the Board Secretary of Amnesty International Groningen, a local student association of Amnesty International Netherlands, that raises awareness on Human Rights issues. Before joining AISG, she spent three months remotely researching East-Asian policies (Hong Kong and the National Security Law) connected with the EU-Asia Centre. Her main areas of interest concern Human Rights; EU-China relations and foreign policy.
It is for her a great pleasure to represent The Netherlands and work alongside EST as an Ambassador! She is ready for a new adventure and eager to engage students and connect people during these especially weird times! It is important young people are given a chance to voice their concerns and play their part in the EU policy reflections and she is eager to contribute for that!