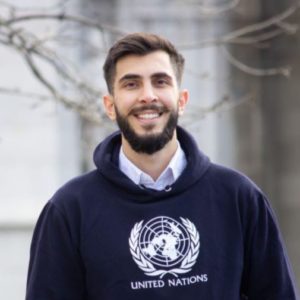 Ibrakhim Saifullaiev
contact: hungary@esthinktank.com
Ibrakhim is a young lawyer, human rights activist, and multilingual changemaker with experience in different international NGOs. His main focus areas are human rights, diplomacy and the environment. He has been working to promote and protect human rights for recent years, thus acquiring extensive knowledge in the field of international monitoring, human rights in particular as regards freedom of thought and expression.
He has successfully completed Critical Thinking and Advocacy in a Free Society Program, which was organized by The Leavitt Institute for International Development. This has enabled Ibrakhim to engage more closely with international human rights NGOs to spread democracy, ethics, and the rule of law. He is also an alumna of the Teaching Human Rights Fellowship. As a Human Rights Fellow Ibrakhim used his experiences to instill in his community a sense of respect toward other human beings and inspire them to become, in their own right, educators and activists who will assist in the defense of human rights.
Recently, Ibrakhim was appointed as Young European Ambassador (YEAs) from Ukraine within the EU Neighbourhood Programme. He is strongly interested in the integration processes that take place across the EU, and also in the Eastern Neighbourhood countries. Ibrakhim has first-hand benefited from the EU and thus consider himself a strong EU enthusiast who wishes to share his passion for the EU with others both in Ukraine and in the region.