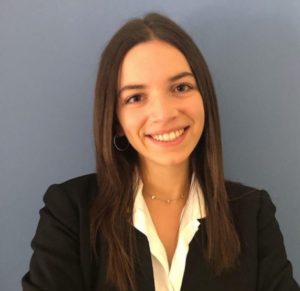 Ana Sofia Cabral
contact: bologna@esthinktank.com
Sofia is a 22-year-old Portuguese student, currently taking her masters in International Politics and Markets at the University of Bologna, in Italy.
During her bachelor studies in Business in Portugal, she decided to take a semester abroad in China, which helped her consolidate her interest for international politics and economics, as well as development economics. She is an organized worker who brings out her passion about International Relations in the projects she takes. Sofia recently co-founded a Podcast channel where, together with  her co-founder, they discuss issues of global governance and societal matters. They aim not only to give voice to their thoughts, but to also motivate the young generation of critical thinkers to not be afraid of questioning the status quo.
As someone who loves travelling and getting in contact with people from different nationalities and backgrounds, Sofia has participated in leadership and governance events across Europe, networking with people who have evermore motivated her to be an active listener and thinker. 
Some of her main interests in global policy are migration governance, refugee crisis management and human rights protection, which she considers to be in need of further research and policy innovation. She strives to better understand the variables causing inequality and poverty around the world, knowing that international and European institutions play a key role on improving the future of the next generations.
Sofia is thrilled to join the EST team as an Ambassador for Italy, committing herself to be an active voice for the youth and to encourage the European student community to be curious citizens and active players, using their talent to make the world a more equalitarian and safer home for everyone.