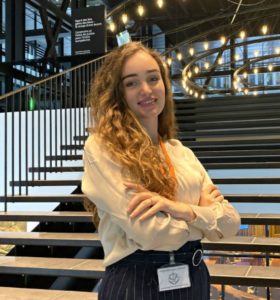 Albulena Uka
contact: kosovo@esthinktank.com
Albulena is often referred as the Cosmopolitan Kosovar due to her origin from Kosovo and her global impact and participation. Moreover, what stands very fond to her heart are the European values that she has been applying and promoting in recent years particularly. 
As per Albulena's academic preparation, she has been studying law for her Bachelor in Kosovo and Advanced LL.M. – Master of Laws in Belgium for which she received greatest distinctions from the Universities. Those years of studying law consequently made justice become essentially her life.
Regarding her experience in various national and international competitions, conferences and congresses, she has a remarkable background. She has been a participant in the most prestigious student conferences, such as the one organised by Harvard University and was honoured with awards for her outstanding performance. Later on, she began chairing different committees of different conferences around the globe as in New York, Paris, Brussels, Vienna, Ankara, Zagreb, Budapest, Tirana, Warsaw, Prishtina, Bucharest, Frankfurt and many others.
Albulena is happy and honoured to be the EST Ambassador for Kosovo as this represents a unique opportunity for her to engage the Kosovar students in the European values and help them be more active towards that end. She will be gladly encouraging students in Kosovo to learn and gain more knowledge about the European Union as she considers it completely crucial for their future.