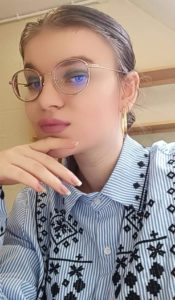 Maria-Madalina Ifrim
contact: manchester@esthinktank.com
Mădălina is currently the social responsibility scholar at the University of Manchester, entering her final year. She is undertaking a Bachelor of Science in Management with specialisation in marketing and a year in industry. 
She proved her interest in European Union and their institutions and tried to militate in everything that she did for the values that young Europeans should possess. She is a European Youth Parliament alumnus and had the chance to represent her country of origin (România) twice at the European Youth Event organized at Strasbourg. Eager to learn and represent, she was selected as one of the promoters of the European Democracy, a project organized by the Romanian Youth and Sports Ministry and the Biro of Information of the European Parliament. That project was finalized with a study visit to Brussels. 
Mădălina loves a good argument – she is an accomplished debater that won awards in different kinds of simulations (MUNs, EU, UNESCO, NATO etc) and organized different types of conferences, mainly from PR and event management positions. She graduated with distinctions from the European Fellowship on Youth Leadership, a complex programme of youth leadership with a mix of the learning experiences: training, job shadowing, practice, inspiration and peer-to-peer training and received a Magna cum Laude award from the New Media Ambassador programme. She had the privilege to represent the Group of European Youth for Change (GEYC) in different events as both a participant, trainer, group leader or I was part of their project team, establishing 100 Erasmus + partnerships.