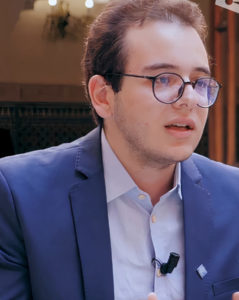 Taha Benjelloun
contact: morocco@esthinktank.com
Taha Benjelloun is currently studying a bachelor's degree in International Relations at the Mohammed VI Polytechnic University in Rabat Campus. Taha was present as the official representative of ONDE(Moroccan National Observatory of Child Rights) in an inter-organizational committee about the Public-Private Partnership and the South-South Cooperation with the participation of the delegation of the EU, the UN, the Moroccan Ministry of Foreign Affairs, and other organizations and public administrations. He was responsible of migration affairs during a discussion session with the UNICEF ambassador, the delegation of the EU, and the ambassador of Belgium in Morocco on the «Hijra wa Himaya» project.

In addition to his work with ONDE and UNICEF in Morocco on childhood situations, Taha also is a cultural news Editor in Maroc Info. His interest in art, literature, and cultural heritage led him to write and share with people his knowledge.

As an EST ambassador, Taha wants to encourage European students to learn and gain knowledge about the European Neighbourhood Policy and EU actions all over the world. Taha has a great interest in relations between the EU and the MENA region and, in particular as regards migration and cooperation in defense and security.