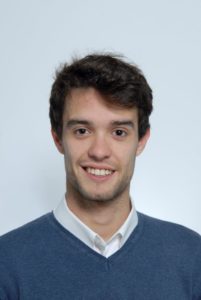 Rui Oliveira
contact: porto@esthinktank.com
Rui is currently doing his Master's degree on E-Business in the Porto Institute of Accounting and Administration, with a Bachelor on Languages and International Relations by the University of Porto. He is currently considering doing his dissertation on the improvement of data protection inside the EU. However, he is very interested in diplomacy, cooperation and development, EU's foreign policy and international politics.
He is currently a volunteer in the It Gets Better Portugal organization, an NGO that works, since 2013, to promote LGBT+ rights in Portugal. In the past, Rui was very active in youth organizations having held positions in multiple junior enterprises and NGO, that worked with local communities in various areas.
Furthermore, Rui has also had multiple internship experiences in SME portuguese companies, either working on digital projects or consulting projects.
Rui has joined the EST network as an Ambassador in order to promote discussion on EU policies amongst portuguese citizens, so as to bring awareness on some of the most important issues.