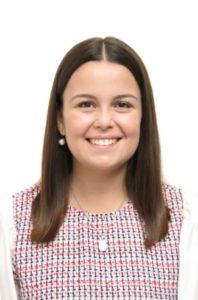 Mafalda Infante
contact: lisbon@esthinktank.com
Mafalda is a Portuguese Master's student in International Studies at ISCTE – University Institute of Lisbon, with a Bachelor's degree in Political Science and International Relations at Nova University of Lisbon. She is currently developing her Master's dissertation about the EU's Eastern Partnership, and is very interested in EU foreign policy, theory of International Relations, democracy and electoral studies, and political communication. 
She is a volunteer at the Leo Club Program, a youth charity association, since 2014, currently holding the position of International Liaison Officer, representing Portugal in the ILO Council of European and Mediterranean Leos, in which she is also a board member. In 2019, Mafalda was the Secretary of the Leo Europa Forum, the main gathering of European Leos.
Simultaneously, Mafalda had different internship experiences in Portuguese and European organisations, such as the Network of Strategic and International Studies and the Portuguese-Polish Chamber of Commerce.
As an EST Ambassador, Mafalda wishes to bring European Affairs closer to Portuguese students, and to enhance the discussion about fundamental EU issues that affect the everyday life of Portuguese young people.