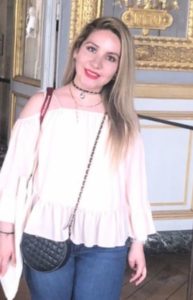 Ana Sofia Poli, International Ambassador to the U.S

contact: usa@esthinktank.com
Born in the U.S, raised in Mexico, and immersed from a young age into Spanish and Italian culture, Ana's multicultural background has instilled a deep appreciation for different cultures and their histories. 
From a young age, Ana has been made aware of the importance of making your voice be heard and speak up for those who cannot stand up for themselves, for that reason, she has been closely involved with her community from a young age. Her leadership/community experiences include serving as a Rotary Youth Ambassador, delegate for the MUN,  Extemporaneous Speaker for the NHI, and currently serving as Vice-President at Polygeia, a fellow think tank catered towards engaging students in research. 
She hopes to serve EST as an International Ambassador by promoting diplomatic relationships across European countries,  informing her community on the importance of political affairs and how they can impact them, engaging members of the EU community into healthy discourse to reach rational solutions to global problems. In order to fulfill her goal, Ana will be organizing a series of didactic and outreach events to engage the community, and writing informative reports synthesizing the most important information of current EU affairs. 
In addition to being passionate about politics, international affairs, and philosophy, Ana is also a passionate advocate for science and innovation. She is currently doing a double major in Chemical and Biomolecular Engineering and Neuroscience at NYU. She ambitions to earn an MD/PhD after her undergraduate studies.