Alva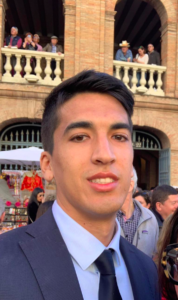 ro Casero Otero
contact: valencia@esthinktank.com
I am a BA Law, Political Science and Public Administration last-year student at the Universitat de
València, Spain. I have good knowledge not only in EU institutional system and political affairs but also in Community Law as I recently coursed exchange studies at Tallinna Tehnikaülikool, Estonia. I have been able to deepen in EU cybersecurity policies at the European Parliament in Brussels through European Mobile Youth Program and shared views about federalism in Europe in a Tartu UEF Congress.
My main aspiration will be to give Europe the prominence it deserves by bringing its policies closer to young people, showing their advantages and defending both supranational and intergovernmental pillars. Our future is in our hands, so it is essential that we face all challenges together through ideas, greater participation and inclusiveness.