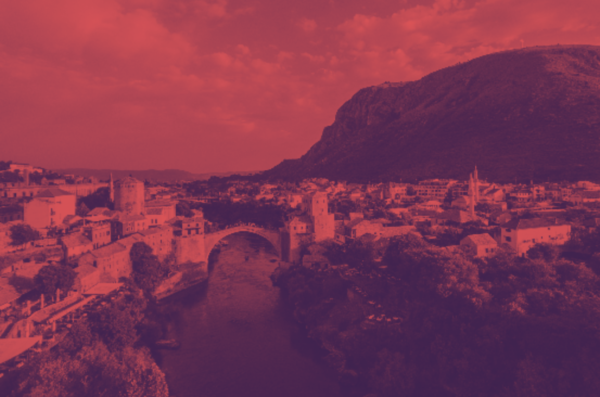 Written by Joanna Pamoukoglu
Tensions are running high in Bosnia and Herzegovina, as Milorad Dodik, the Serb member of Bosnia's tripartite Presidency, is taking bold steps towards secession. While the country is no stranger to political turmoil and instability, the current situation is widely understood as the biggest existential threat Bosnia has faced since the end of the war in 1995.
Recent developments
On the 9th of January, Bosnian Serbs held a series of public celebrations to honour the 30th anniversary of their autonomous Serb Republic, proclaimed in 1992. For Bosniaks (Bosnian Muslims), the date constitutes a dark reminder of the beginning of the 4-year-long genocide and ethnic cleansing committed against the non-Serb population of the region. On the grounds of ethnic discrimination, the holiday was declared unconstitutional by Bosnia's Constitutional Court in 2015, yet the ruling has been repeatedly defied by the government of the Bosnian Serb entity, Republika Srpska (Al Jazeera, 2022).
This year, the celebratory parade was led by Bosnia's Serb militarised police force, accompanied by combat vehicles as helicopters hovered above them. Notably, the days leading to the 9th of January were marked by vicious incidents of intimidation against Bosniaks, including firing in the air near mosques during prayers, singing nationalist chants and publicly praising convicted war criminals (Ibid.). Despite the unrest preceding the holiday, the leader of Republika Srpska, Milorad Dodik, did not hesitate to give a fiery speech on the day of the parade. "Every national movement, and ours too, has a single goal, which is to build a people's state, namely its own state", he proclaimed, hinting at the secessionist gestures he has made over the past few months (Miner, 2022).
Amid ongoing concerns over the sovereignty and territorial integrity of Bosnia and Herzegovina, the climate of militaristic nationalism dominating the 9th of January celebrations was perceived as blatantly provocative by Bosnian officials and the international community alike.
Background overview
For the Bosnian population, Milorad Dodik's intimidation tactics are all but unsurprising, as the Serb member of the Presidency has been vocal about his intentions to secede Republika Srpska for the past 15 years (Gadzo, 2021). Nonetheless, the latest steps he has taken towards the realisation of his separatist vision are rendering the dissolution of Bosnia and Herzegovina an increasingly realistic threat.
In early October 2021, Dodik announced that the Serbian entity, Republika Srpska, will quit key state institutions to pursue full autonomy within the country. Specifically, he declared that the Bosnian judiciary, security and intelligence agencies will be banned from operating in Republika Srpska, and will instead be replaced by Serb-run institutions (Gadzo, 2021).
Mr. Dodik's aspiration to establish a mono-ethnic state has naturally revived intense feelings of insecurity among many non-Serb Bosnians who survived the horrors of 1992-95. In a country where collective consciousness is permeated by memories of an atrocious war, the current security crisis is sparking fears of an armed conflict reignition. "Police, military, intelligence, and security services were at the centre of organised and systematic violence against non-Serbs. These institutions considered Bosniaks' existence an existential threat", wrote Emir Suljagic, director of the Srebrenica Memorial Centre (Gadzo, 2021).
While Mr. Dodik has insisted that his moves do not reflect secessionist ambitions, his overtly hostile rhetoric is far from reassuring. In late October, when asked by a reporter how he plans to throw out members of state services from the entity's territory, he responded "as the Slovenes did it in 1992", referring to the use of violence during the dissolution of Yugoslavia (Gadzo, 2021). Persisting with his inflammatory statements, Dodik recently dismissed the threat of European sanctions, claiming that his isolation from the West would only force him to strengthen his ties with China and Russia.
According to the Bosnian Serb leader, his plan of action – which is in violation of the 1995 Dayton Peace Agreement – constitutes a response to what he described as the victimisation of Bosnian Serbs, after a decision was taken in July by the High Representative of Bosnia to outlaw the denial of genocide (Gadzo, 2021). Mirko Sarovic, the leader of a Serb political party opposed to Mr. Dodik, denounced the ban as a "huge mistake", highlighting that it has infuriated belligerent nationalists and encouraged the Serb member of the Presidency to embark on a "reckless adventure" (Higgins, 2022).
Is war on the horizon?
The real question is whether Mr. Dodik's threats are serious, or merely a political performance aimed to inflame nationalist tensions and bolster his popularity in light of the upcoming elections in October. Perhaps more than a secessionist goal, Dodik's separatist rhetoric is driven by a desire to jump on the bandwagon of exclusionary identity politics that is currently dominating the Eastern European scene. In a region still rife with intercommunal tensions, nationalist drumbeating is destined to find a staunch audience. Granted the undisputed support of his political ally, Hungarian prime minister Viktor Orbán, Dodik can exploit the momentum of ethnic exceptionalism to safeguard his electoral success and potentially extend the powers of the Bosnian Serb entity. According to Marco Prelec, a consultant and analyst on the Balkans, "the more hopeful interpretation is that what Dodik wants is some kind of relatively mildly renegotiated deal that would simply shore up the autonomy that they already have" (Heil, 2021).
Among Bosnian officials, speculation is mounting that Dodik's primary motivation to decentralise is to avoid reports of his rampant corruption being seriously investigated by state prosecutors (Higgins, 2022). In early December, the High Representative in Bosnia, Christian Schmidt, asserted that Dodik was merely trying to test the red lines and see how far he can go, adding that the Bosnian Serb leader had given up on his initial intentions of withdrawing Serb troops from the Bosnian joint armed forces (SarajevoTimes, 2021). While Dodik slapped down Schmidt's claims, he extended the deadline for the troops' withdrawal by six months, justifying the postponement on financial and procedural grounds (Ibid.).
Whether the Bosnian Serb politician will eventually make any concrete decision is uncertain, but analysts argue that the prospect of an armed conflict seems rather unlikely. In October, Mr. Dodik had confidently stated that "friends" — namely Russia and Serbia — would aid him in case the NATO alliance attempted to curb him (Higgins, 2021). As it turns out, his assertion was mostly grounded on wishful thinking rather than pragmatic expectations. Serbia, aiming to get back on the good graces of the West, has shown no interest in endorsing Dodik's strategy (Ibid.), and while the Kremlin has expressed its support for the Bosnian Serb entity, it has sent a clear message that Russia's backing will not involve military reinforcement (SarajevoTimes, 2021).
That being said, even if Dodik is unprepared to organize violence in an effort to win independence, his actions still pose a serious threat to the future of Bosnia. "What is possible is a lower level of violence that leads to a 'frozen conflict' and essentially a failed state" Prelec claims (Heil, 2021). Similarly, Toby Vogel, a Western Balkans analyst says "The existential threat to Bosnia I see not so much in war between organized armed forces as in an accelerating of the gradual dissolution of the common state, of the state institutions of Bosnia-Herzegovina" (Ibid.).
Mr. Dodik's future aspirations remain ambiguous, as he seems to be vacillating between retracting his impetuous decision without raising the white flag and maintaining the nationalist support he has gained from his secession promises. What is uncontested, however, is that his imprudent political game risks grave consequences for an already fragile state created out of the ashes of war.
References