Our sponsors are an integral part of our organization, committed to the vales and the desire to give opportunities to young people in the field of academia and European affairs. It is through sponsorships that we are able to organize events and workshops for you across the world where young people can actively engage in the European policy-making process and conduct academic research.
Thorbecke Academy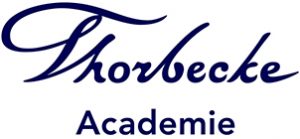 The Thorbecke Academy is the first university of applied sciences for public management. The Academy is connected to the NHL University of Applied Sciences and is located in Leeuwarden, the Netherlands. Established over 30 years ago, the Academy offers degree programmes in Public Administration/Public Management, European Studies and Integral Safety Management.
The degree on European Studies offers a great mixture between practice and theory and focuses on, inter alia, European institutions, European law and governance, public affairs, public management, foreign languages, and the diversity of cultures in Europe. By sponsoring the EST, the Thorbecke Academy supports the EST in achieving its objectives and encourages its students to contribute and participate in the activities of the EST.
Are you a Dutch youngster and interested in a bachelor degree in European Affairs? Then don't hesitate to contact the Academy for any inquiries you might have or visit one of its open days. Language of instruction for the entire degree will be a combination of Dutch and English. Furthermore, the Academy encourages foreign students with a specific interest in European Affairs to study one semester (30 ECTS) at the Academy. Language of instruction during this semester will be English.
For more information or questions please go to www.thorbeckeacademie.nl or directly contact the Academy via thorbeckeacademie@nhl.nl.