The International Office of the European Student Think Tank is the body with representation from ambassadors in EU member states. The International Office oversees our team of Ambassadors. The EST Ambas­sad­ors are the link between the EST and the EU's mem­ber states and offi­cial can­did­ate mem­ber states. They rep­res­ent the EST, pro­mote and organ­ize events loc­ally, write blogs about their country and make sure our net­work is as big as pos­sible.
To contact our International Office, please send an email to: international.officer@esthinktank.com
Equal Opportunities:
The EST Board has an equal policy representation for Ambassadors, with 50% women and 50% men in our International Office. The EST Board of 2016 has committed to the progressive implementation of equality quotas in our organization beginning September 5th 2016, and committing to achieve a 50/50 representation by the first day of 2017.
---
Head of the International Office – Reinder de Vries
international.officer@esthinktank.com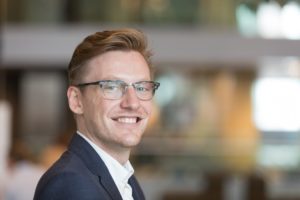 Biography: Following his degrees in Liberal Arts & Sciences at Amsterdam University College and International Law LL.M. at the University of Edinburgh, Reinder embarked on an international career in the international development sector. This took him to South Africa, Cambodia, Iraq and Jordan, amongst others, working on issues of gender, sexual and reproductive health rights and humanitarian aid. Reinder later became involved with The West Wing Think Tank – the official youth think tank for the Dutch Ministry of Foreign Affairs – where he acted as project leader, mentoring and coaching 15 students and young professionals, and facilitating Q&A and brainstorming sessions with ambassadors, EEAS as well as DEVCO staff. Reinder currently works as legal advisor to Wageningen University & Research on the acquisition and operations of various large scale EU funded programs.
Vision: As Head of the International Office for ambassador relations, his goal is to select enthusiastic and driven ambassadors, and make sure they have the most pleasant and empowering experience throughout their term as ambassadors of our think tank. He wants to facilitate and enhance collaboration amongst our think tank ambassadors, and have them share creative and innovative ideas on Europe and its future. With EST, his aim is to elevate the voices of youth on European issues and create a space and platform for critical and constructive thinking on current policy issues that matter to youth.
International Officers
Victor González Tapia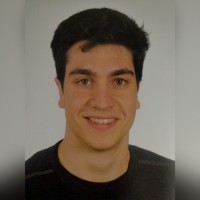 Biography: Victor is a young European who graduated in International Relations. Driven and motivated, his dream is to work at the top level of EU affairs. It is worth mentioning as well that he did an exchange program at the Kyonggi University in South Korea. Besides, he undertook an EU studies specialization, which, along with the fact that he is currently studying for the EPSO exams, has granted him a thorough knowledge of the EU institutions and working procedures. In his professional career, he has had the opportunity to work for two relevant institutions and a top tier consultancy in Barcelona. Firstly, at the Barcelona Chamber of Commerce, as a project manager, he acquired experience in institutional communication and event organization at a regional and international level. Also, he has held a position in the regional External Affairs Ministry and at an international consultancy that offers a wide array of services to its clients. As a Public Affairs associate, he delivered on strategy and communication to a wide array of clients. Finally, he is the partnerships director at Talento para el Futuro (a regional association in Catalonia, promoting youth empowerment and engagement in politics).
Vision: When it comes to mhis vision for EST, as a youth activist and an europeist, he would be very glad to contribute to raising youth awareness on EU topics and work. The future of the Union necessarily goes through its youth involvement, and in such challenging times, it is absolutely vital to provide youth with the tools to understand and feel involved with the European vision and goals.
Pierfrancesco Maria Lanza
Biography: Pierfrancesco Maria Lanza is a current Law student at the "Mediterranea University" of Reggio Calabria. He is passionate about International and European Union law and relations. He has been able to deepen his knowledge in International and EU Affairs by taking part in many international events, making also exciting experiences in some institutional simulations. Due to his love for trips, he tried to travel as much as possible to learn about different cultures and people, both far away and close ones, and this allowed him to learn and improve other languages and his academic education. Indeed, he speaks fluently English and can speak a bit of Spanish, French and some words of Arabic and Russian. As a result, he is also involved in organising English courses at his university. Furthermore, Pierfrancesco is engaged in many associations and was a member of the Municipal Youth Council of his town, which is near where he studies.
Vision: The international and EU context has always been one of his motivations. After spending one year as EST Ambassador, he strongly feels that young people have a significant role in the EU decision-making process. As International Officer, Pierfrancesco wants to take his commitment to a next level and help to build a cohesive young community. He is eager to keep motivating the youth to know and enjoy what we can do for the EU as well as encouraging the Ambassadors to share experiences and an interactive dialogue in order to build a better society together. He wants to contribute his own part to the European integration by helping to spread the knowledge about the European Union all over the youth.
Carmen Murgu
Biography: Carmen obtained her Bachelor's in Security Studies back in Romania and currently she is pursuing an interdisciplinary M.A. in European Studies at Europa-Universitaet Flensburg, Germany. Apart from being a Board member of the EST, she is involved in another European non-profit association, namely Munich European Forum. Their main highlight is Brussels European Forum where she nourished her passions for EU affairs, event-planning and debates. Also, she gained further experience in youth inclusion, empowerment, political communication within a pan-European framework by being part of the youth delegation to CoE Congress on the 2019 mandate and a scholarship holder at European Forum Alpbach 2020.
Vision: Enhancing and expanding the idea and values behind European integration are at the core of her vision for this EST term. As youth is not only the future, but also the present of the pan-European society, the young people represent a strong pillar in strengthening the collaboration and spreading European values across European cultures. Hence, she truly believes that the EST embodies the perfect mechanism and space to exchange ideas and create events that will lead us towards an ever-closer Union.
Enrique Fernández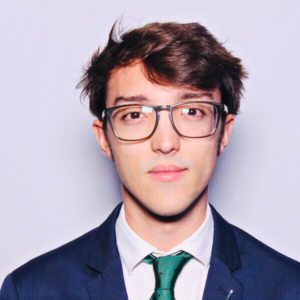 Biography: Enrique graduated with a Bachelor's degree in Economics and Finance from the University Autonomous of Madrid. He also has a Master's degree in International Affairs from the Comillas Pontifical University in Madrid and a certificate in International Relations from Georgetown University in Washington DC. He has also studied in Portugal and Czech Republic. Enrique has deep knowledge of EU Affairs, as he has studied the lobbying system of the European Union during his studies.
Vision: Enrique wants the youth to gain back its interest in the European Union and its main goals, which are yet to be reached. The economic crises from 2008 and 2020, the rising cases of nationalism in some countries and Brexit, have all made Enrique to believe that it is time to reclaim the European values and foster the European Union plan once again.  
---
Highlights from Our Ambassadors:
In 2016, Austrian Ambassador to the EST Johannes Tropper organized a delegation visit to the OPEC and the UN. The Dutch Ambassador to the EST Hester Mennes lead a policy working group on the European migrant crisis with the collaboration of Job Cohen, former mayor of Amsterdam, and Professor Hein de Haas, former co-director of Oxford's International Migration Institute. Irish Ambassador to the EST Jason Deegan, and President of the INGO Anti Corruption International, coordinated and invited the European Student Think Tank to Participate on Anti Corruption International's "Clean Vote" project founded in Oslo, Norway. The project campaigns for voting transparency and clean elections, through the monitoring of electoral corruption.
For any ques­tions or com­ments please send an email to international.officer@esthinktank.com.

What Becoming an Ambassador to the EST has meant:
"Being an EST Ambassador was a unique experience. It was a perfect chance to engage in an international discussion about the most vital issues in the current international affairs. Being heard and let others to be heard allows to shape the reality, which is one of the greatest values". – Kinga Jaromin – former Polish Ambassador to the EST
"The best part of being an Ambassador for the EST is knowing that you are always backed by a group of students that are as interested as you in making Europe a better place for everyone". – Daniel Rubio Sanchez – former Spanish Ambassador to the EST