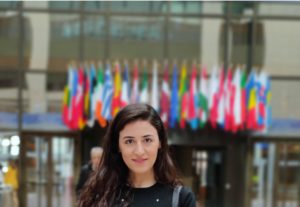 Jamila Zeynalzade 
Contact: sweden@esthinktank.com
Jamila is originally from Azerbaijan. She is a Swedish Institute scholarship holder and pursues her master degree in International and European Relations at Linkoping University in Sweden. She previously studied an advanced program in European Law and Economics at Riga Graduate School in Latvia and earned her Bachelor degree in Economics from Azerbaijan State University of Economics.
Jamila speaks 6 languages and has a rich experience from civil society sector and development cooperation. She was the only young journalist selected to represent Azerbaijan at Future News Worldwide programme at Reuters HQ in London in 2019. She always aspires to be a voice of underrepresented communities, the desire that pushed her to work on the socioeconomic and environmental problems of her rural community in Azerbaijan. 
As an Ambassador from Sweden she aims to facilitate the active participation of Swedish youth in policy-making processes at European level. Jamila believes that it is the young people who can influence decisions concerning their future and take actions for it. "I will do my best to raise youth awareness on EU opportunities and cooperation, which will ultimately contribute to stronger and better Europe for all" – she said.