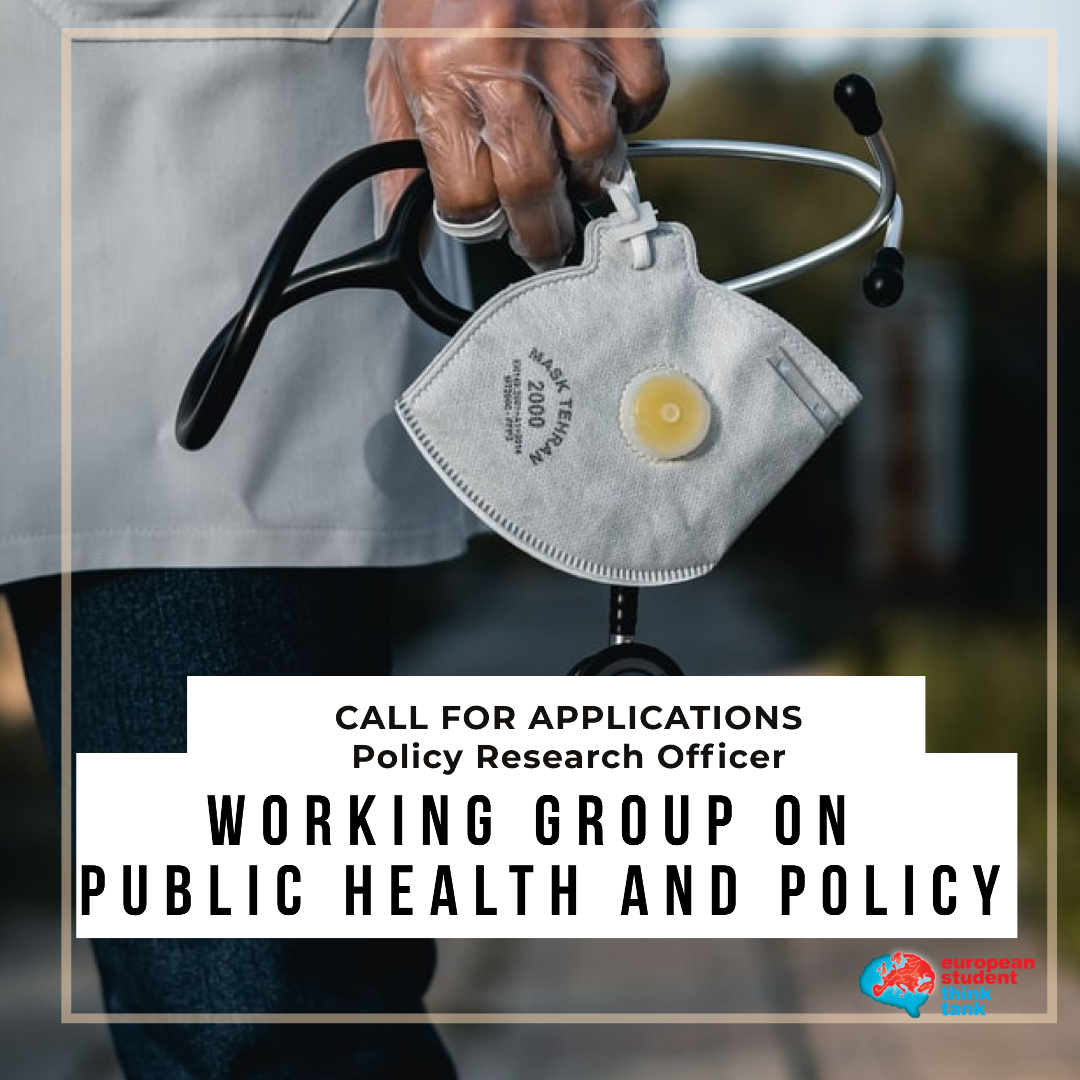 Call for Applications is now OPEN!
Deadline: 30 September 2020
The European Student Think Tank (EST), a Pan-European youth organization, is currently seeking to recruit new team members to form the Working Group on Public Health & Policy.
What's the prospect?
As a think tank for youth, by youth, EST occupies a unique position: it informs its young audience about European affairs. With the current pandemic scenario, public health and governmental policies have taken a pivotal role in European affairs. As CoViD-19 has brought about several administrative and health-related policy changes, the EST WG on Public Health and Policy would represent the youth at the European Union level. 
What's my role?
As a member of the Working Group on Public Health in 2020/2021, your main task will be to conduct research on your selected subtopic of public health or public  policies, as well as to produce short papers. This platform will allow you to hold student workshops, participate in debates and interact with policy-makers. Becoming part of the EST Working Group on Public Health also means entering a wide-ranging network of engaged students, as well as the acquisition of key professional skills in academic writing, analysis and project management. As a student-run group, we coordinate online and put great emphasis on granting volunteers space for their primary responsibilities at university and work. You should expect to commit an average of 2-3 hours per week to this extra-curricular project, which will adapt to your own schedule and the specific phase of the project.
Subtopics can comprise: 
Hospital management as response to COVID-19
Public health sustainability, public policy to tackle inequalities
How health policies affect a country's economy
Importance of a dynamic policy system
EU-united by effect, divided by response
Technology in disease mitigation
Why funding matters
Etc… 
What's EST looking for?
To best support our Working Group and benefit most from the experience yourself, you should:
be enrolled in a degree in medical sciences, social sciences, public health, health policy, political science (Bachelor, Master, PhD level, Medical internship, or Medical residency);

have a strong interest in research and policy,, previous research experience will be an asset;

ideally contribute with some practical insights in the area of public health;

bring the motivation and time to stay committed for the full project cycle October 2020-September 2021).
What's next?
If we sparked your interest and you believe that you would be a good fit, please apply by 30 September 2020 by filling out the Application form, where you would have to upload:
Your CV;

A motivation letter
https://forms.gle/jR33x48MA8Tf2Y998
We look forward to receiving your application!