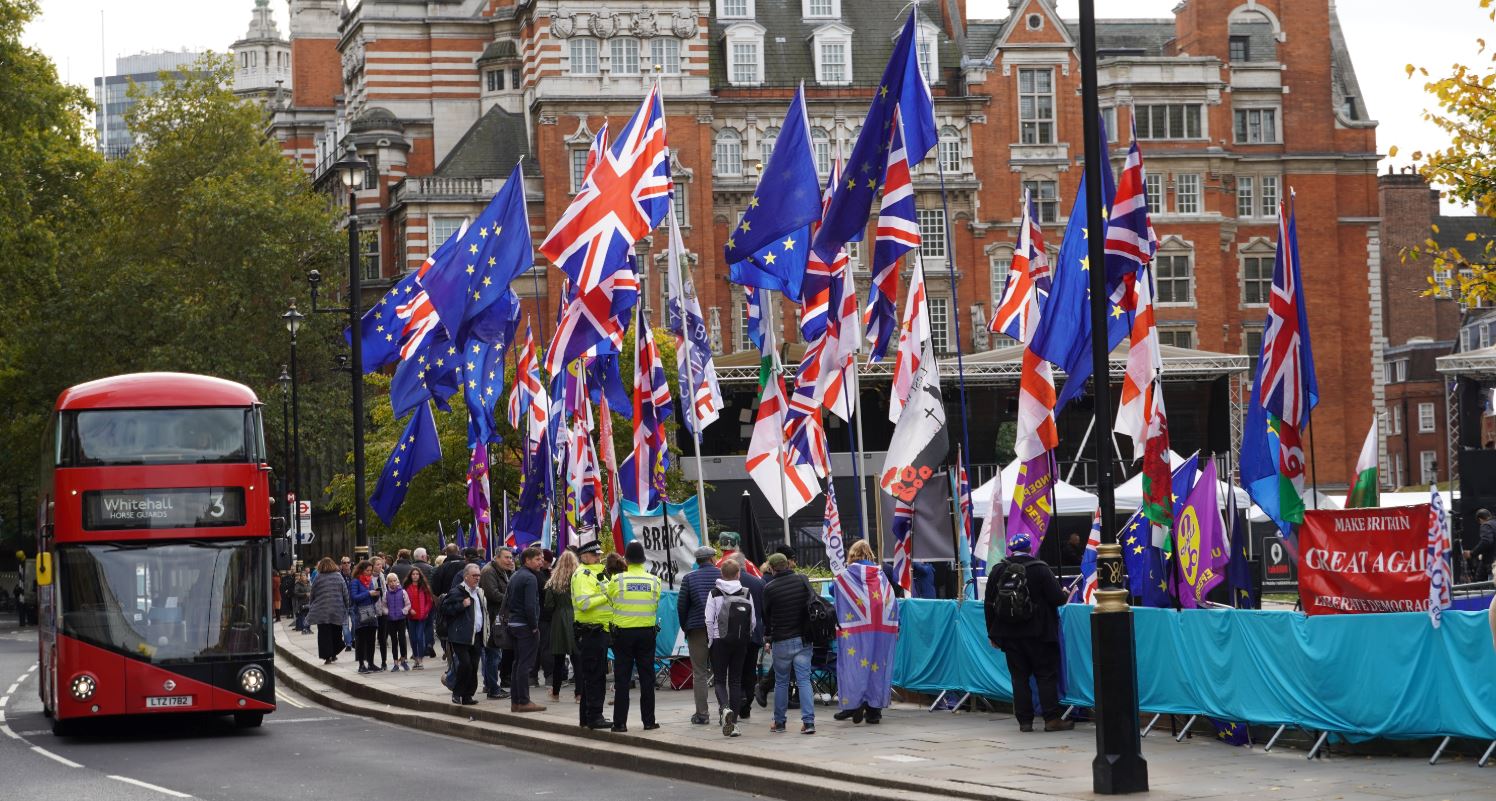 Written by: Thareerat Laohabut
The European Union (EU) and the United Kingdom (UK) are running out of time to finalise a trade deal before the end of the Brexit transition period on 31 December 2020. This article is not concerned with whether or not both parties can successfully agree a deal. Rather, it aims to understand the UK Prime Minister, Boris Johnson's, assertive stance on Brexit and explain why it seems that voting for Johnson may be equivalent to consenting to a no-deal Brexit.
Considering Johnson's strong pro-Brexit campaign during the 2016 referendum, his criticisms of EU membership clearly illustrate his antagonistic attitude towards the EU structure and federalism. As a co-founder and co-leader of "Vote Leave", the official Brexit campaign organisation (Stewart, 2016), his posts on the "Boris Johson" Facebook page offer insight into his intentions during the referendum campaign. To illustrate this, I have extracted four sentences from two of those Facebook posts, whose 'Like' and 'Share' numbers exceeded the average of the standard posts (Facebook 2016a; Facebook 2016b), in order to analyse the language and consider any tacit political agenda that underlie them. They are as follows:
(1) "the EU acquires supremacy in any field that it touches; because it is one of the planks of Britain's membership, agreed in 1972, that any question involving the EU must go to Luxembourg, to be adjudicated by the European Court of Justice";

(2) "This is a moment to be brave, to reach out – not to hug the skirts of Nurse in Brussels, and refer all decisions to someone else";

(3) "Month by month, the sausage machine of EU law-making will extrude more laws– at a rate of 2,500 a year, or perhaps faster"; and

(4)"A vote to Remain will be taken in Brussels as a green light for more federalism, and for the erosion of democracy".
If we read between these lines, we can clearly see that a more hardline, nationalistic slant is present amongst the rhetoric. For example, his descriptions of weakness and use of phrases that connote an insidious reduction of sovereignty such as "hug the skirts of Nurse in Brussels", "green light for more federalism" and "erosion of democracy", all portray continued EU membership in deliberately provocative and absolute terms. Implied in these phrases and the above sentences are two of Johnson's pre-Prime Ministerial demands: an end of EU supremacy and resistance to federalism. Most importantly, in his sarcastic description of "the sausage machine of EU law-making", Johnson not only exaggerates and misrepresents the complexities of the EU's legislative processes, but he also seems to suggest that these laws are made with little care for nuance or their effect on the millions of Member State citizens. In portraying highly qualified European law-makers in this way, it is clear that Johnson's purpose is to invoke anger amongst both politicians and citizens who feel the EU does not represent them or their country's voices. In these misrepresentations, Johnson's assertive right-wing ideology is clear (Oborne 2020).
Despite the fact that the 'Leave' vote won the referendum, the UK parliamentary consent required to proceed with Brexit was deadlocked due to the divided factions within the Conservative party and the then Prime Minister, Theresa May's, slim government majority (Pérez-Peña and Specia 2019). Motivated by a desire to break the Brexit stalemate and, after prevailing in the Tory leadership contest, Johnson announced the 2019 UK general election based on a promise that a vote for the Conservatives was a vote to "get Brexit done"(Perrigo 2019). He delivered a speech in Manchester saying "Let's get Brexit done. We can, we must, and we will even though things have not been made easier by the surrender bill, we will work for a deal with our EU friends" (Conservative Home 2019). As it would appear from the latter part of his statement (in bold), Johnson clearly suggests his intention is to work towards a deal that would maintain the EU-UK reciprocal relationship. Nonetheless, his following statement illustrates a paradox, stating that "if we fail to get an agreement because of what is essentially a technical discussion of the exact nature of future customs checks, when that technology is improving the whole time. Then let us be in no doubt that the alternative is no deal" (Conservative Home 2019). In spite of the above contradiction, it would appear that his pledge "get Brexit done" can be with a deal or without one.
In addition, the 2019 Conservative Manifesto emphasises that "[Johnson] will keep the UK out of the single market, out of any form of customs union, and end the role of the European Court of Justice" (p.5). This demonstrates that notions of "getting Brexit done" involves the UK " 1) [taking] back control of laws [and] money, 2) [trade] policy, 3) [introducing] an Australian-style points-based immigration system, 4) [raising] standards in areas like workers' rights, animal welfare, agriculture and the environment, [and] 5) [ensuring] full control of [the UK] fishing waters" (p.5). The first and the fifth are amongst the EU's red lines in negotiations and arguably are anathema to European single market integrity (Kafelakos 2019). Indeed, many of the plans laid out in the manifesto above are simply incompatible with the EU's trading regime. While this ignorance might be excusable for the ordinary man on the street, the same cannot be excusable for the UK's Prime Minister. Given that Johnson had been UK foreign secretary for the 2-year negotiation period (Honeyman 2018), it is inconceivable that he would not have acquired some information regarding the EU's red lines on Brexit and the areas where no compromise would be feasibly possible. The "get Brexit done" rhetoric, combined with the five points in the Conservative manifesto, demonstrate that, at Johnson's negotiating table, nationalistic demands take priority over a deal with the EU. Importantly, considering Johnson's Vote Leave campaign promises, the "get Brexit done" mantra and the Conservative manifesto in the UK 2019 election, this assertive stance on EU membership and anti-federalism has not changed.
The 2019 UK election result, in which the Conservative party gained a large majority, illustrates the popular support in the UK for "getting Brexit done"' (BBC news 2019). The result has emboldened Johnson and his pro-Brexit government, further underlining his strong-willed approach to push demands for national sovereignty to the EU, threatening to exit the transition period without a trade deal (Brunsdenet al. 2020). Johnson's continued pledges to uphold key Brexiteer demands on sovereignty are clearly in conflict with his promise to secure a deal. This has been made clear again and again by the EU and member states including Mrs. Montchalin, French Europe Minister (Parker and Brunsden 2020). In spite of this inherent paradox, Johnson won a landslide victory at the polls last year. A no-deal Brexit has been explicitly put on the cards and Johnson has made no secret of his willingness to do this. Clearly, a vote for Johnson is explicit approval for a no deal with all the consequences that entails for Europe and the UK.
References
BBC News. (2019, December 13). Election results 2019: Boris Johnson returns to power with big majority. https://www.bbc.com/news/election-2019-50765773
Brunsden, J., Fleming, S., Parker, G. & Wright, G. (2020, October 16). Boris Johnson throws down 'no deal' gauntlet to EU. Financial Times. https://www.ft.com/content/865a86a1-dcee-4554-908c-40a7046069c4
Conservative home. (2019, October 2). Boris Johnson: "Let's get Brexit done. Let's bring our country together." Full text of his conference speech. https://www.conservativehome.com/parliament/2019/10/boris-johnson-lets-get-brexit-done-lets-bring-our-country-together-full-text-of-his-conference-speech.html
Facebook: Boris Johnson (2016a). https://www.facebook.com/borisjohnson/posts/10153498932666317?
Facebook: Boris Johnson (2016b). https://www.facebook.com/7972991316/posts/10153653824951317/?d=n
Honeyman, V. (2018, July 10). Boris Johnson's record as foreign secretary is stained by litany of blunders and poor diplomacy. The Conversation. https://theconversation.com/boris-johnsons-record-as-foreign-secretary-is-stained-by-litany-of-blunders-and-poor-diplomacy-99649
Kafelakos, D. (2019, February 4). Brexit: UK to suffer from EU's uncompromising stance.The European Sting.https://europeansting.com/2019/02/04/brexit-uk-to-suffer-from-eus-uncompromising-stance/
Oborne, P. (2020, October 6). Boris Johnson's Tories have become a right-wing sect.Middle East Eye. https://www.middleeasteye.net/opinion/britain-boris-johnson-tories-have-become-right-wing-sect
Parker, G. and Brunsden, J. (2020, February 24). UK lays down red line for Brexit trade talks. Financial Times. https://www.ft.com/content/ca2a67a8-56fe-11ea-a528-dd0f971febbc
Perrigo, B. (2019, December 13). 'Get Brexit Done.' The 3 Words That Helped Boris
Johnson Win Britain's 2019 Election. Time. https://time.com/5749478/get-brexit-done-slogan-uk-election/
Specia, M. & Pérez-Peña, R. (2019, August 28). What Did Boris Johnson Just Do toParliament?.The New York Time. https://www.nytimes.com/2019/08/28/world/europe/british-parliament-suspended.html
Stewart, H. (2016, April 13). Vote Leave named as official Brexit campaign in EU referendum. The Guardian. https://www.theguardian.com/politics/2016/apr/13/vote-leave-official-brexit-campaign-eu-referendum-boris-johnson
The Conservatives (2019). Get Brexit Done trans-Tasman economic relations. https://www.pc.gov.au/inquiries/completed/australia-new-zealand/report/trans-tasman.pdf
The Conservative and Unionist Party Manifesto 2019 (n.d). https://assets-global.website-files.com/5da42e2cae7ebd3f8bde353c/5dda924905da587992a064ba_Conservative%202019%20Manifesto.pdf