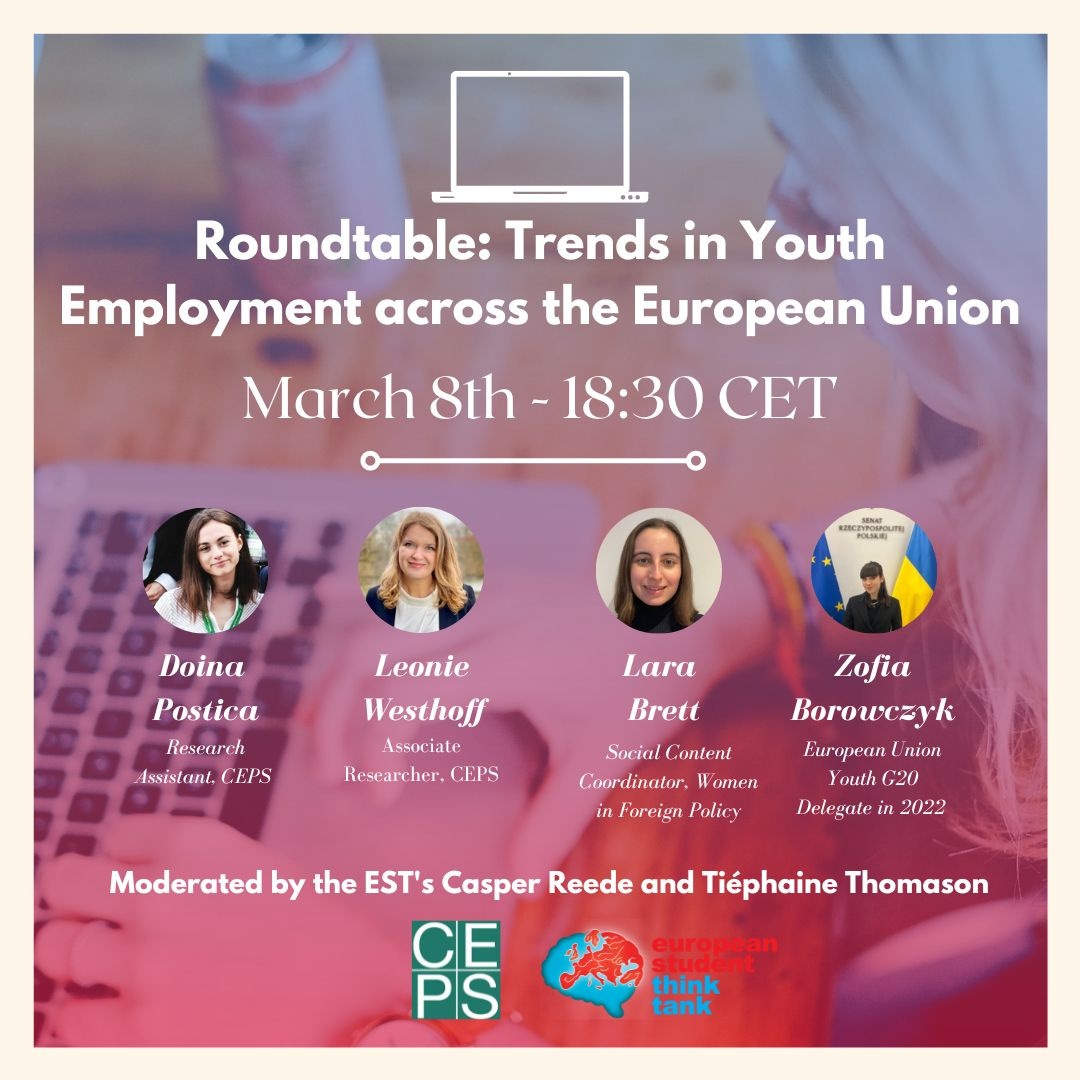 Roundtable, Trends in Youth Employment across the European Union
Description of the event:
This event offers an avenue for the discussion of the latest trends in youth employment within the European Union. The event seeks to promote the views of young people, both by having young researchers and representatives as speakers and opening the floor to an audience of young people for the Q&A portion of the event. The event will tackle issues relating to issues of gender in employment – featuring the EST gender WG's head Lara Brett as a speaker and acknowledging international women's day – as well as discuss latest quantitative developments in European youth employment across a number of sectors. After allowing the panelists to discuss a set of 2-3 pre-determined topics/questions, the floor will be opened to the audience and its questions for the rest of the event.
Date: March 8, 2023 at 18.30 – 19.45 CET
Location: Online via Zoom
Duration: 1 hour 15 minutes
Speakers at the event: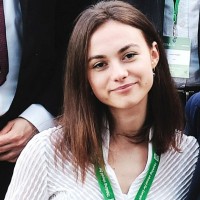 Doina Postica is a Research Assistant at CEPS in the Economic Policy Unit, where she combines quantitative and qualitative research methods to a variety of policy relevant research topics. Experienced in quantitative analysis, her main focus comprise data management, statistical and econometric analysis (cross-sectional, pools and time series data), as well as the production of visualization. In her latest projects she focused on topics like convergence in the EU and monitoring of capital flows. Doina Postica holds a MPhil cum laude in Economics from University of Bologna (Bologna) and a Bachelor cum laude in Economics from Roma Tre University (Rome).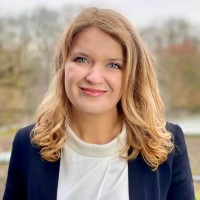 Leonie Westhoff is an Associate Researcher in the Jobs and Skills Unit at CEPS. Her work focuses on European labour market and social policy, including topics such as the platform economy, the digitalization of work and skills development. Leonie holds a DPhil (Phd) in Social Policy from the University of Oxford, where she was an ESRC Advanced Quantitative Methods and Clarendon Scholar at Nuffield College. Her doctoral research focused on the socio-economic inequalities associated with atypical employment in European countries. Prior to her doctoral studies, she studied economics, philosophy and comparative social policy in London and Oxford. Before joining CEPS, she worked in labour market research and policy at institutions such as the UK Department for Business and the Centre for Social Investigation and Institute for New Economic Thinking, both at the University of Oxford.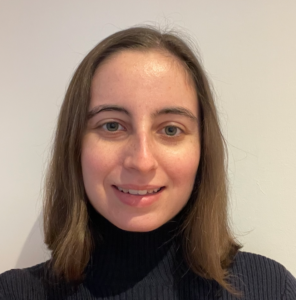 Lara holds a B.A. in French and German from the University of Warwick and is working towards a Master in Contemporary European Studies from the University of Bath, Sciences Po Grenoble and the Humboldt University. She was the Social Content Coordinator at Women in Foreign Policy, head of the Youth Employment Working Group at the European Student Think Tank and is now a member of the organisation's Gender Team. Her research interests include reproductive rights and anti-gender movements. She is also head of communications at the Young Security Conference.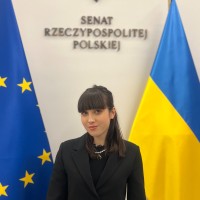 Zofia Borowczyk is a final year Social Policy student at the University of Bristol, UK. She is particularly interested in issues concerning our society, such as climate change, democracy and employment, and focuses on EU and Polish politics. Previously, she has interned in the Senate of the Republic of Poland and EU Parliament. Moreover, she was the European Union Youth G20 Delegate in 2022, where she worked in the Youth Employment track and participated in a youth policy dialogue with Commissioner Nicolas Schmit, at both of which she focused on the topic of Youth Employment. She has organised the 2022 edition of the Congress of Polish Student Societies in the UK, where she headed the logistics and events team.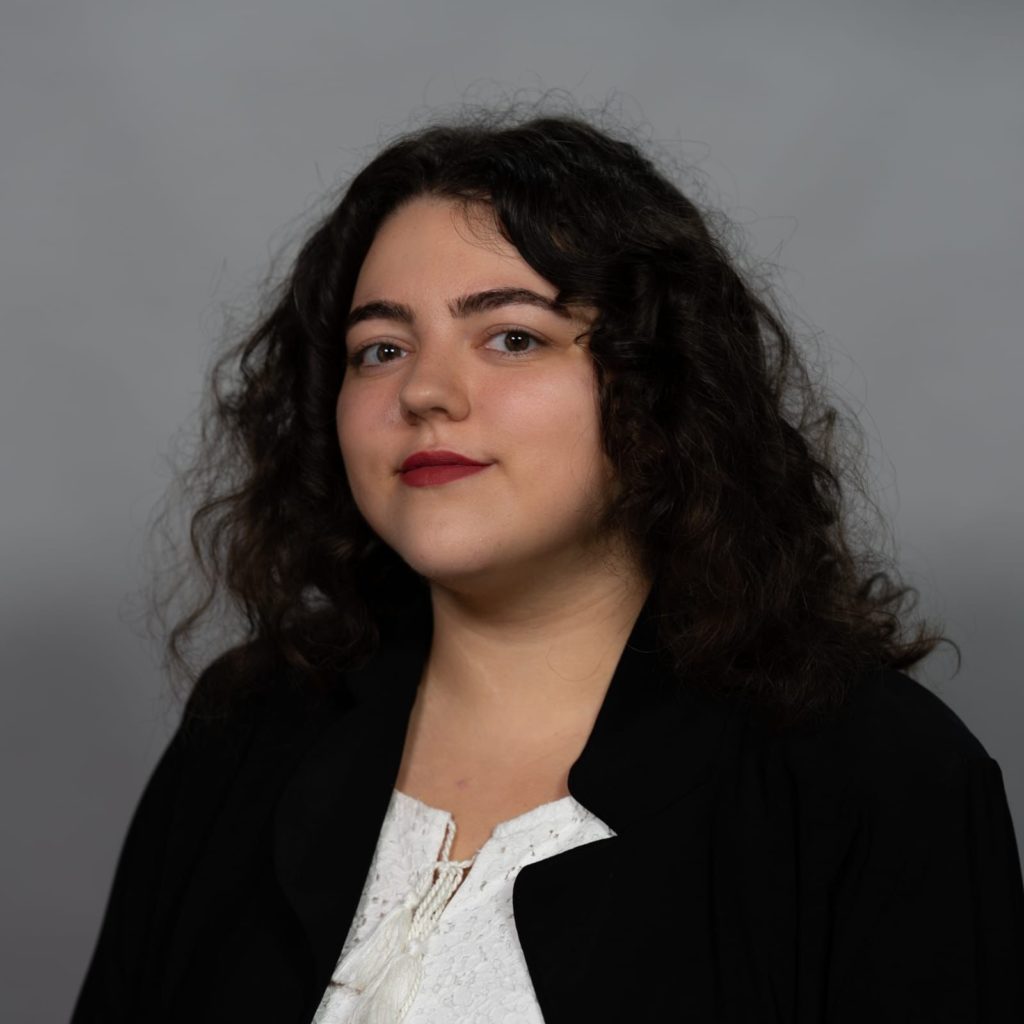 Flavia-Gabriela Sandu is an Executive Board Member of JEF Europe. With a Bachelor of Arts in International Studies and an Master of Arts in European Public Policy, her areas of specialization are environment, climate and social justice. Currently Flavia is working as a Communications Assistant for EURACTIV. With more than five years of leadership experience in volunteering and NGOs, Flavia is passionate about youth political engagement and citizen participation.