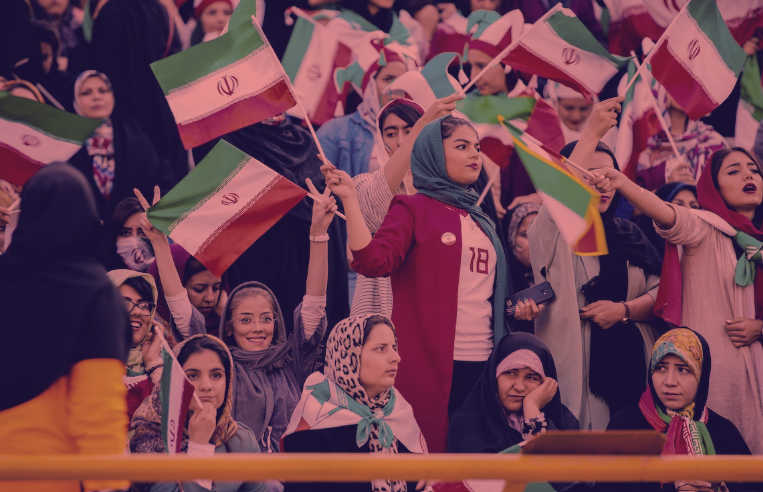 Written by Aleezay Gul
Iran and West: Worsening Ties in New Era
One of the most significant geopolitical shifts that followed the end of the Cold War was the apparent end of Europe as a battleground for global conflicts. The Napoleonic Wars, the revolutions of the 1820s and 1840s, and the wars surrounding the establishment of both Italy and the German Empire wrought havoc across Europe, culminating in the World Wars in the following century. The subsequent Cold War between the USA and the USSR drove an Iron Curtain through Europe, and ensured peace continued to evade the continent. However, in the decades following the collapse of the USSR, most of Europe entered an era of peace, growing collaboration, and mutual trust. It soon became apparent Russia was an exception. The annexation of Crimea by Russia in 2014 marked the first instance since the end of World War II that a European state had annexed the territory of another sovereign European state. Since then, Russia's aggressive actions toward Ukraine, the EU, and NATO have only worsened, culminating in the Russian invasion of Ukraine in February 2022 that once again turned Europe into a battleground. Against the backdrop of conflict and a severe energy and refugee crisis, recent developments concerning Iran have presented another challenge for the European Union. Most notable of these developments include Russia and Iran's strengthening military ties, deteriorating Iranian-Azerbaijani relations, and the stalled Iran nuclear talks.
Russia and Iran's Strengthening Military Ties:
The US, the EU, and Ukraine have accused Russia of using Iranian-made Shahed 136 drones to attack civilians and destroy Ukrainian energy facilities. These kamikaze drones are low-cost cruise missiles that detonate upon impact. The Ukrainian authorities have claimed that these drones have targeted at least 10 regions across the country. John Kirby, the spokesperson for the US National Security Council, issued a warning at the beginning of December 2022, that Iran and Russia are developing a "full-scale defence partnership" as Russia is giving Iran an unprecedented amount of military assistance in exchange for drones. He declared that Iran is now Russia's primary military ally (DeYoung and Warrick 2022). Additionally, the US had claimed in earlier months that scores of Iranian technicians had been deployed to Crimea to instruct the Russian army on the drones.
Though Tehran initially denied these allegations, it later acknowledged it sold drones to Russia but claimed this was done weeks before the war officially began. While addressing Western accusations that Iran was selling missiles and drones to Russia, the Iranian foreign minister maintained that this was completely wrong and that Iran had only provided a few drones prior to the invasion of Ukraine.(VOA News 2022). He also indicated his willingness to speak with Ukraine. Nonetheless, Western observers believe Iran is concealing the true extent of its supply to Russia, and considers its support of Russia as a threat not only to Ukraine but also other European states.
Moreover, Ukraine and its allies view Iran's supply of drones and missiles to Russia as a breach of UN resolution 2231 which endorses the Joint Comprehensive Plan of Action (JCPOA)—the deal between Iran and Western states that lifted international sanctions on Iran in return for severe constraints on the Iranian nuclear program. The resolution prohibited the export of missiles and related technologies until October 2023 (Motamedi 2022). If the Western accusations against Iran are proven right, it would result in a 'snapback' effect. The 'snapback' mechanism in the JCPOA, which was designed to ensure that Iran complies with the terms of the deal, allows for the reimposition of the UN sanctions against Iran if it breaches the terms of the agreement. Keeping this in mind, Ukraine requested a UN investigation into Iran, which was backed by France, Germany, and the United Kingdom. Tehran, however, turned down the request.
Tehran's growing ties with Moscow have compounded existing challenges for most of the European continent because both countries view the US, NATO, and the EU as their potential enemies, and no alliance is much stronger than one formed against a common enemy. Iran and Russia both wish to increase their spheres of influence, and their strengthening military coalition has the capability to disrupt the current European order and world peace as Russia's military assistance to Iran might help Iran develop nuclear weapons very soon— which could be used as a blackmailing tool by the Iranian government or even result in a fully-fledged nuclear war. It would also initiate an arms race as states like Georgia, Belarus, and Poland might fear becoming the next target of these two hostile allies. Therefore, two states that are not satisfied with the position they hold in the post-Cold War World Order, one a nuclear power and the other close to becoming one, can together pose a great challenge for the United Nations, the United States, and the European Union.
Deteriorating Iranian-Azerbaijani Relations:
The 'Zangezur Corridor' of Azerbaijan is currently a key source of concern for Iran. The transport corridor, when completed, would go through Armenia and link Azerbaijan with the Kars region in Turkey. However, it would also block the 38 km long border between Iran and Armenia, thus affecting bilateral trade between the two. This blockage of an important trade route is unacceptable to Tehran.
In October 2022, the Iranian foreign minister said in an interview, "Iran will not permit the blockage of its connection route with Armenia." Moreover, Iran launched a "massive" military drill named "Mighty Iran" along its border with Azerbaijan (Kucera 2022). According to the Iranian army, the country tested its locally developed long-range missiles and other military capabilities during the drill. In particular, the Iranian army's usage of a pontoon bridge to cross the Aras River represented a significant achievement. Azerbaijan's military responded to this by conducting joint military exercises with Turkey along the Azerbaijan-Turkey border (Jones 2022). Theseexercises were a show of solidarity meant to warn Iran that any aggressive action would be met with a coordinated response from both countries. Overall, military exercises are being used by both sides to intimidate the other. Iran is conveying to Azerbaijan that it is willing to go to any extent to safeguard its trade route, whereas; Azerbaijan is demonstrating its readiness to strongly retaliate against aggression.
The relationship between the two neighbouring states is currently at its worst and is only getting worse, posing a fresh challenge for the Europeans. If an all-out war breaks out between Iran and Azerbaijan, peace in Europe could once again be severely impacted— alliances with either country could lead the war to spill over beyond the Iran-Azerbaijan border and, given Azerbaijan's position as a major producer of oil and gas, Europe's energy crisis could be exacerbated further. Therefore, the Iran-Azerbaijan conflict poses a destabilising risk to Europe. The rising hostility between the two countries is also a result of Azerbaijan's strong military connections to Iran's arch-rival Israel. Iran has publicly stated numerous times that it is extremely concerned about Azerbaijan's close links with Israel. All of these factors, when combined, contribute to the worsening of the relationship.
Iran Nuclear Talks:
The JCPOA was signed by Iran and the P5+1 countries (Russia, China, France, the United Kingdom, the United States, and Germany) in July 2015 in an attempt to prevent Iran from developing nuclear weapons (BBC News 2019). The deal came into effect in January 2016. By signing this nuclear agreement, Iran agreed to cut down its uranium stockpile by 98% and the number of centrifuge-shaped machines that enable uranium enrichment (Haltiwanger 2019). Iran consented to eliminate a sizable proportion of its nuclear program and opened its facilities for international inspection in return for sanctions relief from the US, the UN, and European Union.
Though the IAEA says that Iran initially complied with the deal, Donald Trump unilaterally withdrew the US from the deal in 2018, claiming that it had failed to reign in Iran's missile program (Haltiwanger 2019). Since then, Iran has resumed some of its nuclear activities. Although the Biden administration wants to revive the agreement, the use of Iranian drones by Russia, the Iranian government's crackdown on demonstrators, and worsening relations between Iran and Azerbaijan have complicated this. In December 2022, US Secretary of State Antony Blinken also added that as a result of all these actions taken by Iran, the administration's belief that Iran should never be permitted to develop nuclear weapons has grown stronger (US Department of State 2022). Moreover, Iran continues to increase its enrichment of uranium, bringing it closer to developing a nuclear bomb.
The United States, Israel, the United Kingdom, and members of the European Union regard Iran as a hostile state and are very concerned about its rapid progress toward the development of nuclear weapons. One of the reasons for this concern is that it would trigger an arms race in the Middle East thus adversely impacting peace in the region, as Saudi Crown Prince Muhammad bin Salman stated in an interview in 2018 that if Iran develops nuclear weapons, Saudi Arabia would follow suit as soon as possible (CBS News 2018). Furthermore, it is believed that the Iranian leadership lacks the level-headedness to bear responsibility for the weapons. It is feared that Iran might grow more hostile towards Israel after developing the nuclear bomb, and as the EU, the US and the UK have good relations with Israel, Iran might also become more antagonistic and aggressive toward them. Thus, the revival of Iran's nuclear deal is now a major threat to peace for European states and their allies.
Conclusion:
Iran's strengthened military ties with Russia, deteriorating relations with Azerbaijan, and stalled nuclear talks threaten the post-Cold War peace in Europe. The JCPOA, which was a promising development for the members of the European Union, has lost its potency due to the US withdrawal from the deal. Organisations like the United Nations (UN) and European Union (EU) view the renewal of the Iran nuclear deal as a significant challenge. An arms race would return in many regions of the world if Iran keeps up its aggressive behavior toward Baku, its uranium enrichment, and aid to Russia's military in its invasion of Ukraine. It might also invite a pre-emptive strike from either Israel or the US. Despite being a relatively minor economic and military power, it is still able to pose a number of complex threats to European nations. Presently, dealing with Iran is an enormous challenge for all relevant parties, including the US, the UN, Israel, and Europe. The risk of Iran exacerbating or creating conflicts is considerable, and it is clearly imperative now for EU states to focus on preventing Iran from developing nuclear weapons— to prevent this risk from increasing further yet.
Bibliography:
BBC News. 2019. "Iran Nuclear Deal: Key Details." BBC News, June 11, 2019. https://www.bbc.com/news/world-middle-east-33521655.
CBS News. 2018. "Saudi Crown Prince: If Iran Develops Nuclear Bomb, so Will We." Www.cbsnews.com. March 15, 2018. https://www.cbsnews.com/news/saudi-crown-prince-mohammed-bin-salman-iran-nuclear-bomb-saudi-arabia/.
DeYoung, Karen, and Joby Warrick. 2022. "Russia-Iran Military Partnership 'Unprecedented' and Growing, Officials Say." Washington Post, December 9, 2022. https://www.washingtonpost.com/national-security/2022/12/09/russia-iran-drone-missile/.
Haltiwanger, John. 2019. "The Iran Nuclear Deal: Here's What You Need to Know – Business Insider." Business Insider. Business Insider. September 19, 2019. https://www.businessinsider.com/iran-nuclear-deal-explained.
Jones, Dorian. 2022. "Azerbaijan Stands up to Iran, with Turkey's Support." VOA. November 29, 2022. https://www.voanews.com/a/azerbaijan-stands-up-to-iran-with-turkey-s-support-/6855724.html.
Kucera, Joshua. 2022. "Iran's Military Starts 'Massive' Drills on Azerbaijani Border | Eurasianet." Eurasianet.org. October 20, 2022. https://eurasianet.org/irans-military-starts-massive-drills-on-azerbaijani-border.
Motamedi, Maziar. 2022. "Will Alleged Drone Sales to Russia Impact Iran's Nuclear Deal?" Www.aljazeera.com. October 24, 2022. https://www.aljazeera.com/news/2022/10/24/could-iran-alleged-drone-sales-to-russia-impact-the-nuclear-deal.
US Department of State. 2022. "Secretary Antony J. Blinken at the J Street National Conference." United States Department of State. December 4, 2022. https://www.state.gov/secretary-antony-j-blinken-at-the-j-street-national-conference/.
VOA News. 2022. "Iran Admits Selling Drones to Russia before War; Kyiv Says Tehran Is Lying." VOA. November 5, 2022. https://www.voanews.com/a/iran-acknowledges-sending-drones-to-russia-for-first-time/6821526.html.