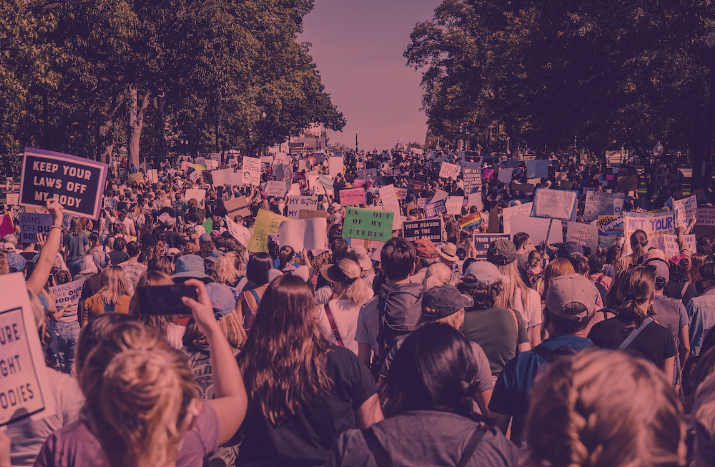 Written by Lara Brett, edited by Manuel Torres Lajo
This policy paper will outline the current legislative landscape for abortion in each of the UK's nations. It will then assess the threat of further limitations to this legislation, the international response to this, in addition to the consequences of the existing restrictions and recommendations for policy amendments.
Recent statistics
"A record number" of people used abortion services in England and Wales in 2021: 214,256 legal pregnancy terminations took place, the highest number since the Abortion Act came into force in 1967 (Moss, 2022a). Most terminations were for women aged 30-34 and the majority of abortion patients (57%) were already mothers (Moss, 2022a). Research indicates that 89% of abortions happened before the 10th week of pregnancy in 2021, compared to 78% in 2011, which may demonstrate that "more women have been able to access appointments sooner" (Moss, 2022a). Finally, medical abortions (ingesting two tablets – mifepristone and misoprostol) is the most common method, with 99% of procedures receiving NHS funding (Moss, 2022a; GOV.UK, 2022). However, migrant women who cannot access NHS care may have to resort to using illegal abortion pills (Moss, 2022b).
Abortion procedures are commonplace in most of the UK, where every third woman will undergo a pregnancy termination in her lifetime. One in six pregnancies in Britain is unplanned; that is to say that 1 in 60 women a year will unexpectedly become pregnant (Oxford Faculty of Law, 2017). In 2019, 13,286 abortions took place in Scotland, with just 32 medical abortions in Northern Ireland from 2017-2018 (BBC News, 2019). Furthermore, the majority of adults in the UK support the procedure, accounting for 90% of the population in 2020 (Bennett, 2022).
Abortion legislation – a brief recap
In 1861, the Offences Against the Person Act criminalised any woman that "unlawfully procures her own miscarriage". The maximum punishment was life in prison (Moss, 2022b). The 1929 Infant Life (Preservation) Act made child destruction an offence (Statute Law Database, 1967). Legislative changes in 1945 allowed abortion to save the mother's life but did not legalise the procedure for rape, incest, or foetal abnormalities (BBC News, 2019).
The 1967 Abortion Act allowed terminations until the 28th week of pregnancy, which may be viewed as a "partial decriminalisation" (BBC News, 2019; Proudman, 2022). Under the terms of the law, people may end their pregnancy if they have permission to do so from two registered medical professionals who deem it to threaten their physical or mental health (Norris, 2022). Rather than a right, it frames abortion as "an exception" (Elgot, 2022).
The Human Fertilisation and Embryology Bill in 1990 reduced the time frame to 24 weeks, permitting abortion in the event of a threat to the mother's life, physical or mental health or severe foetal abnormality (BBC News, 2019; Statute Law Database, 1967). The amendments introduced in 1990 abolished the 1929 criminalisation that forbade the destruction of "the life of a child capable of being born alive" (British Medical Association, 2020, p.6). Today, medical professionals believe the foetus is "viable outside the mother's body" at 24 weeks, rather than first at 28 weeks (GOV.UK, 2020).
The law in Northern Ireland
The Abortion Act did not apply to Northern Ireland (Statute Law Database, 1967c). It is the only country in the United Kingdom where abortion is a guaranteed right, although, ironically, this right is not enforced (Elgot, 2022). 2017 saw the introduction of abortion funding from the Government Equalities Office and His Majesty's Treasury. This enabled people from Northern Ireland to travel to England and Wales for pregnancy terminations, with the Office covering travel funds for those experiencing financial hardship (GOV.UK, 2020). Around 1000 women from Northern Ireland had abortions in England and Wales in 2018 (BBC News, 2019). In 2019, MPs in Westminster voted to change abortion laws in Northern Ireland in an effort to prompt the restoration of the Northern Irish power-sharing executive. Following its suspension in 2017, the Northern Ireland Assembly was recalled to block these legislative changes but failed to do so. Consequently, abortion became "partially" decriminalised under the Northern Ireland (Executive Formation) Act 2019 (BBC News, 2019; British Medical Association, 2020).
The publication of new abortion guidelines by the UK government from 22 October 2019 until 31 March 2020 abolished criminal charges for abortion seekers and providers. Abortions for "fatal or serious" foetal abnormalities would be allowed to be performed in Northern Ireland, with medical abortions to be made available there at two locations from April 2020 (BBC News, 2019). However, "aspects" of abortion are still a crime under the Criminal Justice (Northern Ireland) Act 1945. Moreover, there are "some new criminal sanctions"in place, with the introduction of new ones under the Abortion (Northern Ireland) (No.2) Regulations 2020 (British Medical Association, 2020, p.5).
In addition, the Northern Irish Minister of Health, Robin Swann, refused to fully commission services. The Department for Healthcare's website did not display any information on abortion services, as of September 2022 (Skopeliti, 2022). According to Naomi Connor, co-convener of Alliance for Choice, this gives health trusts "no budget, no central services, no central access point". Connor also noted that people contact Stanton Healthcare for information, an anti-choice organisation that allegedly posed as a pregnancy support centre (Skopeliti, 2022). A further challenge to abortion seekers in Northern Ireland is harassment. Anti-choice campaigners gather outside of abortion clinics to dissuade patients from keeping their appointments. Although safe zones were introduced in law in March 2022, legislators referred the issue to the UK supreme court, preventing this from coming into force. Consequently, four out of five trusts only provide terminations up to the tenth week of pregnancy (Skopeliti, 2022). 
The law in Great Britain (England, Scotland and Wales)
The use of a second abortion pill at home has been allowed since 2018, aligning English legislation with that in Scotland and Wales (BBC News, 2019). In March 2022, restrictions eased to allow both pills to be taken at home, to offset the disruptions to health services caused by the Covid-19 pandemic.
This "pills by post" scheme was to be extended until the end of August 2022 in England. Medical professionals argued in favour of greater freedoms, stating that the use of telemedicine for abortion prevents vulnerable people from having to undergo illegal terminations (Campbell, 2022). This includes people at risk of sexual and domestic violence and financial difficulties. Dr Zoe Greaves, the chair of the British Medical Association's medical ethics committee, asserted that reverting to pre-pandemic procedures "puts politics before women's health" (Campbell, 2022).
Welsh legislators decided to make the scheme permanent, with English lawmakers following suit in August 2022 (Campbell, 2022; Gregory, 2022). Now, women in both countries can take both abortion pills at home before the tenth week of pregnancy, following a consultation. Doctors must inform the government on where such procedures took place and if the consultation was remote. This will allegedly allow the government to monitor telemedicine abortions (Gregory, 2022).
In 2015, the UK government transferred the abortion competence to the Scottish Parliament (Office of the Secretary of State for Scotland, 2015). However, all health boards lack the resources to provide terminations until the 24th week of pregnancy. 98% of abortions occur before 20 weeks, with over 100 patients having to travel outside of Scotland for terminations since 2019 (Skopeliti, 2022). In Wales, abortion is not a competence of the Senedd. Provisions in counselling services vary, with one woman reporting a four-month wait for pre-abortion counselling (Davies, B., 2020).
Threats to UK abortion law
Threats to UK abortion law come from three main sources: anti-choice campaigners, politicians and restrictive legislation. Anti-abortion activists have increased their presence outside clinics, with some having been "recruited" by American fundamentalist organisations (Moss & Simons, 2022). Such actors claim to defend the unborn, holding graphic placards and demonstrations outside around half of UK clinics (Forbes, 2015).
Research funded by Aston University revealed that patients may feel harassed and that protesters are violating their privacy (Forbes, 2015). In recent years, campaigners have been increasingly active on university campuses. Those that have banned such groups have had to revoke them, in the interests of free speech, with some pro-choice students reporting threats (Weale, 2020). The Alliance of Pro-Life Students (APS) encourages students to establish their own movements.
In 2020, protesters from 40 Days for Life, a US-based group (Oppenheim, 2020a), staged demonstrations outside clinics around the country for 40 days, against what it termed the "modern day Holocaust". The Holocaust Memorial Day Trust strongly condemned such comments, which echo those made by some US law-makers (Oppenheim, 2020b). The Centre for Bio-Ethical Reform UK, a branch of an American organisation, has also targeted pro-abortion MP Stella Creasy and organised anti-abortion training 'academies' (Norris, 2019). The reversal of Roe vs. Wade sparked concern from pro-choice campaigners that such a decision would facilitate the rollback of abortion rights in the UK (Moss & Simons, 2022).
Such a rollback could be facilitated by anti-abortion politicians in domestic policy and on the global stage. Conservative MP and cabinet member Jacob Rees-Mogg has financially profited from the sale of abortion pills. He also publically opposed abortion for rape survivors (Peck, 2017). Health Minister Thérèse Coffey had sponsored an early day motion in 2010, advocating for abortion patients to undergo a "mental health assessment" and counselling (Bennett, 2022).
In July 2022, an international ministerial conference on Freedom of Religion or Belief in London was attended by Conservative MP Fiona Bruce, the Prime Minister's special envoy on and co-chair of the All-Party Parliamentary Group on the subject (Davies, L., 2022a). The event was organised by the Foreign, Commonwealth and Development Office (FCDO) and opened by the then Foreign Secretary and future Prime Minister Liz Truss. The former Governor of Kansas, Sam Brownback, received an award from the British government for supporting freedom of religion. Brownback is an anti-abortion campaigner and was involved in the decision to remove references to reproductive rights in the subsequent statement on gender equality, alongside Truss (Davies, L., 2022a). This decision sparked criticism in the UK (Davies, L., 2022b).
Norway and Denmark informed the FCDO of their objections and over 20 human rights groups called for Truss to reverse and explain her decision (Davies, L., 2022b). The amended statement condemned "discriminatory laws that justify, condone, or reinforce violence, discrimination, or inequalities on the grounds of religion, belief or gender" but did not reference sexual or reproductive rights (Davies, L., 2022b). That month, the then Deputy Prime Minister Dominic Raab claimed that abortion rights are "settled in UK law", refuting that abortion should be included in a future human rights bill (Elgot, 2022).
Consequences of existing restrictions
Such political decisions have real-world impacts. They normalise hostile attitudes to bodily autonomy and criminalise abortion, which is a fundamental healthcare procedure. In 2023, two women in the UK are facing criminal charges for terminating their pregnancies. One of the women faces life in prison for delivering a foetus at 28 weeks, after having taken abortion pills. Another woman had a live birth after taking the abortion pill misoprostol and received 28 months in prison under the 1861 law, as she took the pills after the legal time limit (Proudman, 2022; BBC News, 2023). Medical associations such as the Royal College of Obstetricians and Gynaecologists are advocating for charges against these women to be dropped and for ministers to legalise abortion (Proudman, 2022).
Furthermore, Police accused a 15 year old of undergoing an illegal abortion in 2021. This caused her to self-harm and the charges were dropped after it was revealed the pregnancy "ended because of natural causes" (Moss, 2022b). That year, police also arrested a woman in hospital and held her for 36 hours following a stillbirth at 24 weeks (Moss, 2022b). Finally, research shows that people from the most deprived areas of England are more likely to have abortions but access may be threatened by the cost of living crisis (Moss, 2022a).
Policy recommendations
As noted by barrister Charlotte Proudman, "Women in 2022 are being shackled by a 160-year-old law made at a time when we were not even allowed to set foot in the House of Commons" (Proudman, 2022). Campaigners also question why women "still have to pathologise themselves as mad, hysterical, unfit or suffering to legally access healthcare", in reference to the 1967 requirement to prove that their pregnancy harms their mental health (Proudman, 2022).
Most European countries have decriminalised abortion and this is recommended by the World Health Organization (2022), alongside the use of telemedicine. The UK should follow suit, to grant people more bodily autonomy and reduce the need for vulnerable groups to undergo illegal procedures (Norris, 2022). To do so, it should enshrine abortion rights in future human rights legislation, ensure access to services in Northern Ireland and other parts of the UK, as well as protect providers and patients from harassment outside of clinics. Police should properly uphold buffer zones and remove campaigners that incite or carry out abuse.
Education also plays an important role in informing UK residents of their rights.
Currently, statutory guidance for sex education in England means that pupils should know "that there are choices in relation to pregnancy (with medically and legally accurate, impartial information on all options, including keeping the baby, adoption, abortion and where to get further help)" (GOV.UK, 2021). Such guidance should also come into force in Wales, Scotland and Northern Ireland. Whether it actually takes place in English schools is a topic of discussion for another paper.
Finally, the state should fund pro-abortion civil society groups that work to direct women towards abortion services and destigmatise the subject. Just 1% of global funding for gender equality goes directly to grassroots organisations and states must urgently rectify this (Staszewska, Dolker, & Miller, 2019).
Bibliography
BBC News. (2019, October 22). What are the UK's laws on abortion? BBC News. https://www.bbc.co.uk/news/health-19856314 
BBC News. (2023, June 13). Calls for abortion law reform after mother jailed. BBC News. https://www.bbc.com/news/uk-65886472
Bennett, C. (2022, September 11). Champagne and cigars are just fine. It's Thérèse Coffey's views on abortion that worry me. The Guardian. https://www.theguardian.com/commentisfree/2022/sep/10/liz-truss-gifted-bff-tiz-chance-harm-womens-rights-to-abortion 
British Medical Association. The law and ethics of abortion – BMA Views: September 2020 – post-ARM update. (2020). In British Medical Association. British Medical Association. Retrieved December 28, 2022, from https://www.bma.org.uk/media/3307/bma-view-on-the-law-and-ethics-of-abortion-sept-2020.pdf 
Campbell, D. (2022, March 22). England abortion 'pills by post' scheme to be scrapped in September. The Guardian. https://www.theguardian.com/world/2022/feb/24/england-abortion-pill-by-post-scheme-scrapped-september-change-law-covid-pandemic 
Davies, B. A. (2020, October 13). Abortion: Wales "needs better counselling services." BBC News. https://www.bbc.co.uk/news/uk-wales-54423710 
Davies, L. (2022a, July 22). UK under international pressure over deletion of abortion commitments. The Guardian.
https://www.theguardian.com/global-development/2022/jul/22/european-countries-pressurise-uk-over-removal-of-abortion-commitments-liz-truss
Davies, L. (2022b, August 9). UK government honoured anti-abortion figure before editing women's rights statement. The Guardian. https://www.theguardian.com/global-development/2022/aug/09/uk-government-award-anti-abortion-figure-sam-brownback-edited-reproductive-rights-statement 
Elgot, J. (2022, June 29). Dominic Raab says right to abortion does not need to be in bill of rights. The Guardian. https://www.theguardian.com/politics/2022/jun/29/dominic-raab-says-right-to-abortion-does-not-need-to-be-in-bill-of-rights 
Forbes, B. K. (2015, October 26). Rise in "anti-abortion protests" in England and Wales. BBC News. https://www.bbc.co.uk/news/health-34641228 
Gregory, A. (2022, August 24). Permanent access to at-home abortions to be granted in England and Wales. The Guardian. https://www.theguardian.com/world/2022/aug/23/permanent-access-to-at-home-abortions-to-be-granted-in-england-and-wales 
GOV.UK. (2021). Relationships and Sex Education (RSE) (Secondary). GOV.UK. https://www.gov.uk/government/publications/relationships-education-relationships-and-sex-education-rse-and-health-education/relationships-and-sex-education-rse-secondary 
GOV.UK. (2020). Abortion statistics, England and Wales: 2020. GOV.UK. https://www.gov.uk/government/statistics/abortion-statistics-for-england-and-wales-2020/abortion-statistics-england-and-wales-2020 
Moss, R. (2022a, June 22). The Rise In Abortions Means Women's Rights Have Never Needed Protecting More. HuffPost UK. https://www.huffingtonpost.co.uk/entry/record-abortion-figures-womens-rights_uk_62b2e0a0e4b04a617363a807 
Moss, R. (2022b, July 18). Two Women In UK Are Facing Criminal Charges For Abortion. Here's Why. HuffPost UK. https://www.huffingtonpost.co.uk/entry/why-women-in-uk-face-criminal-charges-for-abortion_uk_62d5689ee4b0116f21be6fe1 
Moss, R., & Simons, N. (2022, June 24). "A Warning To Us All": Why Women Can't Take Abortion Rights For Granted. HuffPost UK. https://www.huffingtonpost.co.uk/entry/warning-women-cant-take-abortion-rights-for-granted_uk_6270fba9e4b0cca67559bbff 
Norris, S. (2022, September 8). A New Cabinet. A New Fight for Abortion Rights. Byline Times.
Norris, S. (2019, October 29). Satanic conspiracies and Brexiteers: inside a bizarre 'academy' for anti-abortion activists. OpenDemocracy. https://www.opendemocracy.net/en/5050/satanic-conspiracies-and-brexiteers-inside-a-bizarre-academy-for-anti-abortion-activists/
Office of the Secretary of State for Scotland. (2015, October 14). Abortion law to be devolved to Scottish Parliament. GOV.UK. https://www.gov.uk/government/news/abortion-law-to-be-devolved-to-scottish-parliament 
Oppenheim, M. (2020a, September 23). Anti-abortion activists begin 40-day protest outside clinics across England. The Independent.
https://www.independent.co.uk/news/uk/home-news/anti-abortion-activists-protests-40-days-for-life-clinics-b551454.html
Oppenheim, M. (2020b, October 8). UK anti-abortion protesters condemned for comparing terminations to Holocaust. The Independent. https://www.independent.co.uk/news/uk/home-news/anti-abortion-protests-holocaust-40-days-for-life-clinics-b864679.html 
Oxford Faculty of Law. (2017, October 12). 1 in 3 women in the UK will have an abortion – so why is it so secret? Faculty of Law. https://www.law.ox.ac.uk/news/2017-10-12-1-3-women-uk-will-have-abortion-so-why-it-so-secret  
​​Peck, T. (2017, October 1). Anti-abortion MP Jacob Rees-Mogg admits profiting from sale of abortion pills. The Independent. https://www.independent.co.uk/news/uk/politics/jacob-reesmogg-abortion-pills-abortion-rape-conservative-party-conference-tory-leadership-leader-a7976386.html 
Proudman, C. (2022, October 3). Think abortion is legal in Great Britain? Ask the two women currently facing life sentences. The Guardian. https://www.theguardian.com/commentisfree/2022/aug/19/abortion-legal-great-britain-women-life-sentences-roe-v-wade 
Skopeliti, C. (2022, September 16). 'Protesters just scream abuse': the campaigners battling to make UK abortion clinics safer. The Guardian. https://www.theguardian.com/world/2022/sep/16/protesters-abuse-campaigners-battling-uk-abortion-clinics-back-off-scotland 
Staszewska, K., Dolker, T., Miller, K. (2019, July 2). Only 1% of gender equality funding is going to women's organisations – why? The Guardian. https://www.theguardian.com/global-development/2019/jul/02/gender-equality-support-1bn-boost-how-to-spend-it 
Statute Law Database. (1967a). Abortion Act 1967. https://www.legislation.gov.uk/ukpga/1967/87/section/1 
Statute Law Database. (1967b). Abortion Act 1967. https://www.legislation.gov.uk/ukpga/1967/87/section/4 
Statute Law Database. (1929). Infant Life (Preservation) Act 1929. https://www.legislation.gov.uk/ukpga/Geo5/19-20/34/section/1 
Weale, S. (2020, January 8). Anti-abortion activists increasingly targeting UK university students. The Guardian. https://www.theguardian.com/world/2020/jan/05/anti-abortion-activists-increasingly-targeting-uk-university-students 
World Health Organization (2022, March 09.). WHO releases new guidelines on safe abortion. World Health Organization. https://www.who.int/europe/news/item/09-03-2022-who-releases-new-guidelines-on-safe-abortion