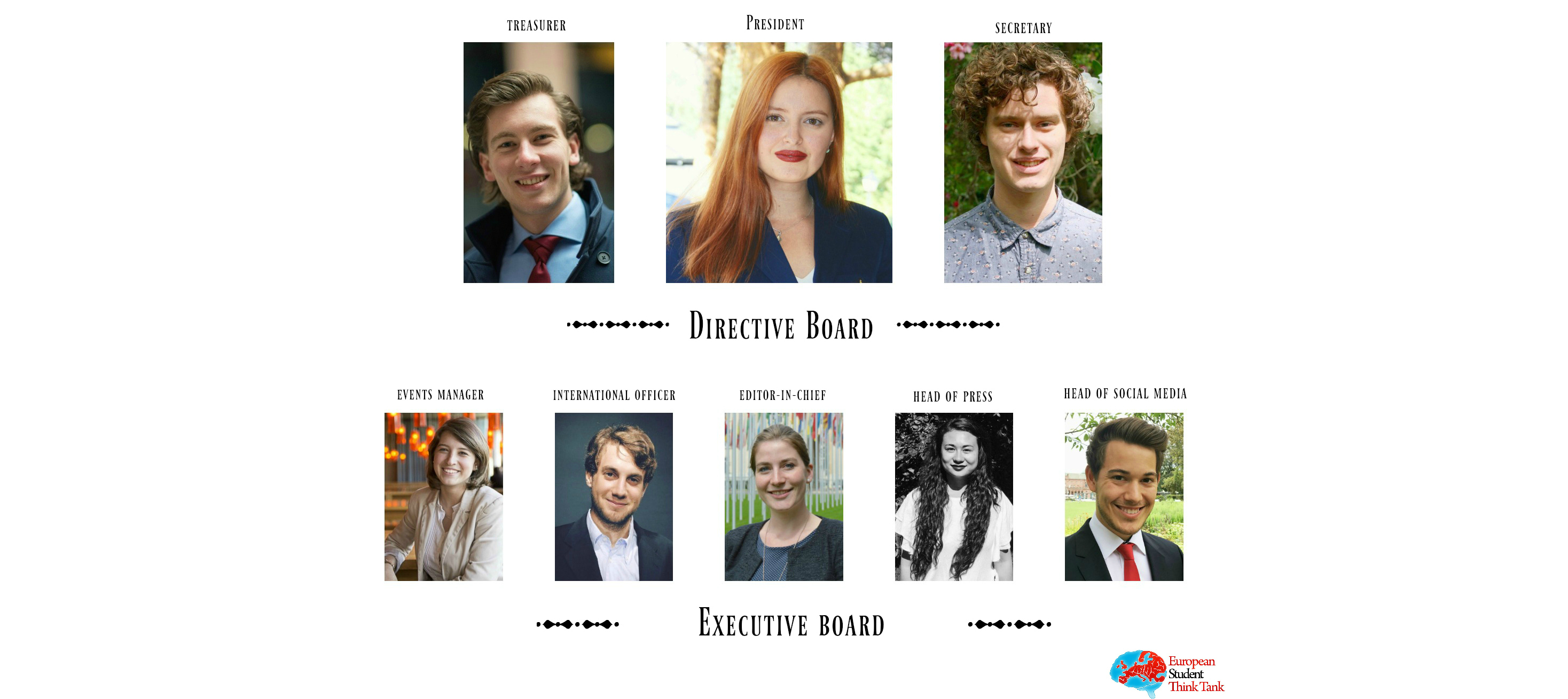 Meet the European Student Think Tank's new Board. The EST's Board is run by a team of ambitious and visionary students and young professionals of International Affairs. The newly elected Board will begin Office in September 2017.
President – Carlota Nunez Strutt
Carlota Nunez Strutt is the President of the European Student Think Tank. Carlota is a student of International Relations and Journalism and jazz lover. Carlota was the European Student Think Tank's Director of Communication in the 2015-16 EST Executive Board. After completing a traineeship in the Council of Europe, working in the Press Unit of the Congress, Carlota is now headed to Brussels to begin a traineeship in the European Parliament.
Carlota will intern for the Progressive Alliance of Socialists and Democrats in the European Parliament for three months. During her time in Brussels she hopes to investigate and write about bridging the communication gap between the EU and its citizens, and campaign for providing safe access routes for refugees and humanitarian aid.
Carlota was a volunteer teacher in Gambia when she was seventeen, an experience that sparked her interest in education as a motor for development. In Madrid she has collaborated on several occasions with Amref Health Africa opening several of their charity galas and conferences.

When she is not immersed in the fascinating world of international relations, Carlota can be found listening to swing jazz or practicing gymnastics. Carlota hopes to pursue Diplomatic Studies in the Spanish National School of Diplomacy and represent Spain in the European Parliament one day.
"I hope that if you're interested in the EST, you will be a part of our project next year. Because the EST is a project that empowers young people to take a stand within the EU". – Carlota Nunez Strutt
If you have any questions or proposals you would like to suggest to the EST, you can Contact Carlota at: chairperson.est@gmail.com
Secretary – Jonne Kamphorst
Jonne Kamphorst recently attained his bachelor degree in Political Science with Honours from the University of Amsterdam and the University of Washington. At the moment he is studying Political Sociology at the London School of Economics and Political Science.
Besides his academic endeavors, Jonne was involved in the founding of the De Bildung Academie, and he did a fellowship at Hillary for America. The De Bildung Academie is a NGO aiming to revolutionize Dutch higher education by making the student the centerpiece in education again and by shifting the focus of education towards skills necessary in a globalized era.
Both in Hillary for America and De Bildung Academie Jonne gained practical experience in advocacy and learned a great deal about the rapidly changing relationship between politics and society in today's world. The latter and advocacy are his academic interests, in which hopefully a PhD lies ahead. As secretary Jonne's main goal is to expand the EST's current network by working towards durable long-term partnerships with the various branches of government within the European Union.
Jonne urges anyone who reads this and wants to partner up with the EST to contact him at: secretariat.est@gmail.com
Treasurer – Laurens van der Sluijs

Laurens is the new Treasurer of the EST. After graduating from high school in The Netherlands, Laurens decided he wanted to see more of the world, and took a gap year to study and travel in Canada. When he came back, he started his bachelor degree in European Studies. Along with being involved in the honours programme of his university, Laurens studied one semester at the Universidad Complutense de Madrid (University in Spain), and he did an internship at the department of European Affairs of the Association of Netherlands Municipalities (VNG) in The Hague.
By means of conducting a research and taking part in multiple international conferences, he specialized in youth policies focused on youth participation and youth unemployment. Laurens joined the EST because he feels that informing and involving young citizens is a prerequisite for active citizenship, and on the grounds that – as stated in clause 53 of the Declaration of the 2030 Agenda for Sustainable Development – the future of humanity and our planet lies in the hands of today's younger generation, who will pass the torch to future generations.
As Treasurer, Laurens would like to put his money where his mouth is, by contributing and giving substance to the vision and mission of the European Student Think Tank and commit to the tasks laid down for him as the Treasurer.
Should you have any questions or remarks, please don't hesitate to contact him at treasurer.est@gmail.com or add him on LinkedIn.
International Officer – Johannes Tropper

Johannes Tropper has previously been the Austrian Ambassador to the European Student Think Tank, and now directs the International Office of the EST. Johannes holds a Bachelor's Degree in Political Science, writing his thesis on the role of the European Court of Justice as an engine of integration.
Currently Johannes is pursuing a Law Degree at the University of Vienna, specializing in International Law and EU law. Before joining the European Student Think Tank, Johannes he was involved in the Austrian student organization Academic Forum for Foreign Affairs (AFA). In 2014 he organized the Vienna International Model United Nations (VIMUN) simulation conference at the UN headquarters in Vienna. Besides his studies and engagement with the EST, he works at the Austrian Constitutional Court.
Johannes became involved with the EST due to his interest for EU politics and his passion for European integration. As International Officer, Johannes plans to expand the network of Ambassadors of the EST all across Europe in order to share the divergent views on EU integration and have more students engaged in the debate about the future of the European Union.
If you would like to become an Ambassador to the EST contact Johannes at: international.officer.est@gmail.com
Editor-in-Chief – Suzanne Van de Beek

Suzanne is studying Geopolitics, Territory and Security at King's College London, after having obtained a bachelor's degree in Liberal Arts and Sciences and a master's in Public International Law at Utrecht University.
Suzanne previously interned with the Dutch Permanent Mission to the UN in Geneva and worked for the Global Fund to Fight AIDS, Tuberculosis and Malaria, also in Geneva. In London she will be interning with the Chatham House International Security Department.
Suzanne's interests range from international security, gender, and migration issues to marine environmental conservation and sustainability, and she is hoping to find a career which encompasses all these. As Editor in Chief Suzanne wants to engage students with the EU by continuing to expand the quality and quantity of EST publications, using students' insights to fuel dicussions.
If you are a writer or editor and would like to contribute to the EST, contact Suzanne at: editorinchief.est@gmail.com
Events Manager – Cecilia Passaniti

Cecilia is currently in her last year of European Studies with a minor in International Law at The Hague University in the Netherlands. She has just finished her Erasmus at SciencesPo Lille where she focused on Conflict Resolution, Sustainability and Social Justice.
As an Italian student studying in the Netherlands Cecilia had to adjust my life to a new culture. However, this wasn't the first time. When she was 16, in fact, she moved to Michigan, USA to attend her 4th year of high school. After many life-changing and challenging experiences, this is still the memory she cherishes the most.
These life-changing experiences include her position as Vice President for External Coordination of the Graduates of Democracy, a youth organization linked to the Progressive Alliance of Socialists & Democrats in the European Parliament and her membership in the Women's International League for Peace and Freedom (WILPF). To financially support her studies, she has worked as a waitress and in retail which helped her start learning the peculiar Dutch language. Alongside Dutch she is fluent in Italian, English, Spanish and French.
Cecilia's main objective in the near future is to continue study in the field of Conflict Resolution and to start working with NGOs that help victims of abuse and sexual violence in wartime. Cecilia would also like to take the chance of working for the EST to bring awareness to the public of these topics and many more topics through debates, visits at the Institutions and much more.
If you would like to sign up for EST events, or are an organization that would like to host the EST in our Institution, contact Cecilia at: eventsmanager.est@gmail.com
Director of Communication: Head of Press – Tanith Lee
Tanith is currently pursuing a bachelor's degree in Politics, Psychology, Law, and Economics at the University of Amsterdam. Within this programme, she is specializing in Psychology and is concurrently working towards the completion of a minor in Conflict Studies.
Although originally from the United States, Tanith lived in Germany as a teenager and choose to return to Europe for her studies. Her interest in European politics was sparked by a combination of her new environment and a blossoming love affair with Model United Nations.
As a member of an international study programme, Tanith is immersed in a diverse array of her fellow students' unique viewpoints and ideas, which constantly challenge her to evolve and question her own views. She believes exposure to such an atmosphere is invaluable, which is why she joined the European Student Think Tank. During her time at the EST, Tanith strives to help carve out a place for her generation of innovators and diverse thinkers in the European policy making process.
If you are a would like to contribute a blog post or propose a debate or writing topic to the EST, contact Tanith at: headofpress.est@gmail.com.
Director of Communication: Head of Social Media – Jonas Fritz

Jonas is studying Politics and Communication at the Johannes Gutenberg University in Mainz. He lived in Trier, between the border to Luxembourg and France for nearly 20 years of his life, an intersection where the achievements and benefits of a united Europe have always been present in his life.
Jonas completed an internship in the German Bundestag after finishing high school, working for SPD in the German Parliament. Before starting as the new Head of Social Networks of the EST Jonas represented European Youths in the 2016 S&D school of democracy , a conference where 100 young europeans discussed new ideas for a more progressive Europe.
Jonas' main area of study is political communication. Which is why he will be the person you get in contact with when interacting with the EST on the different social media channels. Jonas will also represent the EST on our youtube channels, hosting interviews and monthly vlogs about European Affairs and debating Europe with you!
If you would like to contact Jonas, find him on our EST social networks and e-mail him at: headofsocials@gmail.com.
The European Stu­dent Think Tank was foun­ded by three stu­dents linked to the Uni­ver­sity of Ams­ter­dam and the Ams­ter­dam Uni­ver­sity Col­lege in The Netherlands.
Eline Böt­ger
President (2010-2012), Co-Founder
Char­lotte Baarda
Treasurer, Vice-President (2010-2012), Co-Founder
Sari Nijssen
Secretary, Vice-President (2010-2012), Co-Founder