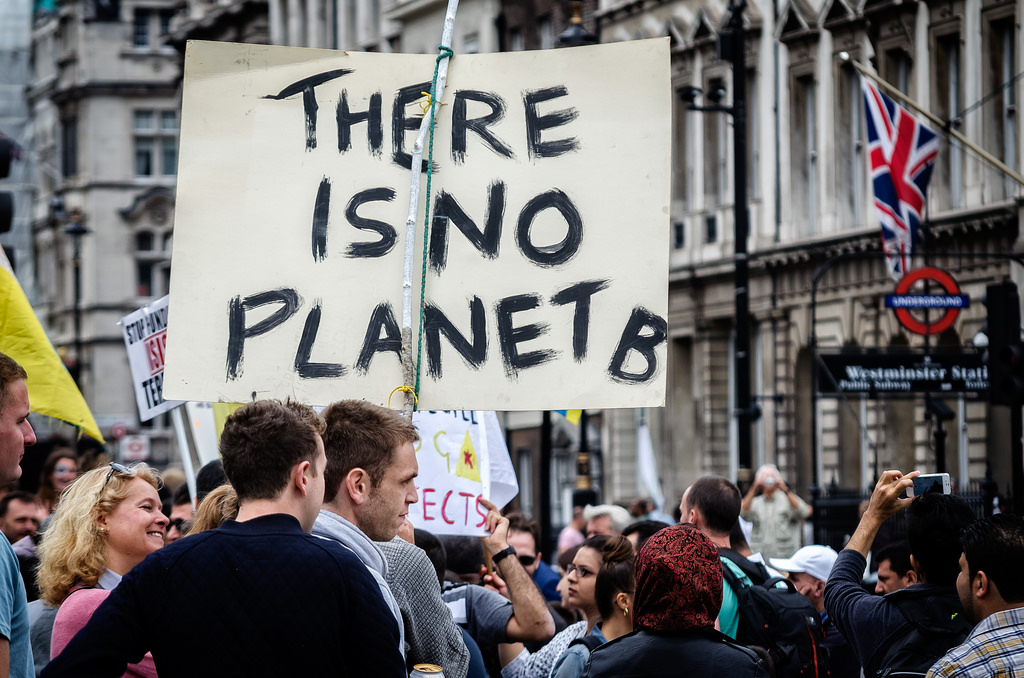 This year's 23rd edition of the 'Conference of the Parties to the United Nations Framework Convention on Climate Change' (COP23) started in Bonn last Monday, 6th of November, and consists of two weeks of negotiations. The island of Fiji is presiding over this year's summit; however, since the archipelago does not have the capacities and logistics to host such a major event, Germany will do so instead (UNFCCC, 2017).
In connection to the Paris Agreement, which was signed during the COP21 two years ago, the main goal of the COP23 is to answer the question of how to undertake the efforts and guide implementation to combat climate change (Louarn, 2017). Although states attempt to put forward their best efforts, it is becoming more difficult to find a global response to a global problem. However, it will be difficult to reach global consensus regarding some specific issues such as the use of fossil fuels or why climate change matters.
Trump's attempt to withdraw from the Paris agreement (Pearce, 2017) has made negotiation tougher since the United States is the world's second biggest polluter according to Reuters (Schultz, 2017). Even though Trump has decided to leave the agreement, he has proposed to begin negotiations to either re-enter or renew terms and conditions that are suitable to his expectations (Worland, 2017).Meanwhile, Trump's administration is planning to promote the use of fossil fuels and nuclear power during the negotiations that will be carried out in Bonn according to Time (Worland, 2017). Conversely, natural gas, coal and nuclear energy are considered by experts to be a primary cause of climate change and impact directly on the environment – which as such quite overtly contradicts the very idea behind the COP23 (Johnson, 2017) .
However, the US' position does not necessarily call for pessimism; in fact, there is a big opposition towards Trump's withdrawal as several American leaders have formally declared in different media (Pearce, 2017). According to what international media has portrayed, public opinion at the national and international level are both concerned with climate change and with the importance of addressing this issue in a multilateral way (Johnson, 2017). The outcomes of the negotiations will depend on how much states are willing to jointly link their national objectives to global solutions.
---
Jimena González is currently a student at LSE. Her day to day life is based on challenging herself, writing essays and discovering what the city of London has to offer.
References
Johnson, J. (2017, November 05). Ahead of COP23 Climate Talks: 25,000 March Demanding End to 'Era of Fossil Fuels'. Retrieved November 07, 2017, from https://www.ecowatch.com/cop23-thousands-march-2506729920.html
Louarn, A. (2017, July 11). Fiji and Bonn, an unusual partnership to host COP23 climate talks. Fiji and Bonn, an unusual partnership to host COP23 climate talks. Retrieved November 7, 2017, from http://www.france24.com/en/20171103-fiji-bonn-germany-cop23-united-nations-climate-change-conference
Pearce, R. (2017, June 02). Global reaction: Trump pulls US out of Paris Agreement on climate change. Retrieved November 07, 2017, from https://www.carbonbrief.org/global-reaction-trump-pulls-us-out-paris-agreement-climate-change
Schultz, J. (2017, June 02). Who are the world's biggest polluters? | Pictures. Retrieved November 07, 2017, from https://www.reuters.com/news/picture/who-are-the-worlds-biggest-polluters-idUSRTXRKSI
United Nations Framework Convention on Climate Change (n.d.). Retrieved November 06, 2017, from http://unfccc.int/meetings/bonn_nov_2017/meeting/10084.php
Worland, J. (2017, November 6). What Does the Trump Administration Want at the COP 23 Climate Talks? The World Is Watching Nervously. Time. Retrieved November 7, 2017, from http://time.com/5003777/climate-change-cop-23-trump-administration/