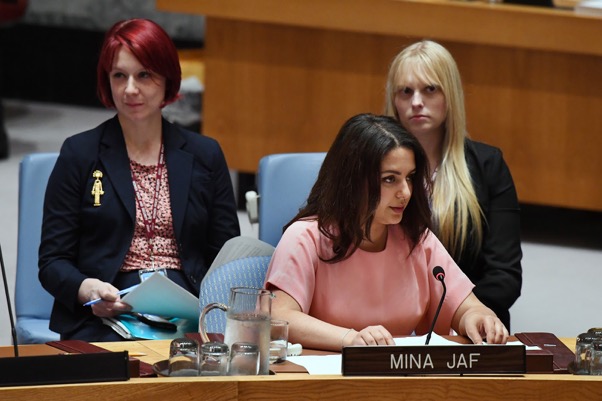 In 1988 Mina Jaf was born a refugee during the chemical gas attacks in Iraqi-Kurdistan. Today, she is listed on Forbes' 30 Under 30 in the category of Europe in Law & Policy.
As a founder of the NGO Women Refugee Route (WRR), Mina Jaf spoke on behalf of the NGO Working Group on Women, Peace and Security at the UN Security Council, and is advocating a gender-responsive refugee policy in Europe (NGO Working Group on Women, Peace and Security, 2017). Examples like her show that policy-makers in Europe underestimate refugee women. It almost seems like politicians are surprised that "even" refugee women can take things in their own hands and appear on the political stage. Where does this misjudgment come from?
1. Refugee women are portrayed as passive actors, not actors initiating change. Yes, they need help as well as a safe place to stay, because some of them have suffered from different sorts of violence (European Network of Migrant Women, 2015). According to UN Women and UNODC, three out of four trafficked women and girls are sexually exploited (UNODC, 2016). It is clear that the capacity to fight for their rights is little and the need of support is huge. However, there is a fundamental misunderstanding of empowerment in current EU-policies. Women are only conceptualised as recipients of services and support, as victims (Women Refugee Route, 2018). This means, EU committees do not assume that refugee women themselves can be actors of change. In this regard, Mina Jaf and her team are an example proving them wrong.
2. Decision-makers talk about refugee women, but not with them. Consequently, strategies and action plans written from a European perspective often miss certain important concerns (European Women's Lobby, 2016). Accordingly, refugee policies do include healthcare, yet sexual and reproductive rights are not sufficiently taken into account (Women's Refugee Commission, 2016). For example, the access to menstrual hygiene products in refugee centers is hardly mentioned, although it is a monthly concern for the majority of refugee women.
3. EU politics are still gender-blind. Despite the fact that different actors, like the Committee on Women's Rights and Gender Equality of the European Parliament or the European Women's Lobby, work on a gender-responsive agenda, the final decision-makers still chose strategies which exclude 50% of the population, women. One of the well-known examples is the Council of Europe Convention on preventing and combating violence against women and domestic violence ("Istanbul Convention"). All EU Member States have signed the Convention, but only 18 have ratified it so far (Council of Europe, 2011).
In conclusion, it is important to understand the reasons why  refugee women should be better empowered, and how this can be done. refugee women should be empowered and they should  benefit from the Universal Declaration of Human Rights. Yet, decision-makers only assume what refugee women might need. Instead of adopting policies responding to individual needs and finding the right balance of support, policy-makers make general assumptions. This leads to a misjudgement and underestimation of the potential of  refugee women. In the end, it is not the policy-maker who suffers the most from this misjudgment. It is the single-mother from Nigeria who has been sexual abused during war, it is the blind female student from Syria with intellectual potential to go to university; it's all of them who suffer the most and whose potential is underestimated.
---
Miriam Mona, 26, is from Germany. Her focus is on the intersection of Gender and Political Economy. After completing her bachelor's degree in Applied Language Science (English and Mandarin) at the Paris-Sorbonne University, she is now enrolled in the master's program of Politics, Administration and International Relations at Zeppelin University in Friedrichshafen, Germany. At the moment, she is an intern at the UN Women National Committee for Germany and working for Médecins Sans Frontières in Bonn. Moreover, she is a founding member of the task force for Gender Equality of United Nations Association of Germany as well as part of the WECF Youth Group.
References