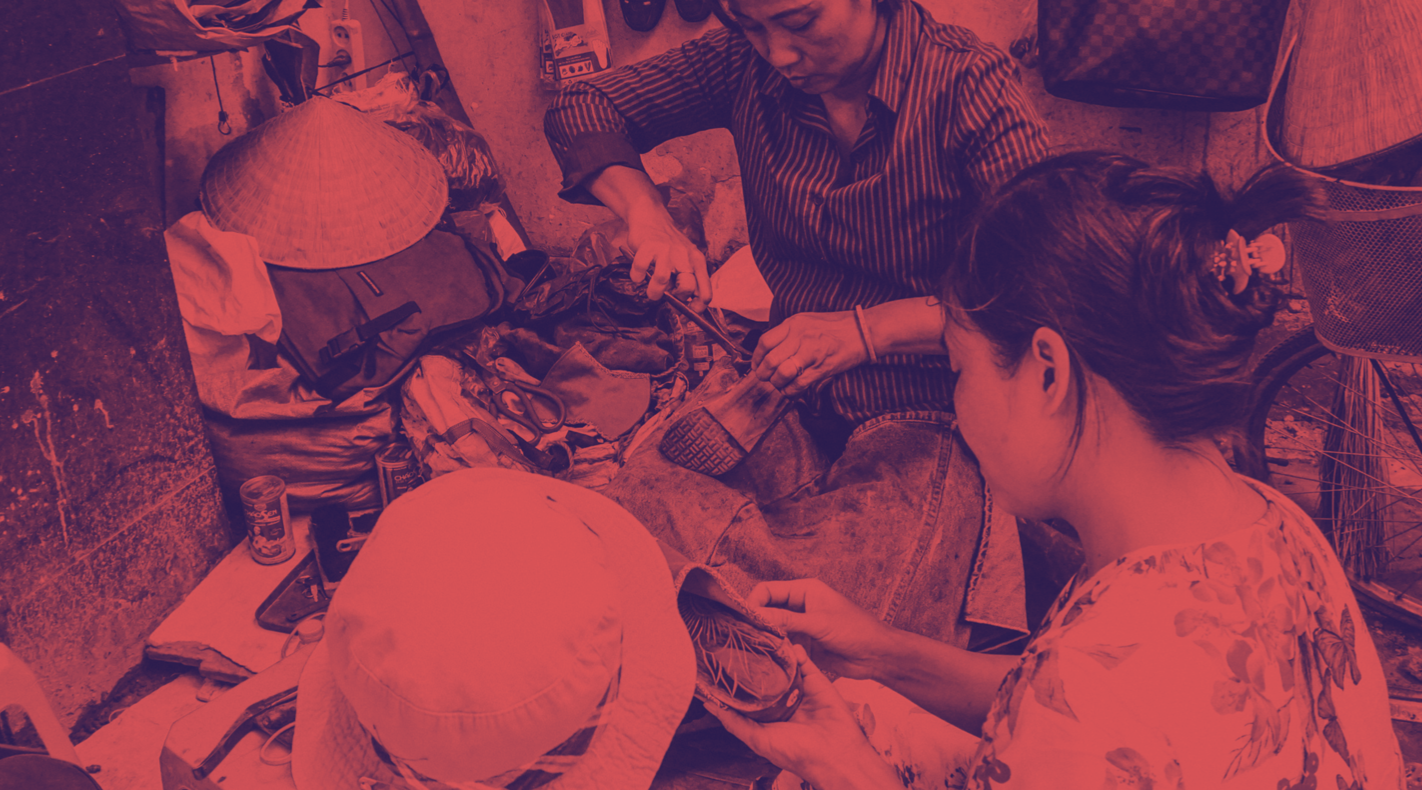 Written by Julie Hoffmann
The lives of racialised migrants in the European Union are impacted by exclusionary migration policies and anti-migrant political discourses. According to the Shadow Report about racist crime and institutional racism in Europe, published by the European Network Against Racism (ENAR), migrants are increasingly facing racist violence and hate speech, as well as discriminatory policies and attitudes (ENAR, 2017). Discriminatory policing is also a severe problem in the EU.
Hate speech and violence
European Union Agency for Fundamental Rights (FRA), a center which aims at tackling prejudice and defending universal rights, commissioned a team of researchers to investigate racist discrimination and harassment. Interviewers spoke to people from third countries who had lived in the EU for at least one year. 24% of them said to have experienced discrimination because of their migration, ethnic, or religious background. North African and Sub-Saharan African migrants experienced the most discrimination (Deutsche Welle, 2019). 
Migrants and asylum seekers face violence, threats, hate speech, and harassment in the EU. Especially hate crimes against Muslims have increased, as they are often framed as a security threat (FRA, 2016). Media reports often refer to the time between 2015 and 2016 as the 'migration crisis', when three million people were fleeing to Europe because of war and persecution (Deutsche Welle, 2019). They justify the use of this term with the high numbers of refugees and present the hatred against them as a natural consequence. The prejudices and hostility, however, have been existing for centuries. In addition, refugees are often framed as "illegal" or "economic" migrants, fueling the hostility against migrants even more.
Hate crimes are committed by, amongst others, individuals and vigilante groups. The latter are groups of private citizens who take unofficial action to prevent crime or prosecute, and punish people who they believe are criminals. In this case, the groups operate against migrants and minorities. Also, authorities and private companies commit hate crimes. These crimes include threats, intimidation, and killings. Reporting hate crimes against migrants and asylum seekers remains difficult which makes the hate crimes very little visible. The investigation about the growing hate speech on the internet is also difficult. Of the 14 Member States covered in the report of the FRA, only Finland, Germany, the Netherlands, and Greece monitor and collect data on hate crimes against asylum seekers and their accommodations (FRA, 2016). Furthermore, Migrants and asylum seekers have little access to victim support services. 
Discrimination of migrants in the EU labour market
Discriminatory attitudes also show themselves in barriers migrants face in the labour market. There are restrictions linked to migration status: a lack of recognition of qualifications obtained in other countries, and language barriers which lead to an employment gap between migrants and nationals. Labour exploitation of migrant workers and seasonal workers from abroad are also happening in the EU.
The FRA has published a report based on the accounts of 237 adult migrant workers (FRA, 2019). It shows that there are employers in the EU who take advantage of the vulnerable position of migrant workers, forcing them to work endless hours and paying them very poorly or not at all. In those cases, the migrated people often work in dangerous settings and are not even provided with the minimum safety equipment prescribed by law. Interviewed workers were living in fields or on construction sites that lacked running water and sanitary facilities. The documentary "Empezar de cero" (in English: "Start from scratch") is a documentary which reflects this situation very well. It is a documentary about the situation of seasonal workers in Lepe, Spain, who work for the collection of strawberries. The movie also shows the ignorance and racism of politicians and companies, as well as the racism of the landlords of the local apartments. Because the landlords in the region do not want to rent their apartments to the seasonal workers, the latter cannot find an apartment. As a result, the workers build huts that lack electricity and water supply and are easily inflammable (CNAAE, 2020). 
Ethnic profiling and discriminatory policing and policies 
The Member States of the EU lack national migrant integration plans that address racial and status discrimination, or inclusion and progression in the labour market. In addition, migration is very often framed as a security risk. Some Member States of the EU introduced new border and counter-terrorism measures that use ethnic profiling and other discriminatory policing against migrants. Such actions progressively erode refugee protection (ENAR, 2017). In addition, the police use certain reasons for control, surveillance, and investigation activities that cannot be justified objectively. The police may also use criteria that appear to be neutral but affect certain groups of people disproportionately, on grounds of racist or religious attributions (Pap, 2008).  
Regarding the refugee policies in the EU, various member states have adopted punitive and restrictive asylum rules and aim at reducing the number of refugees they take in. These policies and rules have devastating consequences: According to the UN Refugee Agency (UNHCR) and the International Organization for Migration (IOM) of the UN, more than 18,000 people have died in Mediterranean crossings since 2014 (Reuters, 2019). Moreover, the EU-Turkey deal and the EU-Libya cooperation, aimed at reducing the migratory flows, lead to refugees being exposed to abuses. The fire in the refugee camp of Moria, Greece, in September this year shows the catastrophic living conditions in refugee camps. Greece's largest migrant camp on the island of Lesbos was overcrowded and the conditions were inhumane. 
Conclusion
ENAR Chair Amel Yacef said that the EU and political leaders should implement long-term solutions and stressed the necessity to "question the racial biases underpinning European and national migration policies in order to ensure the real inclusion and participation of migrants in European society" (ENAR, 2017). People of Colour in general, in particular women of colour, are severely underrepresented in all EU institutions. ENAR estimates the share of racial and ethnic minorities in the total EU population at 10%. However, they make up only 5% of the Members of the European Parliament and only 4% of the MEPs are People of Colour (ENAR, 2019). ENAR also published a "Roadmap to racial diversity", in which it demands, amongst other things, that 10% of the MEPs in the European Parliament should be People of Colour by 2024 (ENAR, 2019). 
There is a lot of work to be done by both, the EU and its Member States on a national level. They have to examine racial biases on all levels, combat discriminatory policing and policies, address the issue of hate crimes against migrants, tackle the discrimination of migrants in the labour market and ensure real inclusion, representation and participation of migrants in the EU. 
References: 
Amnesty International. Asylum and migration. Retrieved from: https://www.amnesty.eu/asylum-and-migration/
András Pap. (2008). Ethnicity and race-based profiling in counter-terrorism and border control. Retrieved from: https://papers.ssrn.com/sol3/papers.cfm?abstract_id=2372777
BBC. (September 2020). Moria migrants: Fire destroys Greek camp leaving 13,000 without shelter. Retrieved from: https://www.bbc.com/news/world-europe-54082201
Comunidad Negra Africana y Afrodescendiente en España. (CNAAE, 2020). EMPEZAR DE CERO-Documental sobre los temporeros en Lepe. Youtube. Retrieved from: https://www.youtube.com/watch?v=hO2swdK4Qtw&t=9s
Deutsche Welle. (2019). Discrimination in Europe. Retrieved from: https://visualstories.dw.com/discrimination-europe/
European Eye on Radicalization. (2020). Vigilantism Against Migrants and Minorities. Retrieved from: https://eeradicalization.com/vigilantism-against-migrants-and-minorities/
European Network Against Racism. (2017). Racism plays a key role in migrant's exclusion and violations of rights in the European Union. Retrieved from: (https://www.enar-eu.org/Racism-plays-a-key-role-in-migrants-exclusion-and-violations-of-rights-in-the)
European Network Against Racism. (2019). ENAR's Election Analysis: Ethnic minorities in the new European Parliament. Retrieved from: https://www.enar-eu.org/IMG/pdf/2019_06_racial_diversity_eu_parliament_elected_meps_final.pdf
European Network Against Racism. (October 2019). A roadmap to racial diversity in EU institutions. Retrieved from: https://www.enar-eu.org/A-roadmap-to-racial-diversity-in-EU-institutions
European Union Agency for Fundamental Rights. (2016). Current migration situation in the EU: hate crime. Retrieved from: https://fra.europa.eu/sites/default/files/fra_uploads/fra-2016-november-monthly-focus-hate-crime_en.pdf
European Union Agency for Fundamental Rights. (2019). Protecting migrant workers from exploitation in the EU: workers' perspectives. Retrieved from: https://fra.europa.eu/sites/default/files/fra_uploads/fra-2019-severe-labour-exploitation-workers-perspectives_en.pdf
Reuters. (2019). Migrant, refugee death toll in Mediterranean tops 1,000 for 6th year: U.N. . Retrieved from: https://www.reuters.com/article/us-europe-migrants-idUSKBN1WG3FE