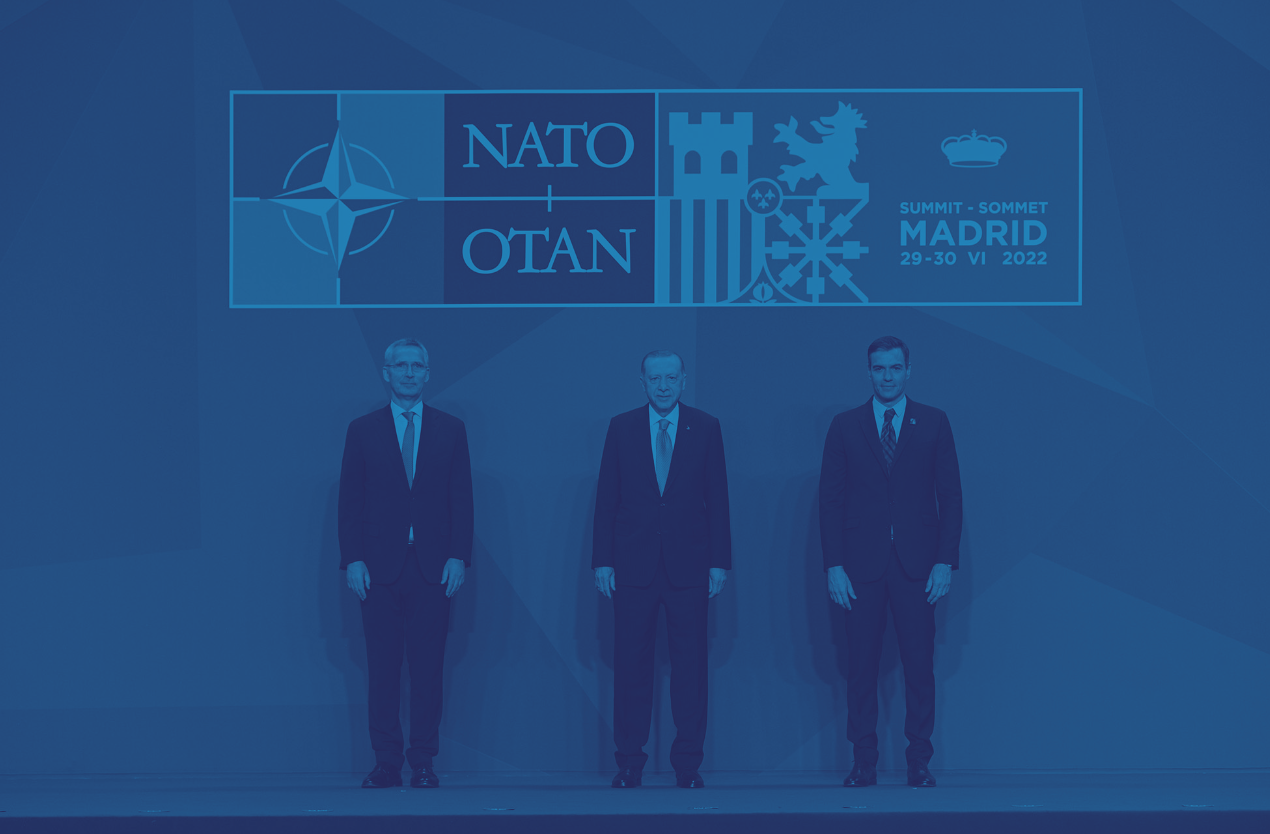 Written by Apoorva Iyer
Sweden and Finland have maintained neutral military policies, entailing their non-participation for decades in military alliances. However, the Russian invasion of Ukraine forced both countries to review and re-evaluate their security policies due to a potential invasion from Russia. Three months after the beginning of the Russia-Ukraine war, Finland announced its desire to join NATO, which was soon followed by its neighbour Sweden. On May 18, 2022, the Nordic countries officially submitted their applications in a public ceremony at the NATO headquarters in Brussels for NATO membership. Both countries' announcements have significantly developed since the Russia-Ukraine war's commencement. It has underscored the change in their security policies. With this, Russian President Vladimir Putin claimed that the NATO expansion was not a direct threat to Russia but did warn of consequences if the alliance bolstered military infrastructure in the Nordic region. After all, including Finland in the military alliance would extend the NATO borders with Russia by approximately 810 miles (BBC, 2022). In this line, Finland and Sweden's announcement led to an international debate on whether NATO should accept their membership or not.
Analysts weighed the pros and cons of expanding the 30-member alliance, aware that NATO's acceptance of their membership could take over a year. However, the Russia-Ukraine war created a sense of optimism and urgency amongst NATO members that there would be – apparently – no overriding obstacles to accepting them as members, believing the process would be fast-tracked. However, Turkey's objection to Sweden and Finland's accession to NATO took the initial hopes in a different direction as all NATO members possess veto powers as decisions are made by consensus. Hence, Turkey's objections to Nordic country membership can prevent them from joining the military alliance.
Why is Turkey objecting?
Turkey objects to this for several reasons (Suny, 2022). When Sweden and Finland announced their ambassadors would visit Ankara, President Erdogan publicly stated, "We [Turkey] will not say yes to those [countries] that apply sanctions to Turkey to join the security organisation NATO" (Al Jazeera, 2022). Furthermore, Erdogan said, "They say they will come to Turkey on Monday. Will they come to persuade us? Excuse us, but they should not bother" (Al Jazeera, 2022).
Turkey contributes the second-largest army in NATO and holds a strategic location as it controls access to the Black Sea via the Turkish Strait, which comprises two internationally significant waterways in north-western Turkey called Dardanelles and the Bosphorus (Firstpost, 2022). It is not the first time that Turkey has stood against almost all of the decisions of NATO, as it has a past of causing trouble for forming consensus and has found itself in difficult positions with other NATO alliance members, especially France and Greece. In the same line, Turkey has been negotiating with Ukraine and Russia despite being a NATO member and maintaining relations with Russia. It has also set forth several demands and conditions for the Nordic members to become members of the alliance. Bearing this in mind, Turkey is using its veto power in NATO to gain leverage from the situation.
Turkey's demands
By stating these demands, Turkey has made it clear that any progress toward Finland and Sweden's membership would depend on the process of fulfilling the needs set forth by it (Rubin, 2022). It illustrates how Turkey has created nosy diplomacy to prolong the negotiations to gain time while also working on a fine line by maintaining its alliance with the West and Russia. Turkey has not issued any sanctions against Russia, unlike other NATO alliances, and has provided a haven for Russian oligarchs to park their millions of investments and bank accounts in Turkey. If that was not enough, Turkey has now used the Russia-Ukraine war as a distraction to commence a new military operation in Syria, announced on May 23, 2022 (Toksabay, 2022). It aims to form a 30 KM deep safe zone along the southern borders of Syria. Although President Erdogan only mentioned the commencement of a military operation in Syria, it was only recently, on June 1, 2022, when he announced that the targeted cities in the military operation included Tal Rifaat and Manbij (Al Jazeera, 2022). The announcement raised concerns from both Russia and the US.
Impact of Turkey's military operation in Syria
Turkey is one of the crucial players in the Syrian civil war, an 11-year war comprising several international players, including Russia and the US. Until now, Turkey launched four military operations in 2016, where the new military operation has a global context as it targets the Kurdish People's Defence Units (YPG). It is an armed Syrian offshoot of the Kurdistan Workers Party (PKK) near the Syria-Turkey border. Now, the US, Europe, and Turkey have designated the PKK as a terrorist organisation. However, the YPG is a significant US ally that has played a predominant role against the Assad regime and, later, ISIS.
Because of the YPG's alliance with the US and its opposition to the Assad regime, Russia opposed the militia group. However, under Trump's Presidency and the significant US withdrawal with Turkey's Operation Peace Spring, Russia changed its policies towards the group and became its protector against Turkish aggression. In this way, Russia elevated its role in the war. It highlighted its capabilities concerning the geopolitical situation in the country, allowing the YPG to find a new protector in Russia. In a different pathway, Russia and Turkey have supported rivals in the Syrian war but worked closely on the northern borders post the ceasefire agreement in the Sochi agreement of 2019 (Korsunskaya & Gumrukcu, 2019), agreeing on the withdrawal of the YPG forces from Tal Rifaat and Manjib and the removal of militia elements from the areas in Syria within 30 kilometres of the Turkish border. Furthermore, Russia and Turkey agreed to launch joint Russia-Turkey patrols near the border. However, now, Turkey claims that Russia is not honouring the Sochi agreement. If the ground reality is taken into consideration, Turkey's claims cannot be ignored.
Therefore, Turkey has announced that it is explicitly targeting the YPG /PKK, putting it at odds with Russia and the US by explicitly targeting these cities that Turkey claims are under the control of the Syrian opposition forces. Furthermore, Turkey would expand its operations to other cities as President Erdogan stated that Turkey hopes to build infrastructure for over 1 million refugees in north-western Syria. So, the military operation would eventually reduce the pressure on Syrian refugees in Turkey.
Why now?
There are several reasons why the operation is taking place now. Firstly, Russia is preoccupied with the Russia-Ukraine war, allowing Turkey to join efforts in its objectives. At the same time, Russia would need to diversify its forces to respond to Turkey's military operation. Secondly, Turkey blocking Finland and Sweden's entry to NATO is paramount for Russia. After all, if Turkey had not blocked the move, Finland and Sweden would have joined NATO. Due to the current Russian invasion of Ukraine, this would have taken less time than the usual one year for the approval of the military alliance. In case the membership of these two countries materialises, it will enhance European security as two northern European countries joining the bloc would strengthen the organisation's north-eastern flank. Apart from that, Sweden and Finland will boost the overall strength of NATO in terms of monetary contribution and expanding the NATO border shared with Russia. Sweden and Finland are ranked 18th and 22nd in GDP per capita, respectively (World Population Review, 2022). Also, it will further the eastern expansion of NATO. It will eventually increase the threat and defence budget of Russia as well. So, keeping these in mind, Dmitry Medvedev, deputy chairman of Russia's Security Council, stated that any possibility of a "nuclear-free Baltic" – where Russia has its Kaliningrad exclave sandwiched between Poland and Lithuania would go out the window (Faulconbridge, 2022). Above all, the new addition will have a social, political, economic, military, diplomatic, and soft power boost on NATO's power. So, the NATO membership of Finland and Sweden is closely monitored by both Russia and USA. Thus, any progress in this scenario will have a consequential impact on both countries.
It directly plays in the hands of President Erdogan to literally 'test waters' with its diplomatic situation on the international front. Therefore, the US needs Turkey's support in NATO so that Sweden and Finland are accepted into the bloc. In contrast, Russia needs Turkey's assistance in NATO so that Sweden and Finland are not considered in the bloc. So, there is technically no country, be it Russia or the USA, who are in a position to oppose Turkey's decisions.
Turkey, on the domestic front, will have presidential elections next year. It comes at a time when the inflation rate has hit the roof with an all-time high of over 70 percent (Business Standard, 2022), where several economic policies resulted in the fall of the Turkish lira to an all-time low. Moreover, with nearly five million refugees, including Syrians and Afghans, the rising food and energy prices have escalated the tensions between the locals and the refugees (Hürriyet Daily News, 2020). So, even though the military operation causes a high risk of further bloodshed and displacement of civilians, diplomatically, President Erdogan knows how to pull the strings. By commencing military operations, President Erdogan hopes to gain territorial victory and is optimistic about the possibility of ensuring the resettlement of Syrian refugees outside Turkey and reducing the tensions at home. This way, it resonates with the masses back home. It allows him to the nationalistic feeling that could sway his popularity into voting support that is essential during the upcoming elections.
References
Al Jazeera. (2022, June 5). Turkey says Syria military operation to target Tal Rifaat, Manbij. Al Jazeera. Retrieved June 9, 2022, from https://www.aljazeera.com/news/2022/6/1/turkey-expands-military-operation-in-northern-syria
Al Jazeera. (2022, May 17). Turkey confirms opposition to NATO membership for Sweden, Finland. Al Jazeera. Retrieved June 9, 2022, from https://www.aljazeera.com/news/2022/5/17/turkey-confirms-opposition-to-nato-membership-for-sweden-finland
BBC. (2022). Finland NATO: Russia threatens to retaliate over membership move. BBC News. Retrieved June 9, 2022, from https://www.bbc.com/news/world-europe-61420185
Business Standard. (2022, June 3). Data puts Turkey's annual inflation rate at 73.5%, at a 24-year high. Business Standard. Retrieved June 9, 2022, from https://www.business-standard.com/article/finance/data-puts-turkey-s-annual-inflation-rate-at-73-5-at-a-24-year-high-122060300596_1.html
Faulconbridge, G. (2022, April 14). Russia warns of nuclear, hypersonic deployment if Sweden and Finland join NATO. Reuters. Retrieved June 11, 2022, from https://www.reuters.com/world/europe/russia-warns-baltic-nuclear-deployment-if-nato-admits-sweden-finland-2022-04-14/
Firstpost. (2022, February 27). Explained: Importance of bosphorus and dardanelles straits in Russia-Ukraine conflict and Turkey's role. Firstpost. Retrieved June 9, 2022, from https://www.firstpost.com/world/explained-importance-bosphorus-and-dardanelles-straits-in-russia-ukraine-conflict-and-turkeys-role-10412751.html
Hürriyet Daily News. (2020, June 17). 5 million migrants live in Turkey: Official . Hürriyet Daily News. Retrieved June 9, 2022, from https://www.hurriyetdailynews.com/5-million-migrants-live-in-turkey-official-155761
Korsunskaya, D., & Gumrukcu, T. (2019, October 22). Russia, Turkey reach deal to remove Kurdish YPG from Syria border. Reuters. Retrieved June 9, 2022, from https://www.reuters.com/article/us-syria-security-idUSKBN1X10ZE
Rubin, M. (2022, May 17). Erdogan issues his demands to NATO . American Enterprise Institute . Retrieved June 11, 2022, from https://www.aei.org/foreign-and-defense-policy/erdogan-issues-his-demands-to-nato/
Suny, R. (2022, May 23). Why Turkey doesn't want Finland, Sweden to join NATO and why it matters. Business Standard. Retrieved June 11, 2022, from https://www.business-standard.com/article/international/why-turkey-doesn-t-want-finland-sweden-to-join-nato-why-it-matters-122052300184_1.html
Toksabay, E. (2022, May 23). Erdogan says Turkey to launch military operations on its southern borders. Reuters. Retrieved June 20, 2022, from https://www.reuters.com/world/middle-east/erdogan-says-turkey-launch-military-operations-its-southern-borders-2022-05-23/
World Population Review. (2022). GDP per Capita by Country 2022. World Population Review. Retrieved June 11, 2022, from https://worldpopulationreview.com/country-rankings/gdp-per-capita-by-country