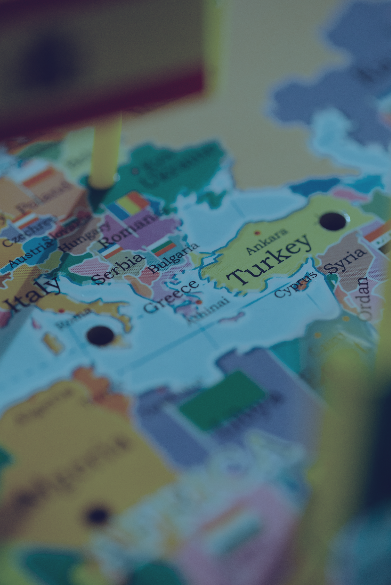 Written by Ahmetcan Uzlaşik
Introduction
Türkiye and the EU have a long-lasting special relationship. This "special" relationship has had many ups and downs, depending on many aspects. For Türkiye, aspiring to be a part of the EU has been of great importance on the way to becoming a modern state. Türkiye therefore supported and participated in European initiatives after World War Two — for instance, Türkiye was a founding member of the European Council, the OECD (OEEC until 1961), and the OSCE (CSCE until 1995). This drive was reflective of Türkiye's willingness to westernise and modernise, the roots of which can be traced back to the 19th century. Türkiye's decision to become a part of the Western alliance after 1945 also led it to enter NATO in 1952. Soon, with different motivations, Türkiye applied for a partnership with the European Economic Community, which marked the beginning of a long process. Türkiye first applied for membership in the EEC in the 1980s during a challenging period when Turkish-EC relations almost broke off. The man behind this application was Turgut Özal, a liberally-minded politician who introduced many radical changes in Türkiye. This paper will analyse the application process through the lens of Özal's character and understanding of foreign policy and will convey a Turkish perspective on the issue. In addition, it will try to answer how Özal perceived the EC and Türkiye's full membership application during his time in office (1983-1989).
Turkish-EC relations in a nutshell until 1983
After making the necessary examinations, the Community Council decided on September 11 1959 to authorise the Commission to conduct negotiations with Türkiye regarding its application. The negotiations concluded four years later with the signing of the Ankara Agreement. After the 1960 coup, relations briefly soured. In this context, the Community wanted to reach a new agreement with Türkiye that put trade in the foreground. The Trade Agreement, which was not accepted by the Turkish side, was therefore replaced by the Association Agreement initialled in Brussels on 25 June 1963 by the representatives of the Commission and the Turkish government. The Agreement was signed in Ankara on 12 September 1963, between the Inönü Government and the Community officials. It entered into force on 1 December 1964 (Ceyhan, 1991, p.23 as cited in Uysal, 2001, p.142).
The Ankara Agreement envisaged three phases for Türkiye's integration into the EEC: the preparatory, the transitional, and the final. The first period started on 1 December 1964, when the Agreement came into force. This period was intended to reduce economic differences between the two parties; Türkiye did not undertake any obligations required of a member, instead focusing on the establishment of institutions to facilitate the new relationship — such as the Partnership Council. The preparation period gave way to the transition period with the signing of the Additional Protocol on 13 November 1970, which entered into force in 1973 (History of Türkiye-EU Relations, 2020). However, Türkiye suffered some economic losses in the aftermath of the signing of the Additional Protocol, due to the EC expanding for the first time in its history.
In light of this, Türkiye sought a new agreement and the Complementary Protocol was subsequently signed in 1973. However, positive attitudes on Turkish entry into the EC turned negative following Turkish intervention in Cyprus in 1974. Coupled with other political and economical issues, Turkish-EC relations deteriorated in the second half of the 1970s, eventually breaking down altogether following the 1980 Turkish coup d'etat (Oran, 2001, p. 849).
The EC, which took a cautious stance towards Türkiye after the 1980 coup, initially continued developments in Turkish-EC relations instead of suspending relations immediately. This allowed the IV Financial Protocol to be ratified in June 1981. However, relations deteriorated considerably after the new military junta started an undemocratic agenda which included human rights violations, executions, and the shutdown of political parties. From then on, the EC made closer relations with Türkiye dependent on Türkiye adopting political decisions more in line with the EC's ideals. The challenging effect of this on Turkish relations with Europe is still felt today.
The situation after 1983
On 6 November 1983, elections were held in Türkiye after three years of military rule. The Motherland Party (ANAP in Turkish), led by Turgut Özal, won the elections by receiving 43% of the votes. After the elections, Özal and ANAP settled in the political centre and made free market economics and integration into the global economy their dominant policies (Bozkurt, 2003, p. 73). When Özal came to power, the EC and Türkiye were in a standoff. Due to this, and many other ideological factors, Türkiye had developed tighter ties with the Middle Eastern countries and the US to avert its isolation. Although Özal was eager to create more intimate ties with other regions, he also sought to resurrect Türkiye's relations with the European Community. The Motherland Party's doctrine maintained that the primary goal in Turkish relations with the EC was full membership of the community, while also ensuring that the integration process would be based on mutual balances. Özal was not in favour of a blind and unquestioning membership application; if membership brought too much burden, then it was dispensable (Oran, 2001, p. 89).
However, throughout 1983 and 1984, relations only worsened. There were certain issues styming relations. Firstly, Özal still could not make the reforms Brussels asked for while military control continued. The second, and perhaps most challenging issue was Greece's stance on Türkiye's relations with the EC. West Germany was also uneasy at the prospect of free movement of workers from Türkiye. It was not long before Özal realised that relations with the EC were "dying". The relationship needed "shock therapy". And so, Özal announced in December 1984 that the time for Türkiye's application for full membership had arrived. Before fully applying, Türkiye tried to gather support among EC members for its application, and took some much-appreciated steps throughout the 1980s before making its full application as planned on 14 April 1987. However, the EC was concurrently dealing with further enlargement and implementing the Single European Act. In December 1989, the EC Council suspended Türkiye's application due to Türkiye's political and economic situation not meeting its criteria — though the official reason was that the EC did not want new members until 1993 (Oran, 2001, p. 100).
Özal's characteristics and understanding of foreign policy
Turgut Özal is a controversial figure in Turkish political history. Some see him as a great reformer who liberalised Türkiye's economy and political system while some see him as having handed Türkiye to neo-liberal forces with the help of a military regime (Demirel, 2018, p. 58). He had good knowledge and relations with the bureaucracy, the private sector, and international organisations. However, Özal was sceptical of the Turkish bureaucracy, and thought it was conservative, uncreative, dysfunctional, and slowed things down. He therefore created a unique structure through which to conduct foreign policy independently of the bureaucracy. Since Özal prioritised the economy in his foreign policy, he transformed Türkiye from an import-substituting, closed economy to an export-based, free market economy. He also implemented the famous January 24th decisions which embedded free market principles in the economy and opened it up to the world. His belief in commercial liberalism can also be seen in Türkiye's relations with Middle Eastern countries during the 1980s.
Özal contradicted Türkiye's traditional foreign policy doctrine, known as the Kemalist foreign policy, in various ways. First of all, Özal's policy of opening Türkiye up to the world weakened its hand on the international stage since Türkiye was now economically dependent on other countries. Secondly, Özal's policy of commercial liberalism, which sought to prioritise trade over pre-existing bilateral problems, failed. Thirdly, Özal was generally disdainful of foreign policy. He often overlooked institutions and entrusted foreign policy-making to private companies and personal relations. This mindset had also shown its face in Turkish-EC relations, as Özal and his team made excessive visits to European countries to change their minds about Türkiye's application for full membership of the EC. In this context however, Özal constructed good relations with the leaders of Federal Germany, Britain, France, and Italy. Özal thought this could incentivise these countries to help change Greece's stance on closer Turkish-EC relations (Oran, 2001, p.29).
Özal's ideas on Türkiye's application for full EC membership and the EC
Özal did not see relations with the west as a temporary goal, but rather wanted to make Türkiye a full part of the western political system. Relations with states in other regions were never an alternative but more of a tool for economic development to ease Türkiye's integration to the west. Membership of the EC was seen as an essential requirement for westernisation. However, Özal emphasised that Turkish membership should not come at too great a cost to Türkiye, and should be motivated by improving Türkiye's national standing and economic conditions, rather than just for its own sake. As a member of the EC, Türkiye's goods could compete economically with European goods, and Türkiye's could counterbalance its dependence on the US, therefore becoming a more significant player on the global stage (Akçay, 2016, pp.47-48).
Conclusion
Turkish-EC relations have had a long and compelling history since 1959. Until 1980, the relationship had ups and downs, which were not solely affected by its actors but also by global conditions. After the 1980 coup, Türkiye and the EC entered a new phase and previously stable relations were strained. Türkiye only returned to democracy in 1983, after three years of military rule. Özal and his party won the elections. Turgut Özal came to the fore with an unusual character and views on Turkish politics which noticeably impacted Türkiye's ties with the European Community. Throughout his tenure, he placed great importance on Turkish-EC relations and tried to resurrect them. For Özal, the EC was important in terms of politics and economics. Much like previous governments, Özal saw Türkiye's integration into the EC as a continuation of Türkiye's westernisation. Finally, Özal wanted EC membership to complement Türkiye's newly liberalised market. However, he thought the relations should involve equity, and membership should not progress if it did not satisfy Turkish needs. Overall, the Ozal period, which was driven by Ozal's ideas, opened the gate for new opportunities between the European Community and Türkiye.
References
Akçay, E. Y. (2016). Turgut Özal Dönemi Türkiye-Topluluk İlişkileri. The Turkish Yearbook of International Relations, (47), 45-58.
Daban, C. (2017). TURGUT ÖZAL DÖNEMİ TÜRKİYE DIŞ POLİTİKASI. Sosyal Ekonomik Araştırmalar Dergisi, 17(33), 77-96.
Demirel, T. (2018). TURGUT ÖZAL: REFORMCU BİR SİYASETÇİ HAKKINDA BAZI NOTLAR. Muhafazakâr Düşünce Dergisi, 15(55), 57-78.
Directorate for EU Affairs. (February 12, 2020). History of Türkiye- EU Relations. https://www.ab.gov.tr/111_en.html
Erdoğan, H. (2003). Relations Between Turkey and the EU During Ozal Time.
ERKEM GÜLBOY, G. P. , (2009). Özal Dönemi AT Tam Üyelik Başvurusu . 2. Ulusal Yönetim ve Ekonomi Bilimleri Konferansı-Sosres-Sobiad (pp.1-25). İzmir, Turkey
Oran, B. (Ed.). (2001). Türk dış politikası: Kurtuluş Savaşından bugüne olgular, belgeler, yorumlar (Vol. 2). İletişim.
Oran, B. (2001). Türk Dış Politikası, Cilt II. İletişim Yayınları, İstanbul.
Uysal, C. (2001). TÜRKİYE – AVRUPA BİRLİĞİ İLİŞKİLERİNİN TARİHSEL SÜRECİ ve SON GELİŞMELER . Akdeniz İİBF Dergisi , 1 (1) , 140-153 . Retrieved from https://dergipark.org.tr/en/pub/auiibfd/issue/54587/744090
ZENGİNOĞLU, S. (2018). ÖZAL DÖNEMİ TÜRK DIŞ POLİTİKASI PERSPEKTİFİNDEN TÜRKİYE'NİN AVRUPA TOPLULUĞU'NA TAM ÜYELİK BAŞVURU SÜRECİ. Journal of International Social Research, 11(60).