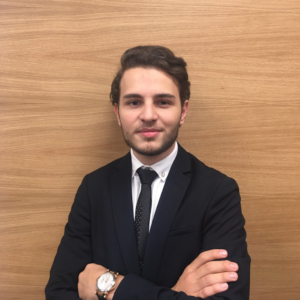 Burak Gun
contact: turkey@esthinktank.com
Burak is a senior International Relations student at Galatasaray University, Istanbul. He also completed a year of his bachelors at University of Geneva as an exchange student. Throughout his studies both in Turkey and Switzerland, he completed numerous research projects on European integration and institutions, EU Foreign Policy, Turkish-EU relations and EU enlargement. Among his areas of interest are EU's relations with neighbouring countries, EU foreign policy and environmental policies. 
He joined EST as an Ambassador mainly because he wanted to make young voices heard, contribute to the organisation with both local and international projects, and be a part of this international hive mind.
In addition to his role within EST, he is also Executive Board Member of Turkish Atlantic Council's youth chapter, and founding member of the International Relations Student Platform at his university. His articles and translations have been published by magazines, websites and publishing houses in his country. He also took part in notable international conferences thanks to his role within the aforementioned organisations. He speaks English and French fluently, and Serbo-Croatian a tiny little bit. He is in love with travelling, especially around the Western Balkans, collecting stamps and banknotes as well as etymology.