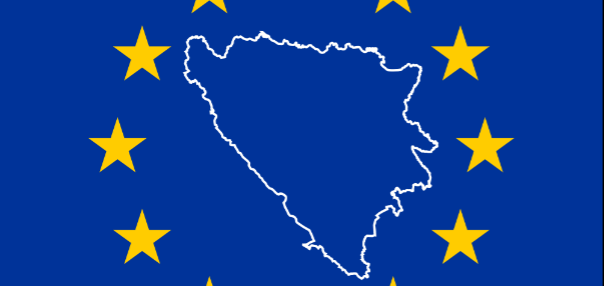 In the early 90s, while many European countries were rising on their path towards prosperity, Bosnia was in the state of war. The result of the 4 years long war were the Dayton Peace Accords signed in November 1995. By this Agreement, Bosnia and Herzegovina had a new Constitution, so-called Dayton Constitution by which it has been divided in two entities, the Federation of Bosnia and Herzegovina (FBiH) and Republika Srpska (RS), with the Brčko District as a self-governing administrative unit under the dual sovereignty of Federation of Bosnia and Herzegovina and Republika Srpska. Federation of B&H is divided in 10 cantons and Republika Srpska to 4 regions. Due to this division, Bosnia and Herzegovina has 14 different governing entities: one on the state level, one per each entity, one for the Brčko District and one for each of the Federation of Bosnia and Herzegovina cantons.
Even though, we were still wounded and in the process of recovery, we started our path towards the EU in the 1998, when the Consultative Task Force was put in the place. The Task ensured technical and expert assistance in the field of administration, regulatory framework and policies. Replacement of the Task took place in 2006 by the first Reform Process Monitoring meeting. Until 2003 and Bosnia and Herzegovina's official recognition as a potential candidate, both B&H and the EU focused on the establishment of easier trade processes by Autonomous Trade Measures. Eventually, trade increased in 2008 when B&H and EU signed Stabilization and Association agreement. Political instability and general internal problems delayed the implementation of the agreement until the March 2015.
Political incompetency and unwillingness of political leaders to move Bosnia from ground zero caused its stagnation in all aspects. In the Socialist Federal Republic of Yugoslavia Bosnia was economically strong with many prosperous and stabile factories which were devastated bankrupted or had poor management after the war. In 2014, a German-British Initiative for the acceleration of the processes of accession of B&H to the EU "saved" Bosnia. The German-British Initiative asked for a written commitment of Bosnian politicians to see though a package of reforms that are linked to the Compact for Growth and Jobs. B&H Reform Agenda set plan for socio-economic reforms of all levels of government, and is expressed in six areas of importance as follows:
• Public Finance, Taxation and Fiscal Sustainability;
• The Business Climate and Competitiveness;
• The Labour Market;
• Social Welfare and Pension Reform;
• Rule of Law and Good Governance;
• Public Administration Reform
One of the preconditions Bosnia and Herzegovina needed to fulfil after the submission of the EU membership application was creation of the Mechanism of coordination. Mechanism of coordination is an important tool that will help B&H and governments on all levels to adopt the Reform Agenda and realise all the commitments that are ahead of us on the road towards the European Union. Simply speaking, Mechanism of coordination represents consultations between different levels of government in certain areas with the goal of forming the attitude of Bosnia and Herzegovina on certain issue.
So far, B&H has completed 40% of the whole Reform Agenda plan for 2016-2018, which is satisfactory but still there are other important issues that need to be addressed, such as implementation of Sejdić-Finci judgement, Constitutional reform, repeal of phenomena "Two schools under one roof" , etc. You might get impression that Bosnia, besides its complicated structure, is on a prosperous path towards the European Union but all of this is just another brick in the wall.
Bosnia has a long lasting problem of political incompetency and exclusion. Political exclusion is allowed by the Constitution itself which recognises only three constitutive nations with all rights – Bosniaks, Croats and Serbs; while ones that do not identify themselves as member of these three constitutive nations e.g. Roma, Jews are marked as "Others" with no right to be elected for any high level of government (e.g. Presidency and Parliament of Bosnia and Herzegovina). Therefore, a tripartite presidency is elected in the following way: two members of presidency are elected from the Federation of B&H (one Bosniak and one Croat) while one Serbian member of the presidency is elected from the Republika Srpska. Those from the category of "others" have no right to be elected for tripartite presidency despite the fact that European Court of Human Rights gave its final judgement in the Sejdić-Finci case and B&H politicians gave a written commitment to implement that judgement. B&H is stuck between the "strong" principles of leading politicians and political parties and prosaic reality.
For the political instability and wide political exclusion everyone, from politicians to the regular citizens in B&H blame the Constitution. It is true that Dayton creators expected the Dayton Constitution to be changed in the first 10 years since its adoption – 21 years after there is no change of even a single word within the Constitution. However, we cannot blame Constitution for everything; as it cannot be changed by itself. Ergo we need political willingness, unity and persistence to change it. Currently the only thing towards which B&H's politicians are persistent is the use of nationalistic rhetoric. Recently, B&H entity Republika Srpska had referendum about the celebration of January 9 as a Day of Republika Srpska, which was marked as Anti-Constitutional by Constitutional Court of Bosnia and Herzegovina. Paradox is that this referendum got more attention by politicians, media and regular citizens than any economical, social or political problem in Bosnia and Herzegovina.
Dragan Čović, a member of B&H presidency, submitted B&H´s application for the EU membership in February 2016. On 20th September 2016 the European Union accepted Bosnia and Herzegovina´s membership application and ordered the European Commission to prepare a questionnaire for Bosnia. Whether B&H meets criteria to become a candidate country will be determined by the Commission. Accordingly, B&H will need to do much more than adoption of the Reform Agenda.
B&H politicians should be committed to stability; with special significance given to building much better internal relations in B&H with respect to all citizens. We should reject the idea that we are mutually contradictory and that the survival of united B&H is not possible. It is the duty of citizens, political parties and political institutions in B&H to find a way out from the existing situation together. We cannot do it alone; there is a need for good and effective cooperation with neighbours-especially with Serbia and Croatia.
We need to strengthen the cooperation with Serbia in order to secure our inner stability and lower the nationalistic rhetoric. It is on us to show to the EU that they did not made mistake by giving us a green light; we need to offer something back to them. We need to show everyone that we are Europeans and that there are a lot of lessons that other Europeans can learn from Bosnia and Herzegovina's rich history.
By Enna Zone Đonlić. Enna is currently studying Social and Political Science with a minor in Psychology at the International University of Sarajevo (IUS). She enrolled at IUS in 2013 after being awarded a scholarship due to her outstanding academic performance. Next to her studies she works as a Student Demonstrator at the Department of Social and Political Science and has founded the Association of Political Science Students. She has also participated in several MUNs and has been one out of seven members of the British Embassy to Sarajevo Youth Inspirational Group.
The Brčko District is formally created by the High Representative's Decision on the Establishment of the Brčko District of Bosnia and Herzegovina dated March 8, 2000 http://www.ohr.int/?ohr_archive=high-representatives-decision-on-the-establishment-of-the-brcko-district-of-bosnia-and-herzegovina
http://www.dei.gov.ba/dei/dokumenti/uskladjivanje/default.aspx?id=10275&langTag=bs-BA
http://europa.ba/wp-content/uploads/2015/09/Reform-Agenda-BiH.pdf
The term "Two schools under one roof" refers to the schools in Bosnia and Herzegovina based on ethnic segregation of children, namely children from Bosniak and Croat ethnic group.
Second Class citizens: https://www.hrw.org/report/2012/04/04/second-class-citizens/discrimination-against-roma-jews-and-other-national
http://minorityrights.org/wp-content/uploads/old-site-downloads/download-787-Briefing-Paper-Discrimination-and-political-participation-in-Bosnia-and-Herzegovina.pdf
http://www.consilium.europa.eu/en/press/press-releases/2016/09/20-conclusions-bosnia/