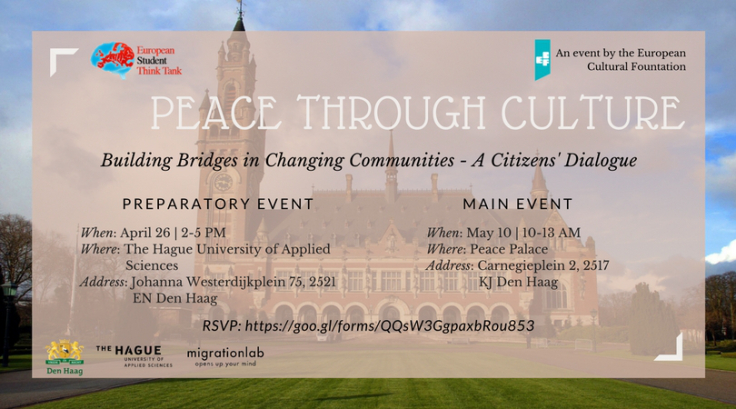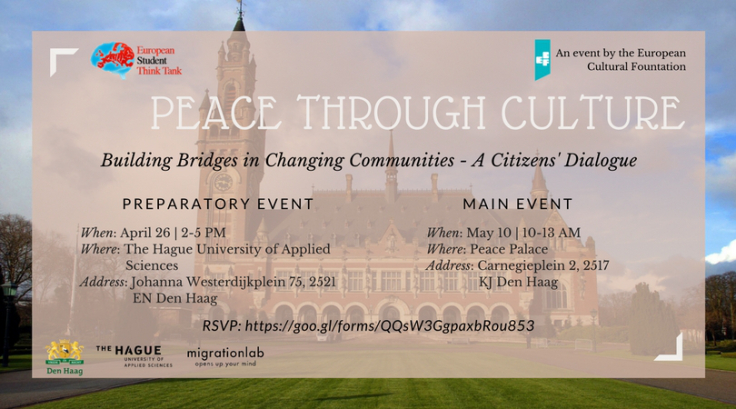 The European Cultural Foundation in partnership with the Peace Palace, City of The Hague, The Hague University of Applied Sciences and Migrationlab, is organising the Citizens' Dialogue "Peace through Culture – Building Bridges in Changing Communities" on May 10. This debate aims to bring together different stakeholders from different generations and diverse backgrounds to have an open conversation about the changing communities in Europe and the ways in which we can be a more inclusive society to all.
As a leading Youth Organization in the Netherlands, the European Student Think Tank has been contacted to bring young people into this conversation.
The main stakeholder's debate on May 10 will be preceded by a preparatory gathering at The Hague University on April 26 from 14-17 to meet each other, further explain the purposes/desired outcomes of the Conference and coordinate our ideas.
If you are interested in participating you can check the full description of the event in the PDF here: Peace Through Culture Citizens' Dialogue.
Only 20 spots available selected on a first come, first served basis.
To confirm your participation, please RSVP here.