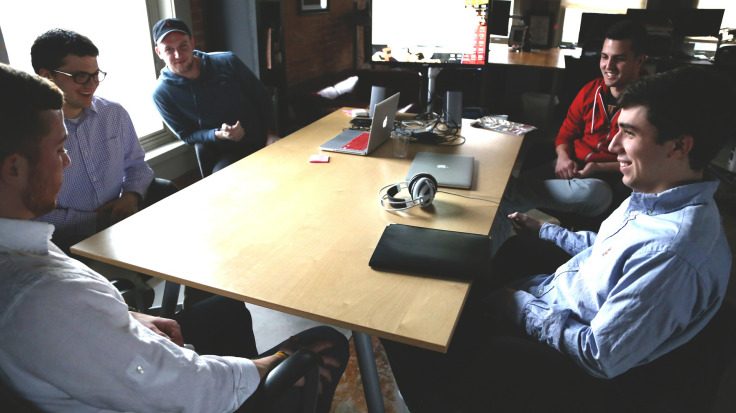 Dear Readers,
In case you count yourself to the majority of our followers – students – you have probably been there: in order to enhance your future career chances you were going through the struggle of applying for that one high-end internship to boost your CV. No matter if you spent time in your precious summer break or if you actually got time of from your study program to work as an intern, when finding an internship there is always one problem: your financial situation. After all, you are a student! Most companies or organizations you would like to intern at are unfortunately not around the corner, but it is also not status quo to just pay your travel expenses, extra living costs and other expenses from your small student budget while you work at a full-time job – unpaid? This common article explores how our ambassadors feel about unpaid internships in their country, at a EU level or just in general. While some contributions just tell you why you often get treated unfairly, you might find also some inspiring thoughts to take action against the unfair treatment of interns and you will even encounter a letter which could have been written by you? Enjoy the read!

Yours,
Rebecca Fobbe – International Officer of the EST
EST Netherlands – Rebecca Hogg
Access to Fair Internships
Getting the perfect internship to add valuable skills and experience to your CV is becoming ever the more essential for students in higher education. Whether it is needed for credits to complete your course or to put you ahead of the competition on the job market, internships are everywhere. If they provide students with work experience, then why are they not considered 'fair'?
From a personal perspective, the main issue with internships is the amount that interns are paid. When searching for internships myself, the pay averages €300 per month for a full-time position. This is evidently not enough to live on, especially in Dutch cities, where the average rent can range from €600 to €1,000. On the other hand, students – domestic, not international, which is another issue altogether – can receive student finance and this can help with living expenses.
As well as living expenses, another criticism is that employers expect interns to perform the tasks of a full-time junior employee for €2 per hour. This alludes to attempts to save money whilst filling labour gaps, and by calling the placement an internship, employers can afford to pay a full-time employee a very low wage. However, let's not forget than students receive something in return for this full-time work experience; by advertising a full-time position, interns are more likely to gain an actual insight into their chosen sector without spending their days making coffee and photocopies.
Overall, I believe interns do deserve fair pay for fair work, especially if the company or organisation has room for it in their budget. Some sectors, such as the non-profit or charity sectors, do rely on trainees or volunteers to get their work done due to the absence of funding, but interns should receive a fair contribution for the work they complete, if anything to make an internship accessible to as many students as possible.
EST Finland – Erik Immonen
The labourer is worthy of his reward
Internships seem to be something of a necessity in today's world, where the relationship between capital and labour continues to be complicated. Specifically, unpaid internships are a double-edged sword. Having completed two such internships, I can safely say I have been able to learn a lot by utilising the opportunities provided to me by the organisations for which I interned. Frankly, I am unwilling to condemn the continued existence of the practice of employing unpaid interns. However, the problems are obvious: using the labour of young workers looking to gain experience without paying them is deeply problematic, and serves to highlight the depth of inequality in the current global political economy. Unpaid internships are only a possibility for those who are reasonably well-off, as the less fortunate often must try to find paid work, no matter how menial. Therefore, those who are already ahead by virtue of their socio-economic standing will be able to accept unpaid internships more easily than those who struggle to make ends meet. Of course, the other side to the problem is that there are many smaller organisations that simply would not be able to hire paid interns. Unpaid internships at such organisations can, however, offer valuable experience to those who need it, or to those who are interested in possibly finding work in one of the respective fields of those organisations. Whenever a company or other entity that could pay its interns fails to do so, it is obviously deplorable and immoral, and even in those rare cases when employing unpaid interns is understandable, it is still not the best of all possible situations: unpaid internships are always problematic on some level. Let us, therefore, remember the biblical maxim that the labourer is worthy of his reward.
EST Hungary – Kamilla Béres
The value of a fair internship
Following the world-wide phenomena, the Hungarian work market highly appreciates candidates with previous work experiences – differentiating the young entrants who have already worked as interns. Former interns are considered to be more motivated and dedicated, reflecting a wider expertise and willingness to work hard – which are core values for work places.
It might often be the case that the hard job performed by an intern is paid by the gained experience, which is not always accompanied with a salary. According to Hungarian law, the Act CXXXIX of 2005 on higher education1 states that in case a student in higher education spends more than six weeks working for an economic entity, the student is entitled to receive at least 15% of the statutory minimum wage weekly. It often has the consequence that many work places employ students for six-week internships. In the public sector there are hardly any paid internship programmes, however, the gained experience has an esteemed reference.
If we put it in economic terms, the student's opportunity cost (the price of a certain decision) should be covered – namely, not only the efforts performed by the young employee, but also the cost of hours left out from education and not taking a different but remunerated job. However, young employees are mostly looking for stepping stones to their future career – it is their challenge to decide, whether current remuneration or long-term payoff is the first among their priorities.
As remuneration is also a divisive matter in many international organisations, it might raise the question that certain institutions are only reachable for those with privileged backgrounds. Since EU internships tend to match several important factors considered by young employees, the tendency of Hungarian young adults aiming for EU internships is growing.
EST Spain – Santiago Campos
Fair and Paid Internships, A Matter of Equality
It was some months ago that Spanish media focused their attention on a campaign launched by a Spanish undergraduate student. The campaign targeted the large number of unpaid internships, which can be found at the main hiring sites of our country. It was a total success and in the blink of an eye collected thousands of signatures.
We can all agree that during the period of an internship students receive and gain valuable experiences. However, internships should not be synonymous with volunteering. Any kind of work done by an intern must be paid because it is work. Otherwise, if we continue following this dynamic, we'll see a degradation in the labour market.
On top of this simple question, unpaid internships empower another terrible aspect. Unpaid internships increase inequality. In Spain, where youth unemployment rates are dramatic, the competition between young people to get a job is fierce. As commented, experience is crucial not only to find a job but also to be promoted. However, how many students can afford to work without earning a salary? Effectively, just those whose families have resources to maintain them. The less lucky students are forced to look for other kind of jobs, which could lead to increasing the so-called phenomenon of "overqualification".
Fighting for paid and fair internships is not just a question of getting a dignity job. Any kind of job is respectable. It's about reducing the inequality of our societies.
EST Belgium – Adnane Lachheb
An equal and fair access for every student
Every student is confronted at a certain moment of his/her university course to the quest of striking an internship. Higher education institutions progressively introduce internship requirements to complete the curriculum they provide and the task is often challenging. The major struggle in achieving this quest is the opportunity to find a valorising internship relevant to its academic project, allowing to apply all the knowledge acquired.
Beside the fact that internships should be legally supervised to ensure a fair treatment for students, the access should be based on meritocratic selective criteria. However, platforms offering internships are barely developed nowadays and this could foster social inequalities among candidates. Mobilization and awareness should rise on the necessity for every student to access equal traineeship offers. Therefore, higher education institutions and labour market must enhance cooperation to provide every student with an opportunity to set a foothold in the labour world, without having to strive because of a social position.
The European Union institutions suffer a lack of uniformity regarding the traineeships program. The European Commission provides valuable internships with fair and high quality training. On the other hand, few days ago the EU Ombudsman has ruled against the European External Action Service that failed to ensure a sufficient degree of transparency regarding the internships it offered.
This statement aligns with a recent worldwide youth movement claiming fairer internships opportunities. Thankfully, organisations like Interns GO PRO are fighting to improve conditions of internships by creating transparency and fostering better standards of internships in Europe.
EST Bosnia and Herzegovina – Enna Zone Donlić
Students at both high school and university level are lacking practical knowledge, since the education in Bosnia and Herzegovina is more theory-oriented.
Universities offer very little or no internship opportunities to students. If there is an internship placement provided by universities in the companies that are related to the field of study, then that internship is only available to the top students. Since internships are required for the graduation at the most of the universities, the majority of the students need to search for the internship opportunities by themselves and go through the application process alone.
After graduation students are not regarded ready for the job market, because the majority of them did not have enough practical experience and that makes things harder for them when applying for a job. Internships for university graduates are available at smaller numbers, but a disappointing fact is that there is even smaller number of paid internships offered. Usually students are expected to cover all of their expenses, particularly accommodation, food and transport. Even when they manage to provide all of that by themselves other problems arise, namely the quality of the internship.
Bosnia and Herzegovina needs more strict regulations on internships at the national and entity level as well as regulations about the inclusion of more practical skills in the education which will help students to find jobs more easily after graduation. Internships at the state and entity institutions should be offered more often and be available for everyone. Graduates of all universities in Bosnia and Herzegovina should be able to be competitive at the job market with inclusion of fair internships and practical knowledge during the studies. Decision makers should understand the fact that no employee wants to employ someone they need to spend time on educating and preparing for the work – students should already have practical knowledge.
EST Nothern Ireland – Sean McLaughin
Tokens?
One aspect that holds young people back is the lack of experience. It can be a vicious cycle: You cannot get a job without experience and decent experience can be hard to come by unless you join the rat-race for the big four consulting firms, or similar.
Working for free can be very difficult. Not being paid, you are not being assessed or judged as you would in the 'real world'. You may have to stay on a friend's sofa for a summer. It will probably cost you.
At the same, it may be an eye-opening experience. Often on work experience stints, you feel like you've learned more during the past month, than you did within two years at a splendid, but often dusty University. The hosting firm also benefits. There should be limited restrictions on their freedom to choose the best candidates for roles for, say, a summer. It is unfortunately true that often the best-connected, most well-off students will be able to get the best work experience. Less well-off students may suffer. In order to address this problem, and to boost the benefits of such schemes, I suggest a system of government-subsidised tokens.
Subsidies/grants for summer internships are received on a means-tested basis. The higher the quality of academic work from the student, the higher the subsidy. More generous subsidies can be given to those from less-well off economic backgrounds. The young person gets quality work experience, and the firm gets quality free work. Governments can prioritise schemes for skills that the country lacks. Everyone wins.