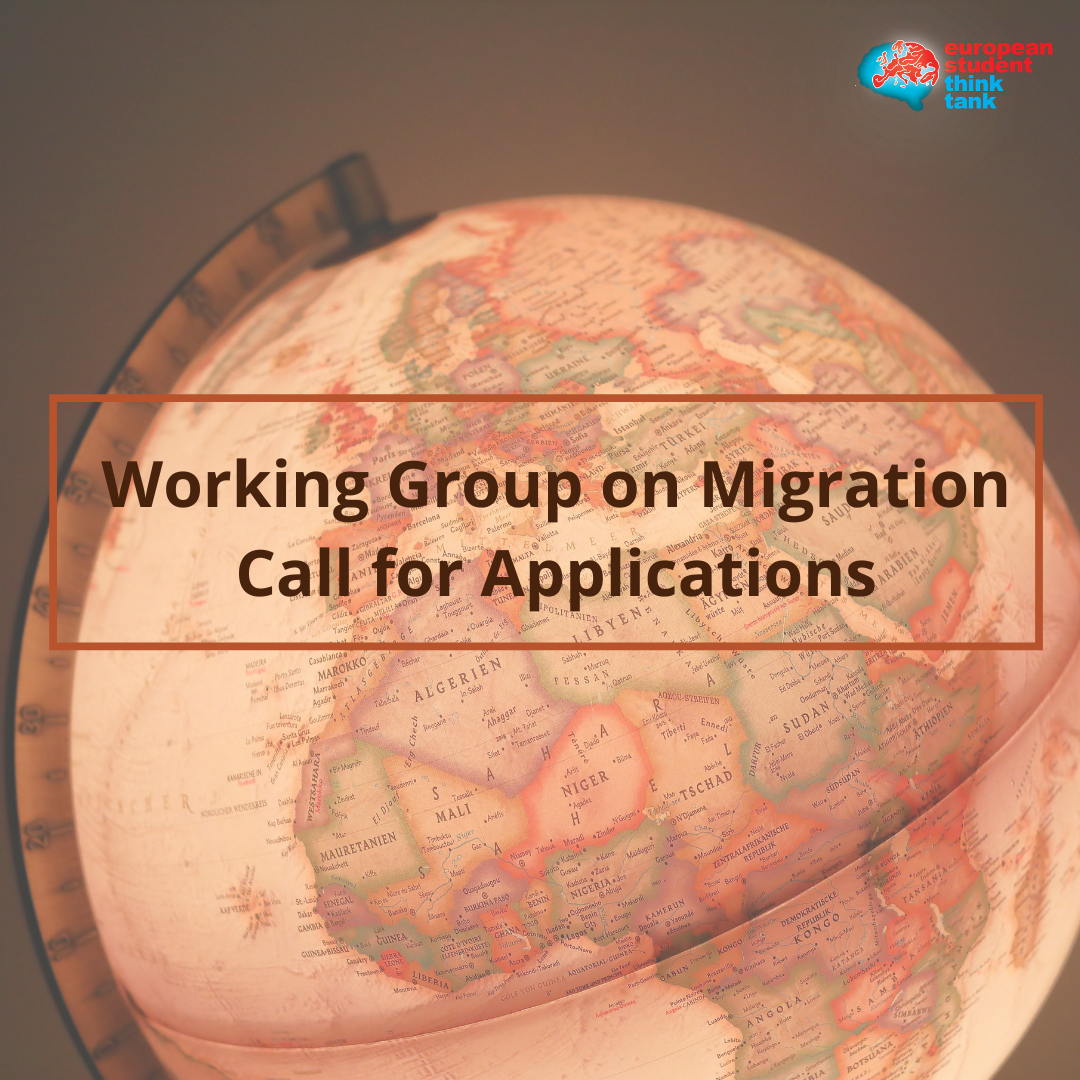 Applications for the Working Group on Migration are now CLOSED
Description:
Are you studying or interested in migration-related issues? Do you have a passion for writing and researching? Are you keen on analysing and producing migration policy recommendations? Would you like to raise awareness on migration issues such as the hurdles of the southern mediterranean route or the stalemate of the Dublin Reform? Are you driven to help enhance the visibility of migration realities? If the answer is yes, then you should apply to join our Working Group! If you are curious to know who was preceding you, the bios of the previous WG members can be found here.
The European Student Think Tank is an international organization that promotes young peoples' engagement in the European policy-making process and promotes the values of the European Union. The working group is currently looking for dedicated and passionate graduate students and young professionals with a keen interest in migration related issues.
Your Role:
As a member of the Working Group on Migration in 2020/2021, your main task will be to conduct research on your selected subtopic on Migration as well as to produce short papers. This platform will also allow you to hold student workshops, participate in debates and interact with policy-makers as well as have the opportunity to realize your own research/awareness/informing project. As a student-run group not only we put emphasis on granting researchers' space for their primary University responsibilities, we also want to shape a working group agenda based on the interests of the future members'.
While part of the work will aim to shed light on the new challenges brought by covid-19 pandemic in migrants life and migration policy making, other subtopics can comprise: health, security, gender, children, IDPs, emergency response, aid and development.
What's the WG on Migration looking for?
To best support our Working Group and benefit most from the experience yourself, you should:
– be a graduate of a degree in social sciences or humanities or young professional;
– have a strong interest in migration research and policy, with a particular emphasis in the European Union;
– bring the motivation and time to stay committed for the full project cycle.
Requirements:
This call addresses young professionals and graduate students. This is a remote position. Use the form in the link below to apply. You will need:
– 3 pages maximum CV mentioning all relevant activities
– Motivation letter
– A one-page statement (maximum) describing your fields of interest
We look forward to receiving your application!