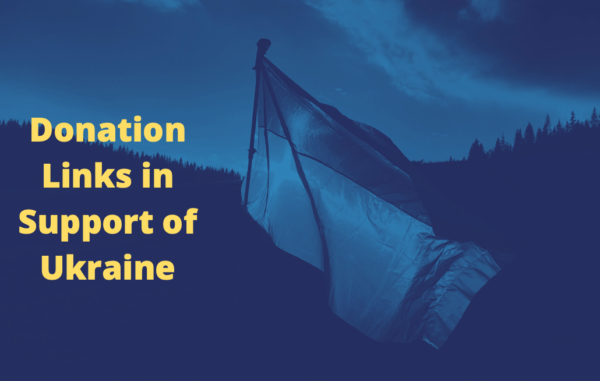 The European Student Think Tank stands in solidarity with the innocent civilians affected by the ongoing war in Ukraine. All across Europe, we have witnessed exceptional support and solidarity for the victims of this conflict, the women, children, elderly and people affected by medical conditions that have been forced to flee their homes and that are now in a foreign nation, leaving everything behind. But also the brave Ukrainians who remained inside their country, for their own choice or someone else's, and who are now fighting for the freedom of their land. There is very little we can all do in this time of uncertainty. While trying to inform and provide insignt into what is currently happening at Europe's border, we also want to help collect the goods and donations that are so needed by the people of Ukraine. Please, find below a series of websites, associations and organizations actively involved in supporting the refugees and the Ukrainian national army.
If you are aware of more organizations that provide support to the Ukrainian cause, please get in touch!
Euromaidan Press supports all honest initiatives seeking to help Ukraine, including ways to provide assistance to the Ukrainian Army and refugees from Crimea and Eastern Ukraine. This list includes only trustworthy initiatives, most of which are organized by people personally known by Euromaidan Press members and that have clear and transparent financial reports.
The current emergency response is focused on purchasing medical supplies for critical situations like blood loss and other medical items. Razom is coordinating with several partner organizations worldwide and also works with governments and embassies.
The ICRC is responding to urgent humanitarian needs on the ground and helps to provide essential services for those impacted by the war.
The current crisis poses an immediate risk to children and their families. UNICEF's efforts help provide food, clean water, medicine, and protection to children and their families.
In partnership with local organisations, the IRC are mobilising resources to provide critical aid to families fleeing the conflict.
This organization actively helps incoming refugees with finding housing, legal help and medical care.
Through this webste, you will be able to obtain information on country-specific initiatives, individual requests of housing or help, and official channels to support refugees and the military. As specified on the website, this is a crowdsourced, shared effort, and has limited capacity for quality assurance.
The National Bank of Ukraine has decided to open a special fundraising account to support the Armed Forces of Ukraine. By supporting this fund, you are supporting the offical Armed Forces of Ukraine directly. Note: the fund accepts multiple currencies (EUR, USD, GBP, CHF, etc)