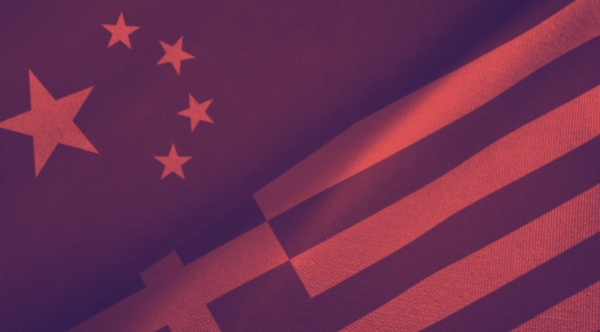 Written by Mariam Gugulashvili
Sino-Greek Relations: Dynamics and Rationale
This year's June 5th stands as a landmark for the 50th anniversary of the establishment of diplomatic relations between Greece and China. During this period, cooperation between the parties spans political, economic, and cultural aspects in a smooth manner. In 2006, the two countries elevated their relationship from constructive engagement to a comprehensive strategic partnership, ushering in a new era in Sino-Greek relations (Ministry of Foreign Affairs of the Hellenic Republic, N.D). Since 2015, Greece has been considered one of China's closest European allies, despite the political tensions between EU-China and US-China. In terms of exports and imports, as well as foreign direct investments, China is currently among Greece's main non-EU exporters (The World Bank, 2021). Accordingly, from 2006, China has made a considerable contribution to Greece's economic development, particularly in terms of recovery from debt and several financial crises. On the other hand, China took advantage of Greece's long-running socioeconomic woes, which caused a psychological separation from the EU, resulting in a wave of Euroscepticism. At the same time, the country was in high need of substantial foreign investments, which was why Athens looked to China as a key economic partner, among other possible financial sources (Tonchev & Bentis, 2021). In any case, the Greek financial crises have further contributed to the strengthening of political and economic ties between Athens and Beijing and allowed China to opportunistically set foot in Greece in order to achieve the following goals: to increase its presence in the Mediterranean, to establish a cross-border transportation corridor connecting the Mediterranean and Central Europe, and to enable the achievement of other strategically important objectives, such as the reduction of transportation costs and an increase of access and presence in the European market (Tonchev & Davarinou, 2017).
Greece's incumbent conservative government, elected in mid-2019, is well aware of the US-China and EU-China standoffs and recognizes the need for reliable allies to handle the regional disputes and tensions. China has no role to play in this geopolitical quandary: it is neither a security supplier nor guarantor; rather, it is a security consumer, primarily concerned with pursuing its economic ambitions in the Mediterranean region while leaving security issues to others (Tonchev, 2020). The Greek government is strongly pro-Western and pro-European and retained the EU's approach that China "is simultaneously a cooperation partner, a negotiation partner, an economic competitor, and a systemic rival" (European External Action Service, 2020). The Greek Prime Minister, Kyriakos Mitsotakis, stated, "we want to have good relations with China, but they are also strategic competitors" (Weymouth, 2021). In another interview, he added that "Greece is not particularly dependent on Chinese investment when I look at the map of foreign direct investments" (Official Website of the Greek Prime Minister, 2021). While Greek Foreign Minister Nikos Dendias, during his last official visit to China, affirmed that "Greece hopes to further strengthen ties with China after the pandemic and can act as Asia's gateway to Europe" (Greek City Times, 2021). During the same meeting, Chinese Foreign Minister Wang Yi added that "China and Greece are not only partners that benefit each other for win-win outcomes, but friends that share the same aspirations. China-Greece cooperation has always been in the front rank of China-Europe relations" (Ministry of Foreign Affairs of the People's Republic of China, 2021). The Greek PM often reiterates Greece's gratitude for China's stable position in the UN Security Council regarding the Cyprus issue (Kathimerini, 2021). It is important to point out that Greece opted to oppose the EU's sanctions against Chinese companies in 2021, prioritizing its bilateral relationship with China instead. Obviously, the Greek government seeks to strike a delicate balance between the Western allies and China, which is a pragmatic stance. While the Greek political ruling party is playing a "safe on both sides" game, a question mark is rising on how long Greece can maintain an equilibrium between its Euro-Atlantic allies and China.
China's Soft Power in Greece: Economy, Education, and Culture in Service of the Foreign Policy Approach
China's presence in Greece and the broad Balkans has been a frequent topic of discussion for officials in Brussels and Washington (Karakatsani, 2021), posing extra hurdles for these actors to achieve consensus on key issues (Brattberg, Le Corre, Stronski & De Waal, 2021), while China's soft power projection is doubtlessly an additional challenge to Western interests in the region (Mujanović, Vračić & Armakolas, 2019). The incumbent President, Xi Jinping, echoing Mao Zedong, has boosted China's soft power strategy by referring to culture and education as one of three "magic weapons" together with the army and the Communist Party (Prague Security Studies Institute, N.D). At the 19th National Congress of the Chinese Communist Party in 2017, Jinping declared the following as one of the country's 2020–2035 goals: "we will improve our capacity for engaging in international communication to tell China's stories well, present a true, multi-dimensional, and panoramic view of China, and enhance our country's soft power" (Biswas & Tortajada, 2018). Given that soft power expansion has been a cornerstone of Chinese foreign strategy since 2007, the EU and US have a legitimate reason to be concerned.
In contrast to the "wolf warrior diplomacy" (the aggressive style of coercive diplomacy adopted by Chinese diplomats under Jinping's Administration) projected in other European states, Chinese authorities have taken a cordial and friendly approach toward Greece (Tonchev & Bentis, 2021). It is apparent that China aims to cultivate a positive narrative about Sino-Greek ties to increase the influence of its economic and political presence. Beijing is striving to portray two fundamental storylines in Greek society: China's position as a superpower, which is supporting a new set of peaceful international relations based on rapid socioeconomic growth and "win-win cooperation", and the second narrative concerns Sino-Greek ties, with China's image carefully cultivated as that of a loyal friend who generously assists Greece (Tonchev, 2021).
Nowadays, China's soft power toolset in Greece is primarily based on bilateral agreements, investments, cultural and educational spheres, namely the Cooperation Project between China and Central and Eastern European Countries (AKA China-CEE, China-CEEC, or 17+1 Initiative), the Belt and Road Initiative (AKA BRI or OBOR), and Confucius Institutes. Therefore, China's overall economic strength and investment-related achievements, rather than blockbuster films, are an essential component of its soft power in this perspective (Barker, 2017). Close economic cooperation and billions in investments provide additional opportunities for Chinese soft power to increase and have a secondary soft power impact in the Sino-Greek relationship, but they are not per se soft power motifs (Dams, Rühlig & Tonchev, 2021).
The 17+1 Initiative is one of China's soft power tools that Greece joined in 2019. The project was launched in 2012 and, apart from a wide range of solid economic cooperation projects, the initiative's major goal is also to foster intercultural contacts, which is why it encourages Greek students to participate in the scholarship programs (Sivkova, 2022). The China-led Belt and Road Initiative, as it is regarded as a focal point of Jinping's foreign policy (The Economist, 2020), is an international infrastructure development project that promises commercial and investment opportunities in strategic areas of importance. In 2018, Greece joined the initiative in the hopes of becoming the key hub between Central Europe and Asia, bolstering its position as the principal Mediterranean gateway (Karakatsani, 2021). Within the BRI initiative, the Chinese corporation COSCO's large-scale investment is in the Piraeus port, where China owns 67% of it (Greek Reporter, 2021). Therefore, the company's success further stimulated Beijing's appetite (Tzogopoulos, 2020).
The Confucius Institutes, which are now hosted by Athens University of Economics and Business (the first one, established in 2008), Aristotle University of Thessaloniki, and the University of Thessaly, are one of Beijing's traditional soft-power instruments for promoting Chinese culture through cultural diplomacy. These educational entities typically offer classes in Chinese culture and language, as well as host public events on Chinese political, social, and economic issues (Tonchev & Bentis, 2021). Young Greeks enroll at Confucius Institutes in the belief that knowing Chinese will help them advance in their careers, given China's growing economic strength. Following this line, another important educational and research point is the Center for China Studies in Piraeus, which promotes the enhancement of bilateral linkages and the development of a variety of initiatives aimed at promoting Chinese culture in Greece and producing research work in the Humanities and Social Sciences (Aikaterini Laskaridis Foundation, N.D). Twinning cities are also used in Sino-Greek relations to promote educational and cultural linkages, as demonstrated by the municipalities of Piraeus and Shanghai (Ministry of Foreign Affairs of the Hellenic Republic, N.D).
China's soft power activities do not adhere to a one-size-fits-all format; instead, they are often tailored to individual countries' national contexts. Beijing has made a concerted effort to promote the notion of cultural kinship, with Greece being referred to as a fellow "old civilization". Given Greek citizens' understandable pride in their country's rich history and culture, China, through its cultural diplomacy, promotes this narrative even harder to win the hearts and minds of the general public (Tonchev & Bentis, 2021). In this regard, statues of Confucius and Socrates were erected in Athens last year to commemorate the beginning of the Greece-China Year of Culture and Tourism in 2021–2022 (Greek Reporter, 2021). 
What Are Greeks' Viewpoints Toward China?
In contrast to other European countries, the Greeks have a generally positive attitude toward China, although views tend to shift among political elites and the general public. The extent of Chinese investments in Greece was seen by the latter as a vital source of capital investment as well as a formidable political partner, but it is considered to be falling short of initial expectations, and the secondary soft-power effects of China's economic activities might appear to be fading. Recent polls reveal that Greek society has become increasingly suspicious of Chinese interests in the country, and the public's attitude has become ambivalent. The current Greek government's approach and rhetoric toward China is pragmatically positive (not as kind as Alexis Tsipras and his government were), but the broader attitude in society is not as friendly as it was in recent years; the COVID-19 has further accelerated this trend, despite Chinese medical aid through its "mask diplomacy". As a result, China's key comparative advantage as a large prospective source of investment is slowly decreasing, and while it remains a significant economic partner, it is no longer considered the sole one (Dams, Rühlig & Tonchev, 2021).
In view of mixed perceptions in general, some Greeks still see China as a viable political partner, source of economic growth and job creation, and they appear to be grateful for China's assistance. Meanwhile, there are strong anti-China sentiments and ongoing turmoil over the main investment project in the highly strategic port of Piraeus, "the dragon's head" as it has often been described by Chinese officials. Contrary to the narrative that Greek-Chinese relations have a "win-win" basis, COSCO has gained significant benefits from the Greek port, delayed implementation of the master plan, failed to produce sustainable jobs, and local firms have benefited nothing. The majority of the equipment and supplies utilized in the COSCO-led construction of terminals came from China, and Greek enterprises were left out (TFI Global News, 2022). Aside from that, criticism of the Chinese presence has intensified as a result of poor and lethal working conditions, which have worsened after a 45-year-old man died while on duty (European Trade Union Institute, 2021).
Overall, Athens-Beijing ties are showing symptoms of deterioration; a cooperative development around the Hellinikon airport, the sale of Ethniki Asfalistiki, Greece's largest insurance company, and the privatization of Greece's railway operator (TrainOSE), are among the many Sino-Greek business deals that have been stopped or canceled (EURACTIV, 2021). Additionally, several days ago, Greece's highest administrative court blocked the Chinese further expansion of the Piraeus port because an environmental assessment was not carried through (Balkan Insight, 2022).
To recap, unmet expectations, the COVID-19 outbreak, and geopolitical shifts in the Mediterranean area were key aspects that have all had a detrimental impact on Beijing's ability to successfully project soft power and bolster its positive image in Greece (Tonchev & Bentis, 2021).
What Follows?
China's foreign policy mantra is clearly committing to influence in Greece's political and economic realms in order to achieve its long/short-term strategic goals in the Southeast European (SEE) region. Beijing well-thought-out Greece's advantageous position as a critical hub for its agenda in the Mediterranean Sea, and despite the aforementioned setbacks, China will continue to pursue an ambitious game with Greece, which is part of its grand strategy. Evidently, the Greek political elite and society no longer have "their arms as widely open" to China as they had years ago. Greece is not wearing pink sunglasses when it comes to relations with China, but given the post-pandemic reality, the country's economy needs stimulation and additional financial flows. Therefore, Athens and Beijing will continue their mutually profiting cooperation, implying that Greece will deliberately choose to be in China's sphere of influence on the European continent. In this sense, it is important for Athens to strike a balance between the economic and financial benefits of China and the diplomatic and military support of NATO and the EU. Greece's Western partners, for their part, should have to manage to keep Greece on their side and maintain its pro-Western momentum.
During the coming decades, China will likely continue to promote itself by leveraging a variety of soft power efforts and will seek to further expand the bilateral ties with Greece, especially given the ongoing regional competition with the EU, US, and Russia. Since China's ambitions are high and the discourse of the Greek community has shifted compared to previous years, Beijing will need to improve the scope and effectiveness of its soft power approach, not only formally but also in terms of quality.
References
Barker, T. (2017). The Real Source of China's Soft Power. The Diplomat. Available: https://thediplomat.com/2017/11/the-real-source-of-chinas-soft-power/
Biswas, A., & Tortajada, C. (2018). China's Soft Power is on the Rise. China Daily. http://www.chinadaily.com.cn/a/201802/23/WS5a8f59a9a3106e7dcc13d7b8.html
Brattberg, E., Le Corre P., Stronski P., & De Waal T. (2021). China's Influence in Southeastern Central, and Eastern Europe, Vulnerabilities and Resilience in Four Countries. Carnegie Endowment for International Peace. https://carnegieendowment.org/files/202110-Brattberg_et_al_EuropeChina_final.pdf
Confucius and Socrates Statues Mark Greece-China Year of Culture (2021, September 17). Greek Reporter. Available: https://greekreporter.com/2021/09/17/confucius-socrates-statues-mark-greece-china-year-culture/
Dams, T., Rühlig T., & Tonchev, P. (2021). China's Soft Power in Europe: Falling on Hard Times. Does China still care about soft power? Assessing the diversity of approaches in Europe. In Dams, T., Martin, X., & Kranenburg, V. (eds.). (Report No. 7). European Think-tank Network on China (ETNC). https://www.ifri.org/sites/default/files/atoms/files/etnc_2021_-_chinas_soft_power_in_europe_-_falling_on_hard_times.pdf
European External Action Service. (2020). EU-China Relations Factsheet China [Online]. Available: https://eeas.europa.eu/topics/external-investment-plan/34728/eu-china-relations-factsheet_en%23:~:text=For%20the%20EU,%20China%20is,on%20our%20values%20and%20interests.
European Trade Union Institute (2021, October 28). Lethal Working Conditions at Piraeus Port in Greece. Available: https://www.etui.org/news/lethal-working-conditions-piraeus-port-greece
Greece's Ambivalent Romance with China (2021, October 25). EURACTIV. Available: https://www.euractiv.com/section/eu-china/opinion/greeces-ambivalent-romance-with-china/
Greek Court Blocks Expansion of Major Port Under Chinese Deal (2022, March 15). Balkan Insight. Available: https://balkaninsight.com/2022/03/15/greek-highest-administrative-court-blocked-coscos-master-plans-of-investments-in-piraeus/
Karakatsani, E. (2021). Greece External Relations Briefing: Greece's Current Relations with China. Weekly Briefing, Vol. 42, No. 4 (GR). China-CEE Institute. https://china-cee.eu/2021/08/03/greece-external-relations-briefing-greeces-current-relations-with-china/
Kokkinidis, T. (2021, August 22). China's Cosco Tightens Grip on Piraeus Port by Raising Stake to 67%. Greek Reporter. Available: https://greekreporter.com/2021/08/22/china-cosco-tightens-grip-piraeus-port/
Ministry of Foreign Affairs of the Hellenic Republic. (2022). Greece Bilateral Relations to China [Online]. Available: https://www.mfa.gr/en/blog/greece-bilateral-relations/china/
Ministry of Foreign Affairs of the People's Republic of China, Greek Prime Minister Kyriakos Mitsotakis Meets with Wang Yi (2021, October 28). https://web.archive.org/web/20211028090501/https://www.fmprc.gov.cn/mfa_eng/zxxx_662805/t1917395.shtml
Mitsotakis and Xi Reaffirm Strong Greek-Sino Relations. (2021, July 8). Kathimerini. https://www.ekathimerini.com/news/1164141/mitsotakis-and-xi-reaffirm-strong-greek-sino-relations/
Mujanović, J., Vračić, A., & Armakolas, I. (2019). Political Trends & Dynamics; The European Project in the Western Balkans: Crisis and Transition. Volume 2. Friedrich-Ebert-Stiftung. http://library.fes.de/pdf-files/bueros/sarajevo/12902/2019-02.pdf
PM Mitsotakis Meets Chinese FM Wang Yi, Respect for UNCLOS Highlighted to Dendias. (2021, October 28). Greek City Times. https://greekcitytimes.com/2021/10/28/pm-mitsotakis-meets-wang-yi/
Prime Minister Kyriakos Mitsotakis' Interview with Ben Hall at The Global Boardroom Digital Conference. (2021, May 5). Official Website of the Greek Prime Minister, Kyriakos Mitsotakis. Available: https://primeminister.gr/en/2021/05/05/26464
Sivkova, S. (2022). Chinese Dragon Coaxing the Greek Dolphin: Chinese Soft Power Tools in Greece. Research Paper No. 71. Center for International Strategic Analyses (KEDISA). https://kedisa.gr/wp-content/uploads/2022/01/research-paper-no-71-Sivkova.pdf
The CASS-ALF Centre for China Studies (CACCS). (N.D). Available: http://www.laskaridisfoundation.org/en/the-cass-alf-centre-for-china-studies-caccs/
The Pandemic is Hurting China's Belt and Road Initiative. (2020, July 4). The Economist. Available: https://www.economist.com/china/2020/06/04/the-pandemic-is-hurting-chinas-belt-and-road-initiative
The Story of Greece's Colonisation by China and its Fight for Liberation (2022, February 4). TFIGlobal. Available: https://tfiglobalnews.com/2022/02/04/the-story-of-greeces-colonisation-by-china-and-its-fight-for-liberation/
The World Bank. (2021). China – Foreign Direct Investment. [Online]. Available: https://data.worldbank.org/indicator/BX.KLT.DINV.WD.GD.ZS?locations=CN.
Tonchev, P. (2020). A New Kid on the Block? China in the Security Conundrum of the Eastern Mediterranean. Elcano Royal Institute Blog Post. https://blog.realinstitutoelcano.org/en/a-new-kid-on-the-block-china-in-the-security- conundrum-of-the-eastern-mediterranean/
Tonchev, P. (2021). Sino-Greek Relations in Greek and Chinese Media, 2020. Institute of International Economic Relations. https://idos.gr/wp-content/uploads/2021/03/Sino-Greek-Relations_in_Media_18-3-2021.pdf
Tonchev, P. & Davarinou, P. (2017). Chinese Investment in Greece and the Big Picture of Sino-Greek Relations. Institute of International Economic Relations (IDOS). http://idos.gr/wp-content/uploads/2017/12/Chinese-Investment-in-Greece_4-12-2017.pdf
Tonchev, P., & Bentis, A. (2021). China's Soft Power in Europe: Falling on Hard Times. The thrill is gone: China's diminishing appeal in Greece. In Dams, T., Martin, X., & Kranenburg, V. (eds.). (Report No. 7). European Think-tank Network on China (ETNC). https://www.ifri.org/sites/default/files/atoms/files/etnc_2021_-_chinas_soft_power_in_europe_-_falling_on_hard_times.pdf
Tzogopoulos, G. N (2020). Greece, China and the 17+1 Initiative. Policy Paper No. 45. Hellenic Foundation for European and Foreign Policy (ELIAMEP). https://www.eliamep.gr/wp-content/uploads/2020/11/Tzogopoulos-45-final.pdf
Western Balkans at the Crossroads: Addressing Non-Democratic External Influence Activities; External Influence in the Cultural and Religious Sphere. Prague Security Studies Institute. Briefing Paper IV. https://www.balkancrossroads.com/bp-iv-culture-religion
Weymouth, L. (2021, November 24). Greece Was in Deep Trouble. How Did it Right the Ship?. The Washington Post. Available: https://www.washingtonpost.com/outlook/kyriakos-mitsotakis-greece-interview/2021/11/24/c8020eac-4cd6-11ec-b73b-a00d6e559a6e_story.html
Image credits: Oleksii Liskonih