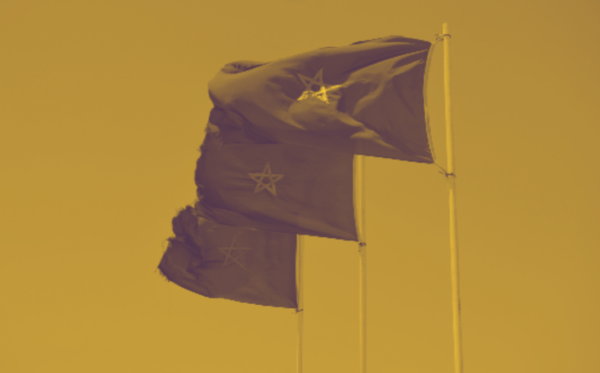 In Context
The weekly column from OEMR to better understand EU-MENA relations.
EU-Morocco Relations
Written by Hafssa Fakher Elabiari
In the past years, European-Moroccan diplomatic relations have revolved around the issue of Western Sahara, a territory formerly occupied by Spain between 1884 and 1976, and claimed by Morocco. The EU recognises the Sahrawi Arab Democratic Republic (SADR) and supports the United Nations' framework of finding a mutually acceptable solution involving Morocco, Algeria, Mauritania, and the Polisario Front, nationalist organization that supports the region's independence. This opposes Morocco's stance, which lies in the recognition of its borders from the city of Tangier in the north, to Lagouira, in the south of Western Sahara. In 2007, Rabat issued an autonomy plan according to which the Sahrawi people would have a separate government while the territory would remain under Moroccan sovereignty, meaning that the Sahrawi people would neither create an army nor establish independent foreign relations. However, Morocco's suggestion has not yielded tangible results for many reasons, including Algeria's backing of the Polisario Front and Europe's ambiguous position towards Morocco's territorial claims. Accordingly, the Kingdom has been defending its position militarily and diplomatically. At the diplomatic level, Morocco has been playing the card of consulates to highlight the Western Sahara's 'Moroccaneity'. Since 2020, various African and Middle Eastern countries have opened their consulates in Dakhla or Laayoune, the latest of these belonging to the Organization of Eastern Caribbean States (OECS). Moreover, Rabat has adopted a pressure policy by using pressure cards such as irregular migration to push the EU, or at least some member states, to side with Morocco and its autonomy plan.
EU members' position on the Western Sahara
The positions of European countries on the Western Sahara have often been unclear, at times, voicing their support for the Sahrawi people's right to self-determination but without taking any concrete actions; at other times, expressing neutrality by supporting the UN framework. France, with whom Morocco has solid bilateral relations, has avoided sitting at the table to articulate a clear position, and its support of Morocco has largely been dependent on the presidency and its relation with the royal palace (Iraqi, 2020). For example, former French President François Mitterrand allowed the Polisario Front to open an office in Paris without recognising SADR, whereas his successor, Jacques Chirac, developed privileged relations with Morocco, which did not go beyond supporting the UN framework (Benabdallah, 2009). Indeed, Paris seems to favour the current status quo and would, at all costs, try to maintain a stable North Africa (El Karoui, 2017). Similarly, Germany has opted for neutrality by supporting the UN process, while Spain has long been oscillating between neutrality and opposition, mainly due to polarization within its government. Left-wing Podemos, led by Pablo Iglesias, is in fact a fervent supporter of the Polisario Front and the self-determination referendum (Zuloaga, 2020). When Iglesias served as second vice president between 2020 and 2021, his pro-Polisario statements impacted Madrid's position on the Western Sahara and broader relation with Rabat. Other Spanish politicians, including Prime Minister Pedro Sánchez, have had a more or less neutral tone vis-à-vis Morocco. Starting from 2020, Morocco's diplomacy towards Spain and other European countries has changed from that of a peaceful partner to a rebellious one that would not hesitate to blackmail in exchange for support.
2020: a turning point in EU-Morocco Diplomatic Relations
In 2020, Morocco normalised relations with Israel and in exchange, former US President Donald Trump recognised Morocco's sovereignty over the Western Sahara (White House, 2020). The two countries agreed to reopen liaison offices in Rabat and Tel-Aviv, strengthen economic and diplomatic ties, and open direct flights. In addition, the US promised to open a consulate in Dakhla and enhance economic and social development in the Western Sahara (Bassist, 2021; Kasraoui, 2021). Indeed, an American delegation visited Dakhla in January 2021 to discuss regional issues and the consulate's opening, and in the same month, an Israeli delegation led by Jared Kushner and Meir Ben-Shabbat visited Morocco, a gesture soon reciprocated by a visit from the counterpart. Since then, Moroccan-Israeli relations have been quickly shifting from covertness to overtness, raising questions on whether King Mohammed VI should remain chair of the Quds committee (Abo el-Fetouh, 2020).
Since then, Morocco's rhetoric with some EU members has remarkably changed, and in 2021, the Kingdom initiated a string of diplomatic crises. In March, it unilaterally suspended diplomatic relations with the German embassy and all German institutions based in Morocco in what the foreign ministry described as profound misunderstandings (Keely, 2021). The decision was surprising since Germany had granted Morocco 1.3 billion euros to fight COVID-19, and Foreign Minister Nasser Bourita underlined the excellent cooperation between Rabat and Berlin (Kasraoui, 2020). In April, Spain hosted Ibrahim Ghali, president of SADR and secretary-general of the Polisario Front, to receive medical care in Logroño, which was perceived by Morocco as a stab in the back. Yet, Madrid maintained that Ghali's entry was legal because he was a Spanish citizen (González, 2021), fuelling Morocco's anger that resulted in the convocation of the Moroccan ambassador in Spain for explanations. A month later, Rabat retaliated by opening its border with Ceuta, a Spanish enclave on the country's north shores, allowing nearly 8,500 people, including children and women, to cross over and risk their lives in desperate attempts to reach Europe (Casey & Bautista, 2021). Yet, while the move aimed at responding to Ghali's presence in Spain, it backfired and portrayed Morocco as a country that exploits its citizens' grievances to blackmail Spain.
Conclusion
In March 2022, Spain endorsed Morocco's autonomy plan in a letter sent by Sánchez to the Royal Palace. The timing of the letter was surprising since Spanish-Moroccan relations have not yet recovered, and this questions whether the letter was the result of strategic calculations on Madrid's end or the outcome of Morocco's pressure policy. In the medium future, Madrid's decision might encourage fellow European countries to follow suit, although such a move would not go unnoticed by Algeria. In this perspective, the strategic gains that Morocco might achieve in this regard would widen the rift between Rabat and Algiers, especially in the context of Israel's public friendship with the Kingdom. That being said, if some European countries plan to side with Morocco in the future, they should first assess the extent to which that move would promote their geopolitical interests in the Mediterranean, and how much it would impact the Moroccan-Algerian tensions.
References
Abo el-Fetouh, A. (2020, December 14). It's Ironic that the Head of Al-Quds Committee has Normalised links with Jerusalem's Occupier. Middle East Monitor. Retrieved April 5, 2022, from https://www.middleeastmonitor.com/20201214-its-ironic-that-the-head-of-al-quds-committee-has-normalised-links-with-jerusalems-occupier/
Benabdallah, K. (2009) The Position of the European Union on the Western Sahara Conflict. Journal of Contemporary European Studies, 17(3), 417-435. DOI:10.1080/14782800903339362
Bassist, R. (2021, August 13). Israel's Lapid Reopens Liaison Office in Morocco, is Moved by Synagogue Visit. Al-Monitor. Retrieved April 5, 2022, from https://www.al-monitor.com/originals/2021/08/israels-lapid-reopens-liaison-office-morocco-moved-synagogue-visit
Casey, N., & Bautista, J. (2021, June 2). 'Come On In, Boys': A Wave of the Hand Sets Off Spain-Morocco Migrant Fight. The New York Times. Retrieved April 4, 2022, from https://www.nytimes.com/2021/06/02/world/europe/spain-ceuta-migrants-morocco.html
El Karoui, H. (2017). A New Strategy for France in a New Arab World. Institut Montaigne. https://www.institutmontaigne.org/ressources/pdfs/publications/a-new-strategy-for-france-in-a-new-arab-world-executive-summary_0.pdf
González, M. (2021). El Gobierno no Podía negar a Gali la Entrada en España Porque Es Ciudadano Español. El País. Retrieved March 25, 2022, from https://elpais.com/espana/2021-09-23/el-gobierno-no-podia-negar-a-gali-la-entrada-en-espana-porque-es-ciudadano-espanol.html
Iraqi, F. (2020, January 28). Maroc: Retour sur Vingt Ans de Relation Spéciale entre Mohammed VI et les Présidents Français. Jeune Afrique. Retrieved April 5, 2022, from https://www.jeuneafrique.com/mag/885664/politique/maroc-retour-sur-vingt-ans-de-relation-speciale-entre-mohammed-vi-et-les-presidents-francais/
Kasraoui, S. (2020, December 2). Germany Assists Morocco's Economy, Development With €1.3 Billion. Morocco World News. Retrieved March 25, 2022, from https://www.moroccoworldnews.com/2020/12/327606/germany-assists-moroccos-economy-development-with-e1-3-billion
Kasraoui, S. (2021, January 10). US Delegation Visits Facility of Future American Consulate in Dakhla. Morocco World News. Retrieved April 5, 2022, from https://www.moroccoworldnews.com/2021/01/331498/us-delegation-visits-facility-of-future-american-consulate-in-dakhla
Keely, G. (2021, March 8). What's Behind the Morocco-Germany Diplomatic Dispute? Al Jazeera. Retrieved March 25, 2022, from https://www.aljazeera.com/news/2021/3/8/whats-behind-the-morocco-germany-diplomatic-row
White House. (2020, December 10). Proclamation on Recognizing The Sovereignty Of The Kingdom Of Morocco Over The Western Sahara. https://trumpwhitehouse.archives.gov/presidential-actions/proclamation-recognizing-sovereignty-kingdom-morocco-western-sahara/
Zuloaga, J.M. (2020, November 18). El Frente Polisario Admite que la Postura de Iglesias Puede Generar un Conflicto entre España y Marruecos. La Razón. Retrieved April 3, 2022, from https://www.larazon.es/espana/20201118/oyljx3xg5vemlahbgu2ekprtdi.html