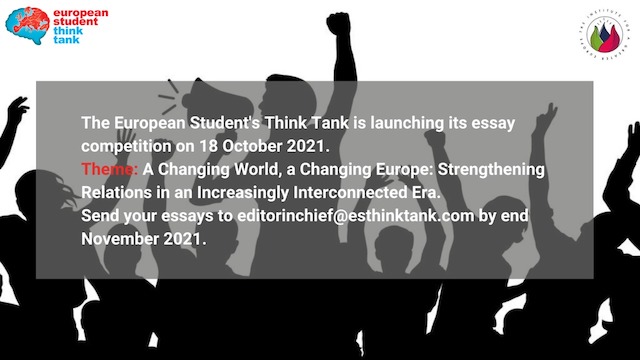 As the world emerges from the Coronavirus Pandemic, changes in global power balance and new challenges test nation-states and their alliances. In order to analyse, understand and contribute to the future of European policymaking, the European Student Think Tank, in partnership with the Institute for Greater Europe, is happy to present to you the second edition of the European Policy Prize.
The theme of this year's competition will be:
A Changing World, a Changing Europe: Strengthening Relations
in an Increasingly Interconnected Era
Participants are asked to submit a critical essay discussing or proposing a policy to answer one of the following questions:
Analyse how successfully the EU's foreign policy strategy has managed to adapt to changing dynamics in a time of multifaceted crisis and in relation to its allies.

Given its renewed commitment to reduced carbon emissions and a more sustainable green economy, is the EU's response to climate change up to the task?

What measures should the EU take to effectively respond to a possible future 'migration crisis'?
Prizes
The winners of this year's competition will:
Be invited to discuss their papers with one of our guest judges

Be given a free copy of

Places in the Sun

Have their paper published in the European Student Think Tank's journal.

Be invited to internal-EST training sessions (led by experts)
Judges
We are excited to announce this year's guest judges:
Susi Dennison, Senior policy fellow at the European Council on Foreign Relations

Dr. Carmen Parra Rodriguez, Professor of International Private and Public Law, and EU Law at Universitat Abat Oliba CEU

Bernhard Zlanabitnig, Vice-President of the European Environmental Bureau

Gabriele Steinfatt, Judge on the General Court of the European Union

Anais Berthier, Senior Lawyer and Head of EU Affairs at ClientEarth
How to participate
To participate please send your essay to editorinchief@esthinktank.com in pdf. form. The essays should be between 1,500-2,000 words. More information can be found in this guideline (Guideline). Please read through this short guideline carefully as it contains vital pointers that will help you produce a successful submission. Submissions will close on December 23, 2021, at 12 am CET.
Questions? Check out the FAQ here!
We look forward to reading your essays!