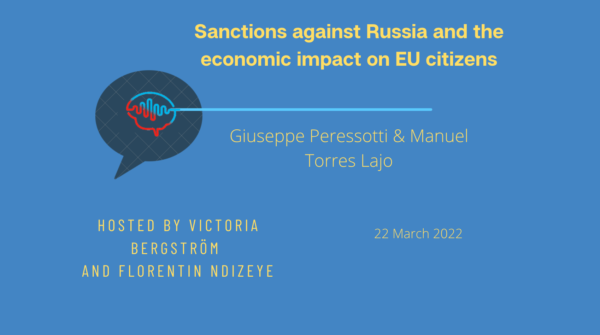 As new sets of sanctions loom on Russia, the measures put in place so far begin to show their effects. But despite the concerning appearance, there might be room for long-term gains and hopes. In this episode of the EST Podcast, writers Giuseppe Peressotti and Manuel Torres Lajo analyse the nature and effects of international sanctions on Russia, in response to the war in Ukraine, as well as what might be next for EU markets and consumers.
Listen to this episode on Spotify.
For more coverage of the conflict in Ukraine, read Giuseppe's and Manuel's articles, or visit our website section on Ukraine.
This episode was hosted by Victoria Bergstörm and Florentin Ndizeye. Edited and sound engineered by Laura Sanzarello. Research and content by Giuseppe Peressoti and Manuel Torres Lajo.
Music by John Sib and Winking Fox Music.