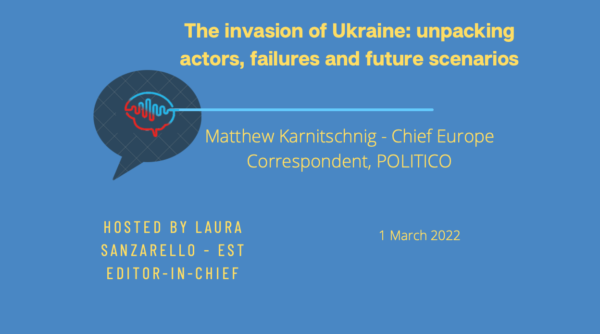 The invasion of Ukraine by Russian military forces has brought war back at Europe's doorstep. In doing so, it has unveiled the heroism of the Ukrainian people, the depths to which one man is willing to take an entire continent, and the solidarity that people are able to show to neighbours in need. However, it has also revealed the weaknesses and mistakes of EU's foreign policy, that by repeatedly condoning Putin's provocations has possibly enabled an attack that had been announced for months.
EST Editor-in-Chief Laura Sanzarello hears from POLITICO's Chief Europe Correspondent Matthew Karnitschnig, to better understand the dynamics behind what have been defined "among the darkest hours for Europe" in over 70 years, and try to draw the outline of a post-conflict world.
You can listen on Spotify.
For more analysis on the conflict, visit our website.
This episode was hosted and produced by Laura Sanzarello.
Music by John Sib and Winking Fox Music.