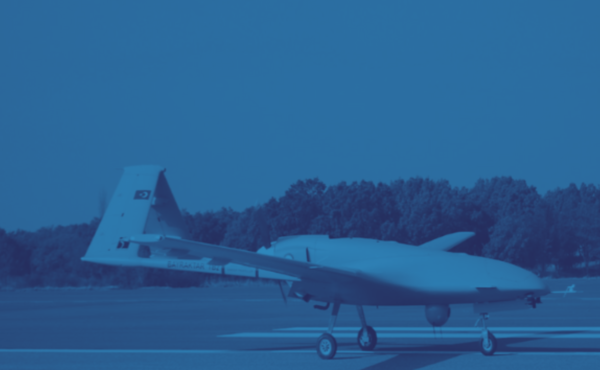 View of a Turkish-made Bayraktar TB2 Unmanned Combat Aerial Vehicle (UCAV) on the runway Cover Image: via Wikimedia Commons (Bayhaluk) Licensed CC BY-2.0
Written by Arash Toupchinejad

Turkish-made drones seem to be the latest trend in the Unmanned Aerial Vehicle (UAV) subsector. In the early 2000s, Ankara relied on Israeli-made drones in its asymmetric war against Kurdish separatists. But Turkey soon turned its attention to developing its own arsenal of UAVs (Rossiter, 2021). Since then, the nation has succeeded in establishing itself as a leading manufacturer of combat drones. Turkey is now a notable exporter of drone systems, with much of its success attributable to private defense company, Baykar (Reuters, 2021). The firm is among few others that have established an emerging legacy for Ankara's defensive capabilities, one that President Recep Erdogan now wishes to export abroad.
In recent years, Turkey's drone exports have grown substantially. Africa is the latest market that President Erdogan's administration has been gauging for drone exports. Following the Turkey-Africa partnership summit in Istanbul, President Erdogan seeks to strengthen Turkey's defense ties with African countries. Ankara has reportedly established a network of 37 military offices across the continent to triple the annual trade volume with Africa to $75 billion (AFP, 2021). In August, Turkey signed a military cooperation pact with Ethiopia, which reportedly included the sale of drones. Morocco and Tunisia received their first delivery of Turkish UAVs in September. Angola is among the latest countries to express interest in Turkey's combat drones after Erdogan's first visit there in October (Altas, 2021).
Part of Turkey's interest in the African market is economically motivated. The country's defense and aviation exports totalled $2.1 billion in the first three quarters of 2021, up 39% from last year (Coskun & Spicer, 2021). This growth is partly attributable to African countries, which find Turkish weapons a cheap and politically-unconditional alternative to those of other exporters. Experts have identified that Turkey's UAVs are more affordable than those manufactured in China, Israel, and the US (Coskun & Spicer, 2021). But demand for Turkish-made models, including the Bayraktar TB2 UCAV, really increased after Ankara successfully deployed them in the Libyan Civil War and the Nagorno-Karabakh conflict.
Erdogan's financial motive for marketing his UAVs is seemingly justified as the increasing demand for Turkey's combat drones has had a positive economic impact. Ankara's defense and aviation exports to Ethiopia grew to $94.6 million this past year. Exports to Morocco reached $78.6 million during the same period, while sales to Chad and Angola have similarly increased. Last year, Turkey's defense and aerospace sector was one of its highest value-added industries (Aslan, 2021). This sector could present an economic lifeline to Erdogan's administration amid the sharp decline in the lira, which has hindered its financial stability (Maslin & Ostroff, 2021). President Erdogan is keen to establish Turkey as an export powerhouse, and he may gain further access to investment opportunities across Africa vis-à-vis drone exports.
Aside from the monetary gain, Ankara also has geopolitical motives in Africa. Turkey currently has air bases in Libya and has stationed personnel at Camp TURKSOM in Somalia (Al Jazeera, 2017). Turkey increased its military presence in the continent when Erdogan approved the deployment of its troops to Libya in support of the Government of National Accord (Mitzer & Oliemans, 2021). This conflict has pitted Turkey against some of its familiar regional rivals from other theatres that Erdogan has expanded into. Namely, Ankara supported the Tripoli-based government against forces backed by Egypt, Russia, and the UAE. Turkey has also been competing with Egypt for military presence in Kenya (Hassan, 2021). As such, Ankara will rely on its sought-after UAVs to gain political leverage over Egypt and its other rival Gulf Arab states. The establishment of the East Mediterranean Gas Forum (EMFG) in late 2020 to curtail Turkey's expansion into the Mediterranean region further complicates the implications of Erdogan's defense exports to Africa (Ahmed, 2021). The organization includes France, Greece, Cyprus, Israel, Italy, Jordan, Palestine, and Egypt, which have previously expressed great concern over Ankara's pursuit of drilling rights near Greece's maritime territories (Ahmed, 2021). If Turkey makes its North African drone exports contingent on gaining political leverage in the region, it stands to risk a synchronized response from the members of the EMFG (Surkes, 2020). A potential objection from France to Turkish drone sales in Africa may transcend the North African countries that border the Mediterranean. President Emmanuel Macron has been pursuing a soft power push into Africa in a bid to revive French ties to Françafrique (Sauvage, 2021).
Given Erdogan's geopolitical quagmire over the Mediterranean, growing drone sales to certain African countries will undoubtedly raise tensions with specific European Union (EU) members and allies. But drone exports to the region will have similar implications for the EU as a whole. As Ankara's relationship with the EU has weakened in recent years, Erdogan seeks to reduce his reliance on European trade by diversifying Turkey's commercial partners away from Europe (Fox, 2021). Given that Europe finances 60% of Turkey's trade investment, Erdogan's initiative may be alarming to European investors and businesses. However, Turkey's economic plans for Africa could impact the EU's trade relations with other countries. President Erdogan has seemingly placed his trade initiative in Africa in stark opposition to the EU on the economic front. At the Turkey-Africa trade summit, Erdogan criticized European states and China, suggesting that Turkey presented a better commercial partner by bearing "no stain" of imperialism or colonialism (Fox, 2021). Ankara's economic posturing directly concerns the EU, whose plans for a strategic partnership with Africa have been hindered by Covid-19. Drone sales to the region could present one of many ways Erdogan plans to entice African countries towards Turkey.
On the geopolitical front, the EU will likely criticize Turkey's drone sales to conflict-prone countries in Africa. The US State Department, which is often in agreement with its EU counterpart, has already raised concerns over Turkey's drone sales to Ethiopia, where human rights abuses have entered the limelight (Coskun et al., 2021). The European Commission has also recently accused Ankara of reneging on its promises to pursue a set of EU-backed reforms, intended to realize Turkey's accession to the EU (Al Jazeera, 2021). The EU suggests that Ankara is implementing reforms on an ad hoc basis, while some member states believe Turkey's foreign policy is the most significant challenge to amicable relations (Scazzieri, 2021). As such, the EU may preemptively oppose Erdogan's UAV sales to regions other than its member states.
Given the geopolitical implications of Turkey's drone sales, one would think UAV exports stand to sacrifice Ankara's diplomacy in favor of economic value and political leverage. However, the sale of drones and Turkey's return to diplomacy are not binary choices. Ankara has recently simmered its aggressive geostrategy, and its defense exports may not necessarily hinder its foreign relations if navigated pragmatically. Turkey's drone sales encompass a multi-pronged effort that looks beyond just Africa to expand Erdogan's influence and strengthen the country's economic ties (Iddon, 2021). Latvia and Albania have also expressed interest in buying Turkish drones. While the Ankara-based Zyrone Dynamics is expected to deliver its first product to India in 2022 (Daily Sabah, 2021). Shifting its drone sales to the European market provides an opportunity for Turkey's rapprochement with its NATO and the EU. A deal signed last year made Poland the first EU member to receive Turkish-made combat drones (Aliyev, 2021). However, like the UAV sales to Africa, Turkey's exports to EU members and allies may cause friction between Ankara and other regional players. Most notably, the sale of drones to Poland and Ukraine is concerning for Russia, which has ramped up its military presence along the Ukrainian border (Byrza & Wilson, 2021). Ultimately, Erdogan's administration should balance Turkey's reliance on its UAVs as a significant source of economic growth and political leverage with careful consideration for the challenges they pose to its diplomatic relationships as Erdogan pursues his geostrategy across Africa, the Mediterranean, and beyond.
___________________________________________________
References
AFP. (2021, December 16). Armed with drones, Turkey explores African arms sales. France 24. Retrieved January 12, 2022, from https://www.france24.com/en/live-news/20211215-armed-with-drones-turkey-explores-african-arms-sales
Ahmed, A. (2021, April 9). East Mediterranean Gas Forum and Turkish expansion. Modern Diplomacy. Retrieved January 12, 2022, from https://moderndiplomacy.eu/2021/04/10/east-mediterranean-gas-forum-and-turkish-expansion/
Al Jazeera. (2017, October 1). Turkey sets up largest overseas army base in Somalia. Al Jazeera. Retrieved January 12, 2022, from https://www.aljazeera.com/news/2017/10/1/turkey-sets-up-largest-overseas-army-base-in-somalia
Al Jazeera. (2021, October 19). EU accuses Turkey of 'backsliding' on reforms to join Bloc. European Union News | Al Jazeera. Retrieved January 15, 2022, from https://www.aljazeera.com/news/2021/10/19/eu-turkey-accession-reforms
Aliyev, J. (n.d.). Turkey to export drones 'for 1st Time' to NATO, EU member. Anadolu Ajansı. Retrieved January 15, 2022, from https://www.aa.com.tr/en/europe/turkey-to-export-drones-for-1st-time-to-nato-eu-member/2252807
Altas, M. (2021, October 18). Turkish president Erdogan welcomed in Angola with official ceremony. Anadolu Ajansı. Retrieved January 12, 2022, from https://www.aa.com.tr/en/africa/turkish-president-erdogan-welcomed-in-angola-with-official-ceremony/2395541
Aslan, D. (2021, December 4). Turkish defense, aerospace industry exports quadrupled in decade. Daily Sabah. Retrieved January 12, 2022, from https://www.dailysabah.com/business/defense/turkish-defense-aerospace-industry-exports-quadrupled-in-decade
Bryza, M., & Wilson, G. (2021, December 17). Turkey could tip the balance in the Ukraine-Russia standoff. Atlantic Council. Retrieved January 12, 2022, from https://www.atlanticcouncil.org/blogs/turkeysource/turkey-could-tip-the-balance-in-the-ukraine-russia-standoff/
Coskun, O., & Spicer, J. (2021, October 14). Turkey expands armed drone sales to Ethiopia and Morocco – sources. Reuters. Retrieved January 12, 2022, from https://www.reuters.com/world/middle-east/turkey-expands-armed-drone-sales-ethiopia-morocco-sources-2021-10-14/
Coskun, O., Spicer, J., & Paravicini, G. (2021, December 22). Exclusive – U.S. concerned over Turkey's drone sales to conflict-hit Ethiopia. Reuters. Retrieved January 15, 2022, from https://www.reuters.com/world/africa/exclusive-us-concerned-over-turkeys-drone-sales-conflict-hit-ethiopia-2021-12-22/
Daily Sabah. (2021, December 10). Multirotor Mini UAV by Turkish company ready for export to India. Daily Sabah. Retrieved January 12, 2022, from https://www.dailysabah.com/business/defense/multirotor-mini-uav-by-turkish-company-ready-for-export-to-india
Fox, B. (2021, October 21). Turkey's Erdogan puts Europe's colonial past at heart of pivot to Africa. www.euractiv.com. Retrieved January 15, 2022, from https://www.euractiv.com/section/global-europe/news/turkeys-erdogan-puts-europes-colonial-past-at-heart-of-pivot-to-africa/
Grigoriadis, I. N., & Kostaras, G. C. (2021, September 17). Turkey's African adventure: Taking stock of a new chapter in EU-Turkey Relations. Eliamep. Retrieved January 15, 2022, from https://www.eliamep.gr/en/publication η-αφρικανική-περιπέτεια-της-τουρκίας
Hassan, K. (2021, December 18). Egypt, Turkey compete for military foothold in Kenya. Al Monitor. Retrieved January 12, 2022, from https://www.al-monitor.com/originals/2021/12/egypt-turkey-compete-military-foothold-kenya
Iddon, P. (2021, December 10). Cheap and combat-tested: The growing market for Turkish drones. Forbes. Retrieved January 12, 2022, from https://www.forbes.com/sites/pauliddon/2021/07/26/cheap-and-combat-tested-the-growing-market-for-turkish-drones/?sh=7113f0c47ce0
Malsin, J., & Ostroff, C. (2021, December 16). Turkey's currency crisis escalates after Central Bank again cuts rates. The Wall Street Journal. Retrieved January 12, 2022, from https://www.wsj.com/articles/turkeys-currency-crisis-escalates-ahead-of-possible-rate-cut-11639646334
Mitzer , S., & Oliemans, J. (2021, March 28). Al-Watiya – from a Libyan super base to Turkish air base. Oryx. Retrieved January 12, 2022, from https://www.oryxspioenkop.com/2020/09/al-watiya-airbase-capture.html
Reuters. (2021, November 11). Turkey's Baykar to soon test-fly sea-based uavs as orders boom. Daily Sabah. Retrieved January 12, 2022, from https://www.dailysabah.com/business/defense/turkeys-baykar-to-soon-test-fly-sea-based-uavs-as-orders-boom
Rossiter, A. (2021, December 8). Turkey's Path to Drone Power Comments. Trends Research and Advisory. Retrieved January 12, 2022, from https://trendsresearch.org/insight/turkeys-path-to-drone-power/
Sauvage, G. (2021, March 6). France shifts policy on aid to Africa to counter rising Chinese influence. France 24. Retrieved January 12, 2022, from https://www.france24.com/en/africa/20210306-france-shifts-policy-on-aid-to-africa-to-counter-rising-chinese-influence
Scazzieri , L. (n.d.). From partners to rivals? the future of EU-Turkey relations. Centre for European Reform. Retrieved January 15, 2022, from https://www.cer.eu/publications/archive/policy-brief/2021/partners-rivals-future-eu-turkey-relations Surkes, S. (2020, September 27). Mistake to leave Turkey out of New East Med Gas Club – International expert. The Times of Israel. Retrieved January 12, 2022, from https://www.timesofisrael.com/mistake-to-leave-turkey-out-of-new-east-med-gas-club-international-expert/