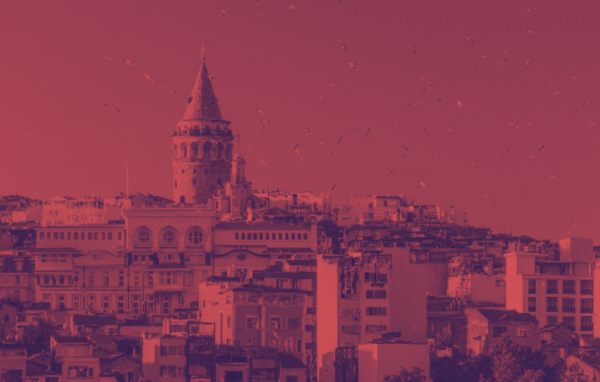 Written by Batuhan Üsküp
Turkey completed the year of 2021 with much worse grades especially in terms of the rule of law, human rights, and freedoms. The anti-democratic practices and human rights violations that occurred due to the pandemic conditions have transformed the state apparatus into an administration where the law is highly politicized and double standards are applied. However, the transformation of the new regime that has been established in Turkey from democracy to full authoritarianism started long before the pandemic. The developments that happened in Turkey last year show that Turkey is not a democratic state of law as it claims itself to be. "Despite a spectacular diplomatic initiative in October 2021 against ten Western ambassadors, the hard reality is that Turkey is still refusing to comply with the December 2019 judgment of the European Court of Human Rights, which ordered the release of philanthropist Osman Kavala pending trial. Turkey, a member of the Council of Europe since 1950, is at risk of an infringement procedure." (Pierini, 2021)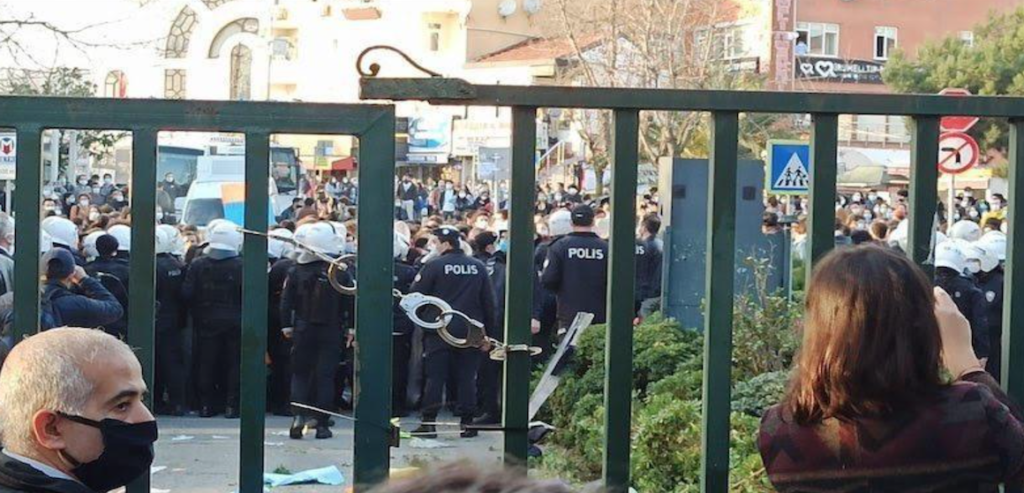 An extremely tense year started in 2021 when President Erdoğan appointed a rector to one of the best universities in Turkey, Boğaziçi University, in a process where freedoms were restricted and public space narrowed tremendously under the pandemic conditions. Today, the academics are living in conditions where academic freedoms are on the bottom level. Boğaziçi University is one of institutions that resisted the government's strategy of taking over universities, which it's seen as oppositional."Youth unemployment is at a staggering 29% in Turkey, and our latest research shows that 37.9% of new graduates are unemployed, which suggests that the rate is going up even further," said Can Selçuki, general manager of the consultancy Istanbul Economics Research.[1] "Two things stand out to me: this group of people is very independent and articulate, and they know what they want – in Gezi we didn't have that. They complain about working hard and not being able to get on because Turkey is no longer a meritocracy," Selçuki said. Many students who participated in the resistance were detained and an investigation was launched against them.
Confession Show of A Mobster
In the spring of 2021 while the continuation of this authoritarian rule made the country unmanageable day by day, a Youtube mafia series that Turkish viewers watched millions of times began being broadcasted. In fact, these videos showed a series of dirty works and criminal events that took place in Turkey's deep state history which directly concerned the current ruling coalition."Do not doubt, I will teach some tyrants that there is no more dangerous weapon than a man who dares to die," Mr. Peker said on Twitter, advertising the third video. "Deep Statists, Pelikanists, you will be defeated by a camera on a tripod," he added. (Gall, 2021)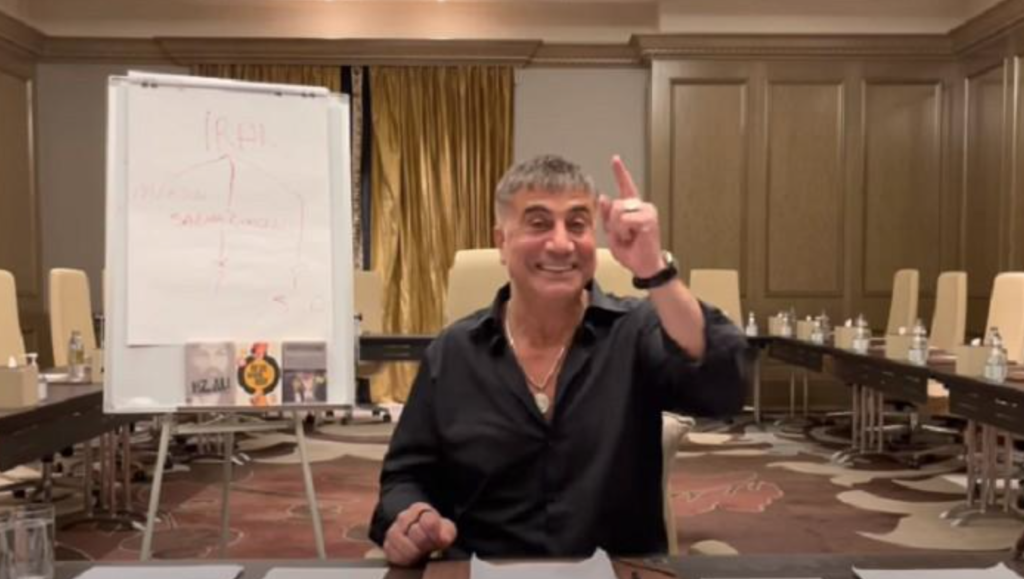 The videos of mafia boss Sedat Peker depicted a series of ambitious disclosures that would wake the Turkish people up early on Sunday mornings, like a confession session in which many unsolved incidents occurred in Turkey's dark 90s and even long before.
While Peker was an organized crime leader who supported the government by making many illegal actions and discourses in the political process that took place after the June 7, 2015 elections, which could be considered a milestone for the current AKP-MHP coalition he began these revelations with the awareness that heavy blow to what the government received after 2019 municipal elections and lost the psychological superiority it possessed day by day.While Peker has not touched "Brother Tayyip", as he calls the president, the takedowns of Erdoğan's inner circle make clear he is the ultimate target. The videos have only drawn an indirect rebuke from Erdoğan himself, who said last week that his party had earned credibility and brought peace to Turkey by tackling criminal gangs when it came to power 19 years ago.[2]
The allegations that emerged from the deep state activities of Süleyman Soylu, the most controversial minister of the government, the interior minister, and Peker's most loyal political friend until he went abroad, made an earthquake effect on the country. However, the government and its partisan media ignored the allegations and backed the interior minister. Besides those, the videos have been copied and published millions of times on different channels. The interest of the audience was so high that it was as if the Turkish people were in a Netflix movie where they were watching what was going on in another country.[3]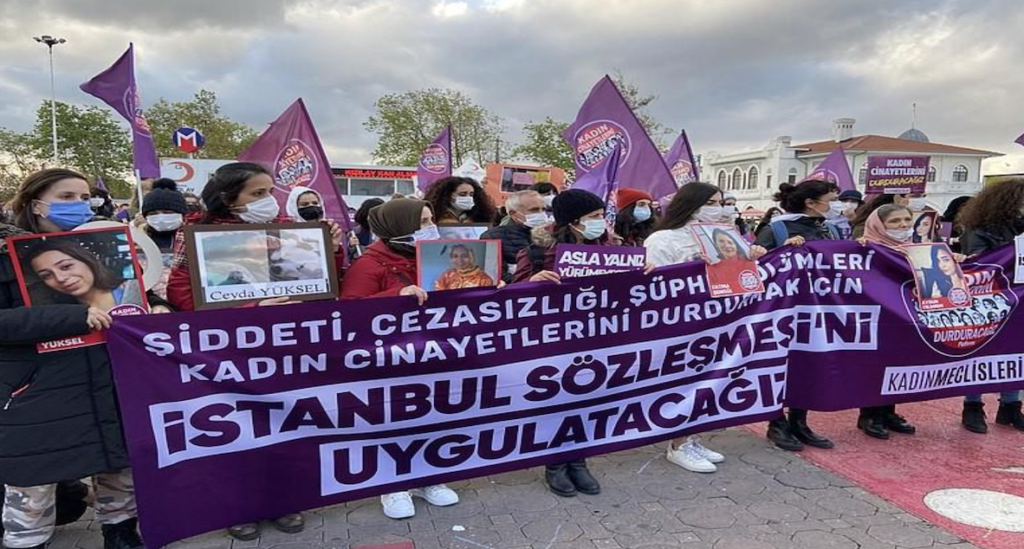 Deus ex Patriarchy
Erdogan's government proves that it knows no bounds in ignoring the law and that the new regime is the new legal order by those practices. In 2021, one of the most remarkable examples of ignoring the law was exhibited by withdrawing from the Istanbul Convention, which is a convention to protect minority groups. The Council of Europe Convention on Preventing and Combating Violence Against Women and Domestic Violence, also known as the Istanbul Convention which Turkey was a party was signed in 2011 in Istanbul by 45 participating countries during the AKP's ruling period.[4]
Although Erdogan's move was thought to have been made to consolidate religious communities and ultra-conservative vote base for the upcoming elections, it had completely weakened Turkey's already bad international legal record. "Turkey's withdrawal from the Istanbul Convention will deprive women and girls of the benefits of a vital, comprehensive legal framework to protect them from all forms of violence, and prevent, prosecute and eliminate violence against them, including domestic violence," said Massimo Frigo, ICJ Senior Legal Adviser for its Europe and Central Asia Programme.[5] In spite of the fact that the feminist movement in Turkey represents the strongest social opposition in recent years, the regime's disregard for the law has become usual.
Erdoğan's Social Engineering Project
Today even though there is no place in the daily lives of new generations, the debates between religious affairs and secularism, which is one of the most fundamental debates of Turkish social life, have always been kept hot on the agenda throughout the 20-year AKP rule. "A new generation of young Turks ascended to a "modern" way of life that, until that moment, had been seen as the privilege of urban secularist elites." (Pierini, 2021)
Erdoğan's desire is not only to raise generations with his own Islamist aspirations and moral values but also to form obedient servants of the authoritarian regime he was establishing. "The AKP's most significant educational reform has been the vast expansion of the Imam-Hatip religious school system. Enrollment in Imam-Hatip schools increased nearly fifteen-fold over the years of AKP governance, from 65,000 to 932,000; the percentage of middle-school students in Imam-Hatip schools increased from zero to 10.5 percent; and the percentage of high-school students in Imam-Hatip schools increased from 2.6 percent to 12.9 percent." (Makovsky, 2015)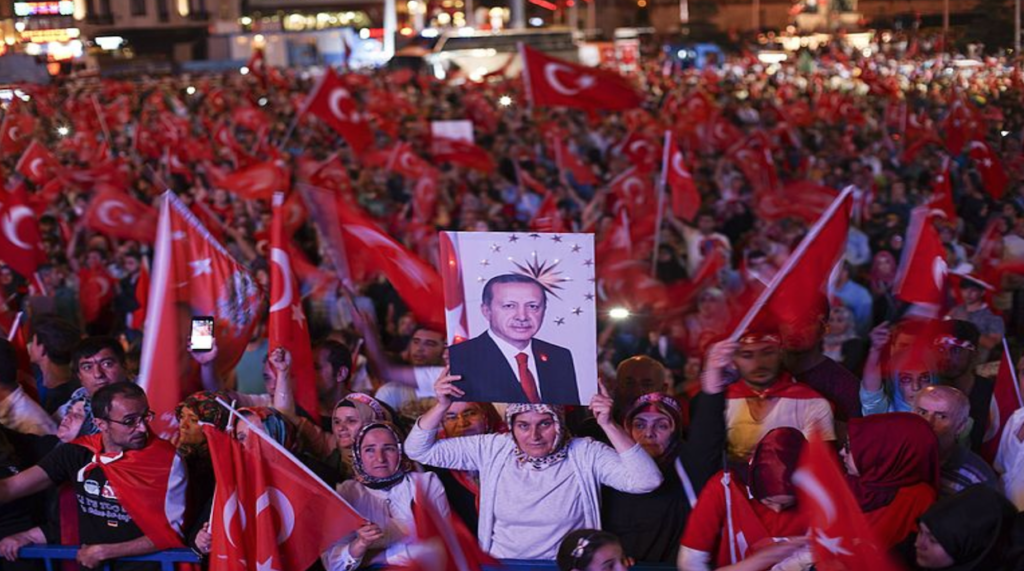 "Turkish exceptionalism in the Middle East when it comes to secular education is over." (Tremblay, 2021) However, Erdogan is also aware that at the end of these twenty years, Turkey's internal dynamics and engineering efforts have not been successful. But he is attempting to shift his vote base, which is slipping from those under his ruling party, towards those who have more conservative and radical demands.  According to a survey of Istanbul Economics Research, "most of the young people between the ages of 18-30 view the cooperation with the USA-NATO and the European Union positively in the near future, while the vast majority considers the collaboration with the Middle East, Russia and China negatively."(Youth Survey, 2022). 
Endnotes
[1] Student protests grow as Turkey's young people turn against Erdoğan. (2021). Retrieved 6 March 2022, from https://www.theguardian.com/world/2021/feb/04/turkey-student-protests-grow-young-people-vent-frustrations-with-erdogan
[2]  Mafia boss's YouTube claims rattle Turkish government. (2021). Retrieved 6 March 2022, from https://www.theguardian.com/world/2021/may/25/mafia-bosss-youtube-claims-rattle-turkish-government
[3] In Turkey, a mafia boss's YouTube videos give Netflix some stiff competition. (2021). Retrieved 6 March 2022, from https://globalvoices.org/2021/05/22/in-turkey-a-mafia-bosss-youtube-videos-gives-netflix-some-stiff-competition/
[4] Istanbul Convention list, F., & Europe, C. (2022). Full list. Retrieved 6 March 2022, from https://www.coe.int/en/web/conventions/full-list?module=treaty-detail&treatynum=210
[5] Turkey's withdrawal from the Istanbul Convention is a setback for women and girls' human rights. (2021). Retrieved 6 March 2022, from https://www.icj.org/turkeys-withdrawal-from-istanbul-convention-a-setback-for-women-and-girls-human-rights/
References
Gall, C. (2021, May 18). Claims From an Organized Crime Boss Rock Turkey's Government. The New York Times. https://www.nytimes.com/2021/05/18/world/europe/turkey-erdogan-crime-corruption.html
Makovsky, A. (2015, December 1). Re-Educating Turkey. Retrieved March 9, 2022, from https://cdn.americanprogress.org/wp-content/uploads/2015/12/09115835/Re-EducatingTurkey.pdf
Pierini, M. (2021, December 9). Understanding Turkey's Direction: Three Scenarios. Carnegie Europe. Retrieved March 9, 2022, from https://carnegieeurope.eu/2021/12/09/understanding-turkey-s-direction-three-scenarios-pub-85936
Tremblay, P. (2021). Erdogan's silent revolution seeks more than pious youth. Al-Monitor. https://www.al-monitor.com/originals/2021/06/erdogans-silent-revolution-seeks-more-pious-youth
Youth Survey: Youth Perspective on Turkey's Future. (2022). Retrieved 6 March 2022, from https://www.freiheit.org/turkey/youth-perspective-turkeys-future