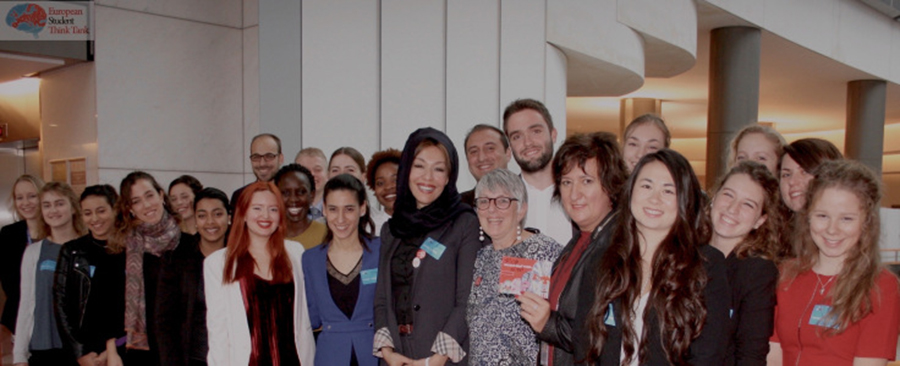 The European Student Think Tank hosted a debate in the European Parliament to engage young people in the discussion of Gender Equality in the European Policy-making process. Students from a wide range of backgrounds were invited to debate with Members of the European Parliament, academics, politicians and leading young representatives of organizations about how we as young people can contribute to a more equal society. The event was co-hosted in collaboration with the Socialists and Democrats group in the European Parliament, and engaged both EST & S&D campaigns for gender equality.
The EST Gender Equality Debate in the European Parliament was chaired by EST President Carlota Nunez Strutt & EST Gender Equality coordinator Cecilia Passaniti, who respectively chaired panels dealing with discrimination in politics, and gender-based violence in armed conflict. With the participation of President of PES Women Zita Gurmai, S&D MEPs Iratxe García Pérez and Julie Ward, Professor María Martín Almagro, European Parliament Policy Advisor Emmanuelle Le Texier and International Secretary of the Youth Forum of Social Democrats of Slovenia Nina Kos, our panellists bridged the gap that often occurs between politics and the social reality outside the decision-making process and engaged our audience in an interactive debate.

Our young participants highlighted relevant issues, such as how gender equality is not only a Human Rights issue, but is the motor for development. Young people also touched on the struggles faced by young women in academia, and the threat to gender equality and human rights the surge of European radicalization poses, in particularly recently in Poland. Our participants were also interviewed by the audiovisual team of the S&D Group in the European Parliament and were able to share their views on Gender Equality in Parliament channels.
The European Student Think Tank continues its Empow(h)er campaign for gender equality with more events in your area, working groups, policy papers and articles in which you can participate in. Read more about our commitment to gender equality.
---
Eradicating violence against women: a youth perspective
PANEL 1: Gender-based discrimination in politics: a female leader's perspective
Chair: Carlota Nunez Strutt – President of the European Student Think Tank
Zita Gurmai – President of the Party of European Socialists Women

Iratxe García Pérez – Chair of the FEMM Committee in the European Parliament, S&D Member of the European Parliament

Emmanuelle Le Texier – Policy Advisor in the FEMM Committee of the European Parliament

Nina Kos – International Secretary of Youth Forum Social Democrats Slovenia, Bureau Member of Young European Socialists & Policy Expert in the Balkan

Youth Question & Answer Time
PANEL 2: Gender based violence and refugee women: a look at violence & armed conflict
Chair: Cecilia Passaniti – European Student Think Tank Coordinator of Gender Equality
Dr Malika Hamidi – Doctor of Sociology, Director of the European Muslim Network

S&D MEP Julie Ward – Member of the European Parliament, FEMM Committee

Maria Martin de Almagro – Professor in International Affairs at Versalius College

Youth Question & Answer Time