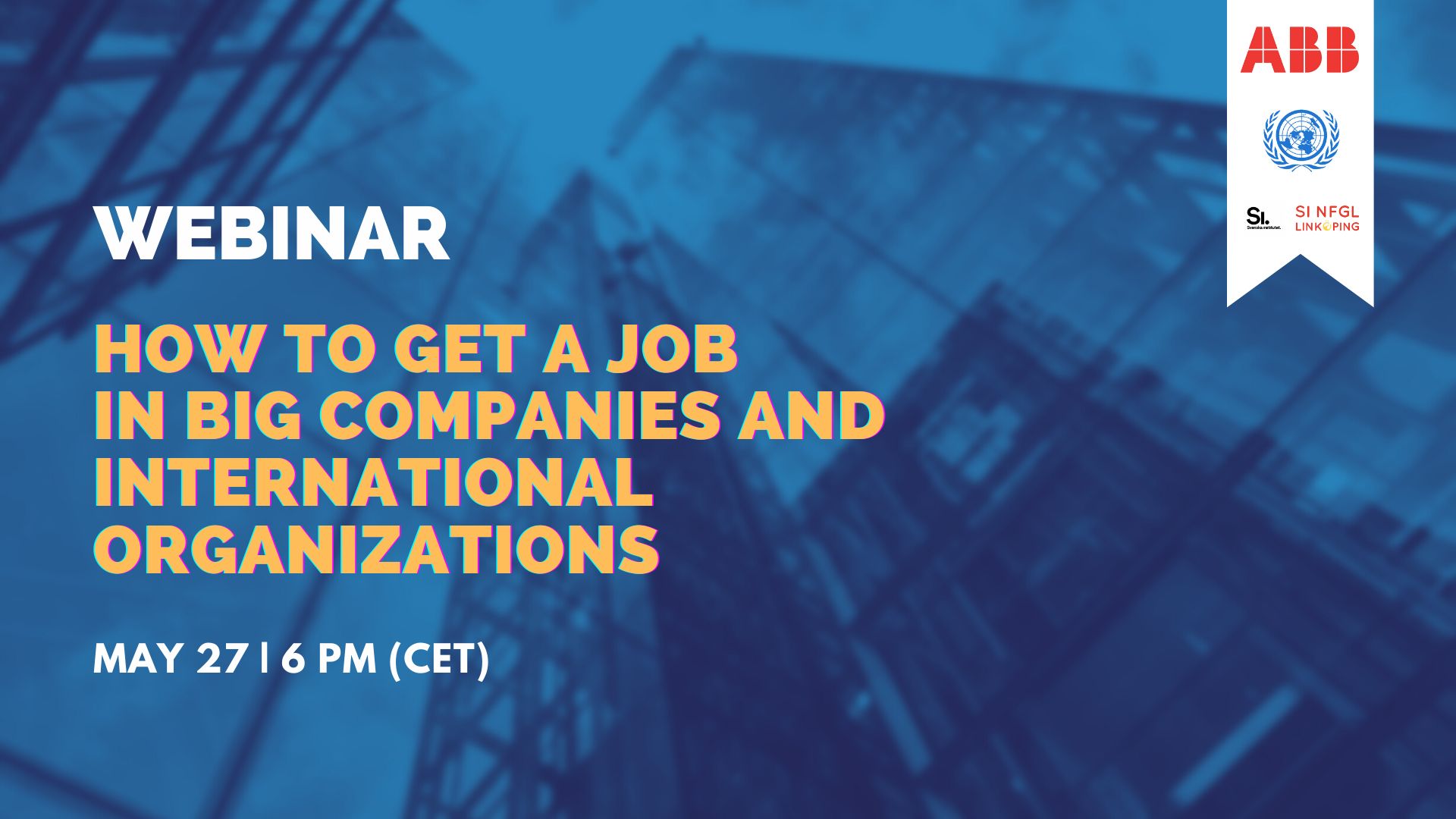 Career question is something that challenges many of us. With the current pandemic issue it is even more difficult to find a job and commence on work life. We want to contribute to youth development and therefore, organize this career event to empower unemployed young people and help in finding answers to their questions. Professional experts from the UN and ABB will be our guest speakers for this event.
Our first speaker is Stefania Piffanelli from the United Nations. She is the Deputy Director of the UN Information Center and has over 20 years of experience with the UN, academia and the private sector. She will cover questions of career development and share her tips to help participants from politics, IR, diplomacy and other related specializations.
Our second guest is Elin Spector from ABB AB. For those of you who don't know, ABB is a Swedish–Swiss multinational corporation operating mainly in robotics, power, heavy electrical equipment and automation technology areas. Elin is a Tranee Manager within Early Talents, University Relations and Employer Branding areas of ABB. Students and graduates of business, management, technology, engineering and related specializations can find answers to their questions with Elin.
It is not all yet. During the registration you have a chance to write the best question to speakers and if your question is selected by our jury team, you will get the prize of 20 USD gift card from Amazon. Moreover, after both sessions we will have a quiz game with questions on job application documents and the winner will get a prize of 30 USD gift voucher from Amazon.
MODERATORS
*Jamila Zeynalzade: EST ambassador to S#weden.
*Emin DOUKALI: Chairperson of SI NFGL Linkoping.
*Javid Valiyev: Board Member of SI NFGL Linkoping.
SPEAKERS
*Stefania Piffanelli: Deputy Director of the United Nations Information Center.
*Elin Spector: Trainee Manager in ABB AB
SPONSOR
*Swedish Institute's NFGL Linkoping
When: 27 May Thursday 18:00-19:30 CET
Where: Zoom
Price: Free
Note: Registration is required. Please click here to register.